As I prepare to write this post, I glance around to estimate just how much of the products in our home comes from a second hand source. Right now, I am snacking from beautiful teal, Mikasa dishes that I bought at a yard sale. Dishes which sit on an American Drew table that we purchased through the news paper classified ads.
As I type, my lamp comes from an estate sale and I eye furnishings that are "trash to treasure" revamps, accessorized by trinkets and beauties bargained down at a yard sale. To relax, I tickle the ivories on a piano that was  free from a friend who upgraded, but I have to pull down the Frugal Fashionista shorts that keep bunching up on the piano seat. Although  the computer on which I punch out this post were brand spanking new (black Friday deal at 5am in the morning, of course.)
The news interviews that I have done all ask me, "Do you have to shop this way (coupons, thrift stores etc)? Do you need to buy your clothes at Goodwill?"
A sprinkling of times in my life, the answer has been a definite "Yes," but honestly, right now, "No."  I told the reporter that I would never want to go back, nor would I ever change my spending habits, especially on clothes.  Why would I?
I've had a taste of the excitement and anticipation that comes from finding treasures in the "big hunt." I've saved thousands and thousands of dollars on items that I would have had to buy anyhow, but find them used through someone else. It has also allowed me to upgrade some of the "needs" in my life, like finding a better rice cooker than the one I already owned. And yes, I'll be honest, it affords me the opportunity to purchase just fun things. Things that I would never buy for myself in a million years at the store, but I can splurge for a whole $5 at a yard sale. Why?  Just because…
During our "God Watch (unemployment)," I was on a virtual spending freeze. One thing I allotted though was a small amount of cash for my yard sale and thrifting. It allowed me to still have fun, and not feel as if I was continually going without.
At the same time, I was still being good stewards of the money that we were stretching during that time. Guess what? Before my husband's unemployment even started, I was saving, saving, saving to put money into my yard sale fund. The irony of that kind of cracks me up. I knew even though I was purchasing things inexpensively at a yard sale, if I didn't have the cash, it wasn't something I could buy.
A deal isn't a deal if you don't have the money to cover it.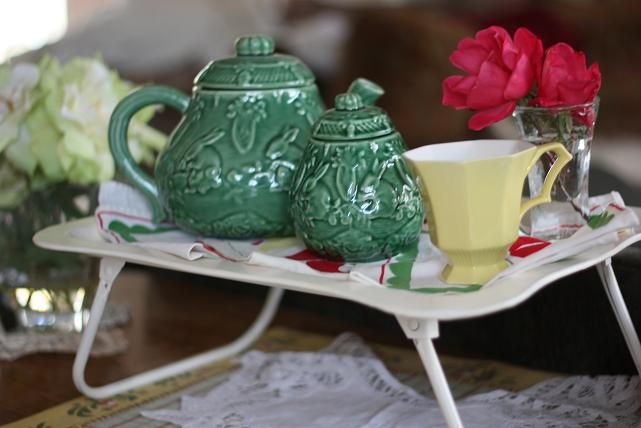 Even though I do not consider myself a "Green" blogger by any means, the idea of reusing, re-purposing and reinventing taps into a creative resourceful side, while helping the environment at the same time.
Purchasing second hand is also a way that I can save money on most items, so that I can buy new those things that aren't feasible second hand. Those are few and far between, but they are there….cameras, laptops, technology things, some fun kitchen tools that I have been wanting, and even some re-decorating  items.
For instance, I'm rearranging the laundry room to maximize my space and I've been waiting to find just the right set of shelves at a yard sale. My husband finally said, "Measure the space, buy them and do it right." Hmm…yes, that could be a voice of reason to this thrifty soul. Somethings (not many, but some) you invest in, so it's just done right. 🙂
Shopping this way is just who I am. It's in my blood.  I can remember as a young girl riding my bike up the street all by myself to a neighbor's sale. It continued into college as I purchased necessities for my dorm room from a local thrift store, and then furnished my first apartment after college with yard sale finds.
Yes, I know I am in the minority, one of those crazy few. This kind of shopping is not for the faint of heart, nor do I recommend it for everyone. It's for those who don't mind delayed gratification because you may not hit the jack pot for a few weeks, although I must say that the waiting builds perseverance, which is always a good lesson when yard sale-ing with my kids. 🙂 When you finally find that treasure you've been dreaming about, it's SO worth it. Not only is the joy palatable,  plus it builds in me a new sense of gratitude for the little things – gratefulness that someone's trash truly becomes my treasure.
This post needs to be continued because I have SO much more to say on this topic, but here are just a FEW of the things that pop into my mind that I purchase at yard sale. Basically, you can see that most of my shopping is not done traditionally.

So what about you? Why do you choose to purchase second hand items?