Can you believe that Christmas is just days away?
With that comes all the last minute baking and preparation for the Christmas Eve and Christmas Day Meal. Our Christmas Eve food takes a turn from the traditional meal, since I sing at both our 4 and 6 o'clock services. Typically,  I walk in the door at the same time my family guests arrive (and some may just beat me), I need to have all the foods prepared ahead of time. This year, we are going with fun and festive comfort foods, and honestly, everyone was thrilled when I ran the idea past them.
We'll start with lots of appetizers and finger foods and then enjoy a Soup, Salad and Homemade French Bread Bar. Yes, I know that is VERY far from your traditional Christmas foods, but who doesn't love cozy soup simmering on the stove with hot piping bread fresh from the oven.
I'll be serving the tradition group beef chili, which is perfect since it's so much better when it's simmered all day on the stove, and my sister in love will do a White Chicken Chili.
For desserts, I will concoct something with my trifle bowl, since trifles equals presentation and yummy goodness, but then I will cheat with this way too simple  Sour Cream Banana Cake using some store bought cake mixes (shhh, don't tell, but I know I'll be really rushed for time.) By using this short cut, I can concentrate on making multiple ones in small, pretty pans, which offers a beautiful presentation.

Hailing from Wisconsin (GO PACK), we always serve some of the best cheese balls, but this year, I think I'm going to add this delicious Marinated Cheese Appetizer,
as well as this adorable cheese platter done up as a Christmas Tree. Last night, my friend Heather brought this to my home. In addition to your cubes of cheese, just add some tomatoes and a little Rosemary, and you're set to go.
Or click through to more Christmas tree platter ideas like this Christmas Veggie Platter that good ole Betty does so well.
Aren't those so adorable?
Our family now craves this Buffalo Chicken Dip, and it fits perfectly into the Soup and Bread theme, since some of them love it so much, they will spread it on their bread. I don't even like Buffalo flavor, but this is addicting.
Easy Strawberry Cheesecake Trifle
Since we have so many little ones that join us for Christmas, I love letting the kids take ownership of recipes. When they get to create their own one Minute Homemade Fudge Covered Oreo Ice Cream, they are set. Who says you need anything more? In their mind, this is "THE BOMB!"
This year, my girls are also picking one of their favorite Christmas Rice Krispie Treats. These ten spark so many fun ideas.
Christmas Morning
Christmas Morning offers some of our favorites, and I've served the same things for years. Beginning with my famous Homemade Cinnamon Rolls: Copycat Cinnabon Recipe, I could just stop right there, it's that good. I make the dough, roll the buns, and let them do their last rise in the fridge over night. Then all I have to do is bake and frost.
Homemade Cinnamon Rolls: Copycat Cinnabon Recipe
I always make a hash brown casserole with scrambled eggs (made with a dash of bacon grease), as well as my easy Sausage and Egg Brunch Dish: Sausage Crescent Roll Recipe. I take liberties with using store bought crescent, rolls since the cinnabons are so time consuming (but very worth it). I can literally whip this up in about three minutes and on Christmas morning, that is key.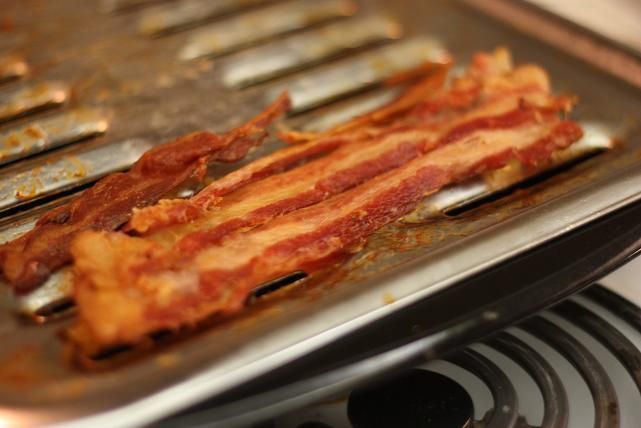 And it would not be Christmas with out a whole lot of Bacon in Bulk (Cooked in the Oven)
What are your Christmas Eve Food Ideas?
Do you do a traditional meal? What about Christmas Day food ideas? I'd love to hear what everyone does, and possibly get some new ideas myself.