We've all stepped into the food court and smelled the amazing Cinnabon Rolls from afar. Our mouths start watering instantly.
We see them rolling, baking and frosting, but then we see the price, and have sticker shock. Well, with a little extra time to make homemade cinnamon rolls from scratch, this is the recipe for which you've been waiting.
I have mixed and matched numerous cinnamon roll recipes to finally come up with one that I love, and this one is amazing. Homemade Cinnamon Rolls are worth the effort,  and if you have a mixer, you can hustle this process along.
Drizzle with Cream Cheese Cinnabon like frosting is your choice, but wow, it's just a party in your mouth.


This Copy Cat Cinnabon Rolls recipe is by far my favorite, but if you don't have the extra time to see this through til the end, feel free to try out my Overnight Refrigerator Rise Cinnamon Roll recipe. It's incredibly easy and you put it in the fridge at night and it does the work for you while you sleep. Again, it's super delicious, but not quite as amazing as the Cinnabons. 🙂
Recipe: Homemade Cinnamon Rolls (Copy Cat Cinnabon Recipe)
Summary: This easy copy cat cinnamon roll recipe tastes just like the Cinnabon recipe. With delicious Cream Cheese Frosting, it's a must have in our home.
Ingredients
Dough
1 1/2 cups granulated sugar
3 Tbls. ground cinnamon
(2) .25 oz. pks. active dry yeast (I use 2 TB instant yeast)
1 tsp. granulated sugar (only if needing to proof the active dry yeast. If using instant yeast, disregard this)
2/3 cups granulated sugar
2/3 cup melted butter OR margarine
1 cup 110 degree water (approximately)
1 cup warm milk (must be warm)
2 tsp. salt
2 eggs – slightly beaten
Up to 8 cups all-purpose flour
Coating
1/2 cup melted butter OR margarine
1 1/2 cups chopped walnuts, pecans or raisins – (optional, but so good)
1/2 cup granulated sugar (or brown sugar – your preference)
Instructions
Mix together 1 1/2 cups sugar and the cinnamon; set aside (this will be used later to spread on dough)
In a small bowl, dissolve yeast and 1 tsp. sugar in warm water; set aside (if using instant yeast, you can skip this step)
In a large bowl, mix together milk, 2/3 cup sugar, 2/3 cup melted butter, salt, and eggs; add yeast mixture and 4 cups of flour to mixture; beat until smooth; stir in enough flour to form a slightly stiff dough.
Turn dough out onto a well-floured surface and knead for 8 minutes. I always know when my dough is finished kneading (either by hand or machine) when it can stretch quite well. It must be elastic enough.
Place dough into a large greased bowl, cover, and allow to rise in a warm place until doubled in size, about 1 hour.
Punch down dough and let rest for 5 minutes.
Roll dough out onto a floured surface into a 15″ X 20″ rectangle.
Brush 1/2 cup melted butter over dough; sprinkle cinnamon sugar liberally over dough; sprinkle nuts evenly over dough, if desired.
Tightly roll up dough and pinch edges together to seal; cut the roll into 12 – 15 slices using dental floss or thread.
Coat the bottom of a 13″ X 9″ X 2″ baking pan with 1/2 cup melted butter; sprinkle 1/3 cup sugar evenly in the bottom of the pan. (When attempting to make these a little bit of a lower fat version, I do not do this. If I do, then make sure after they are done baking, that you flip the pan over so that all the delicious drippings go onto the rolls.) Typically, I prefer more "doughy" rolls and like them as HUGE cinnabon sized rolls, but some have mentioned that they prefer an additional 8×8 pan for the extra dough.
Place cinnamon roll slices close together in the prepared pan; cover pan and allow to rise in a warm place for about 45 minutes or just eye ball them until nearly doubled in size.
Bake rolls in a 350 degree oven for 25 – 30 minutes, or until golden brown.
Preparation time: 30 minute(s) (plus additional rise time)

Cooking time: 25 minute(s)
Number of servings (yield): 12 huge Cinnabon size or divide into two pans for regular sized rolls

Often, new bakers do not know when the kneading phase is done. When your dough can stretch like this, you have kneaded it long enough.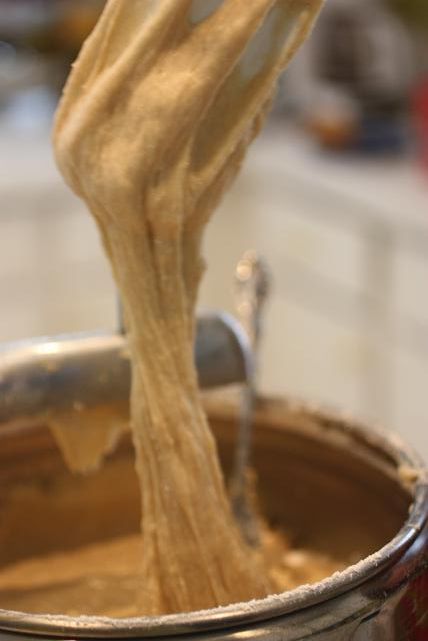 (Note to self: When letting the dough rise, make sure to check rising dough – this had definitely doubled in size. 🙂 )
At this step, I begin losing patience. The cinnamon rolls are so close to being done, I can almost taste them, and I never want to take the time to roll tightly and cut, but yes, it's necessary.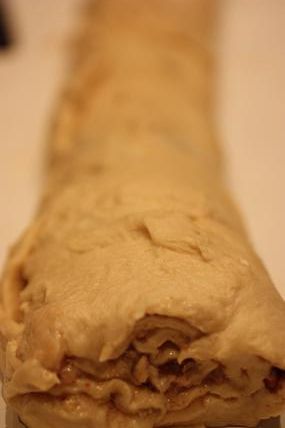 Oh glorious taste buds. I am so thankful for you. Cinnabon – eat your heart out. I made them myself and saved myself $20.
Cinnabon like Frosting

8 oz. cream cheese
8 ounces margarine
1 tsp. vanilla ( I love using almond extract for variety)
1/2 tsp lemon
16 oz. powdered sugar

Beat together cream cheese, margarine, sugar, and vanilla. Spread frosting on warm rolls and eat until you are stuffed. 🙂
Initially, I made these on my bulk baking day. I tripled the recipe, which I only recommend if you're an experienced baker. There was a TON of dough, and then I separated some into freezer bags. We've been pulling out 7-8 every day, thawing them the night before and popping them in the microwave. Typically, "day old" bakery can be dry, but heating it for about 30 seconds (with the frosting) makes it taste fresh out of the oven.
***Note the new little feature I added at the end of each post. You can print this recipe and make it easy on yourself. It gives you the option to remove the pictures and save on ink. 🙂 Enjoy!