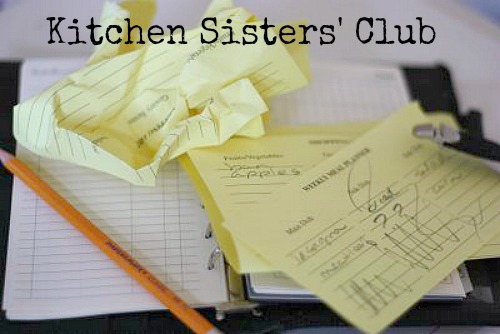 This month over at (in)courage, we've been talking about in real life friendship. We are kicking off week four with practical ways to build community, and they asked me to share a bit about building friendships through my Kitchen Sisters' Club. Yes, that's our corny term we coined in the late night hours when we had laughed too much, and most likely not had enough sleep.
It's a perfect sneak peek for Tasty Tuesday because I know that many of you have participated in some similar kind of meal making club, and I'd love to hear how you have done it.
Sometimes I close my eyes and imagine what it would be like to attend an old fashioned Quilting Bee.  As I rock on my covered front porch, I feel the warm breeze brush against my cheek.  Busying my hands by stitching beautiful fabric squares, I catch up with all my neighboring girlfriends who come together regularly to share community.
I open my eyes though, and reality sets in. I don't sew, nor do I have the desire to cut quilting squares, yet I'm enchanted with this concept because there was a fun purpose for gathering, they shared life together, and productivity occurred.
That desire was the genesis behind my Kitchen Sisters' Club: a gatherings of friends, who came together to make meals for our family. As a young mom, it was often difficult to justify a "girls night out," yet when I combined the best of sharing sweet friendship with my girlfriends, along side making multiple meals for my family, it was a win-win proposition.
Over the last fifteen years, I have organized these meal making get togethers multiple ways, with many different ladies, and varying sized groups ranging from six to twenty-six. One constant remains. When the need for community mixes with very practical needs, it's truly the best of both worlds.
This past weekend, I led a meal planning workshop at my Becoming Conference where hundreds of women raised their hand in agreement that the "What's for Dinner Question" remains a constant source of strife.
I mean, do we really need to feed them again? They just ate last night?
When I think of meal time,  the old adage rings true, "Fail to plan, plan to fail." When I have no set plan, I tend to resort to the same three or four meals over and over again, which doesn't always win the adoration of my family. Since I'm always looking for new inspiration and accountability in the kitchen,  meal swapping meets both of these needs, along with a beautiful outlet to spend time with friends.
It's a wonderful way to try new recipes, eat healthier, and fellowship, while saving both time and money in the kitchen. As a bonus, I  go home energized and encouraged to do a better job for my family.
So many scriptural principles are lived out during our time together, including Galatians 6:2. We truly carry each others burdens together as we desire to live intentionally with even the most mundane of tasks.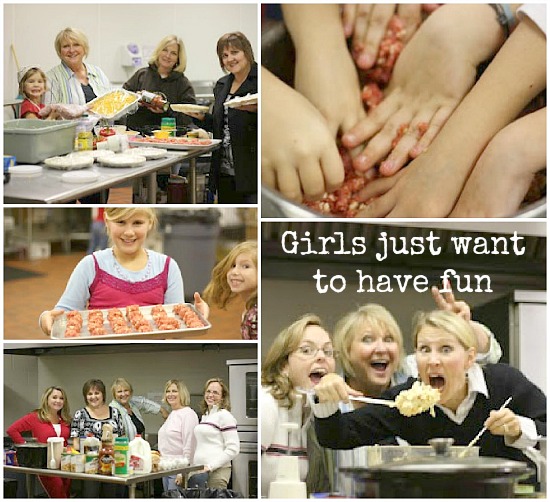 Briefly, there are three different ways in which I have organized my Kitchen Sisters' Clubs. The method I choose depends on the group and my schedule.
1. Make all the meals at your own home and drop them off at friends' homes.
They, in turn, do the same thing for you on another day. Typically, this group shouldn't exceed four women.
Example: I make four of our family's favorite Taco Casseroles, or possibly my Simple Sesame Chicken, salad, and my easy homemade french bread, and deliver them to three neighbors. Then the next week, they do the same for me. This is the one option where the meals do not need to be freezer friendly, since you deliver and potentially eat it the same day.
( I write a lot about meal planning and easy food preparation over at Balancing Beauty and Bedlam, so my readers know that cooking a main dish in bulk takes the same amount of time as one recipe, so one of my biggest kitchen tips is to always double or triple our recipes, so that we'll have another meal for later.)
This first option only works well if you're in close proximity to each other. I know of ladies who have done this for years with the same four friends, now that is a blessing.
2. Host a meal making party in ones home where everyone brings the ingredients for their main dish.
Typically, I have done this with anywhere from five to eight ladies.
Each friend was "assigned" one main dish (her preference). She would bring all the ingredients for that entree (x the number of ladies in attendance), and we would then assemble the meals together in my kitchen. So if I choose Mexican Lasagna, I would provide the ingredients for eight Mexican Lasagnas.
If I am shopping for one meal, I might as well shop for eight.
Through much trial and error, I eventually set down basic ground rules, such as everyone had to provide two lbs of meat per meal, the recipe must fit an 8×10 pan etc. For those with smaller families, they just divided the meal in half, and received even more meals for their family. There is always so much fun and laughter to be had by all.
The only down side is that my kitchen is a complete wreck when it's done, but so worth it.
3. Host in either a home or church kitchen – one person organizes, sets the menu, and buys the ingredients.
This requires more work from one person, but there is the option of taking turns with organizing this every month.
The pictures shown above was an evening like this. I set up "stations" with instructions for each meal. I provided all the ingredients (except for two of the meals in which attendees brought their choice of raw chicken or beef in ziplock bags, and we made crock pot meals). The guests then covered the costs of the ingredients.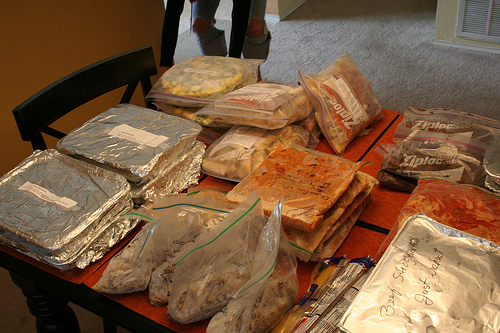 Some of my favorite freezer meals that I've used for our gatherings:
Mom's Homemade Sloppy Joes – guests leave with bag full of meat and bag of hamburger rolls
I'd love to hear how some of you have organized your meal making groups. When I launch 10 Minute Dinners on October 1, I will be kicking it off with 31 Days of 10 Minute Dinners,  and hope to include detailed posts on this very topic.
What are some of your biggest struggles when it comes to meal time?
If you have the desire to build community through starting a Kitchen Sisters Club, I'd love to help.
These gatherings are such a wonderful time of fellowship, and yet there's a feeling of total accomplishment when the evening is completed. I  know that many readers here have probably done similar things, and I'd love for you to chime in with the specifics of how you have set up your meal swapping groups.