Thanksgiving on the homestead
The candles flicker on the table, while the fire crackles from the side room. The aroma of our feast awaiting permeates the kitchen, while kids storm in from all areas of our family homestead.
We gravitate around the table and naturally reach for the hands of those beside us. We've done this before, it's life breath to most of us. My father, our patriarch, leads and prays words of truth and blessings over our marriages, friendships, occupational choices, ministries and our time together.
It's the kind of evening that Norman Rockwell captured. The kind of evening in which everyone wishes they could be included.
Nearly two decades ago, my family choose to buy land together. With lots of acreages, grandparents, brothers, sisters, and a plethora of cousins, we chose to build houses sprinkled around 20 acres, and have our young families grow up in community with one another – a kids' dream land.
My parents place a life long value on our generational legacy, and they continue to breathe and ignite that vision into us (their now adult children), but little did any of us know the cost involved in making community "work."
Yes, just like the history behind some of Normal Rockwell paintings where tears, poverty, and injustice, were mixed side by side with celebration and joy, being in community, whether with friends or family, is never easy. Often, we don't see those struggles plastered on any magazine covers.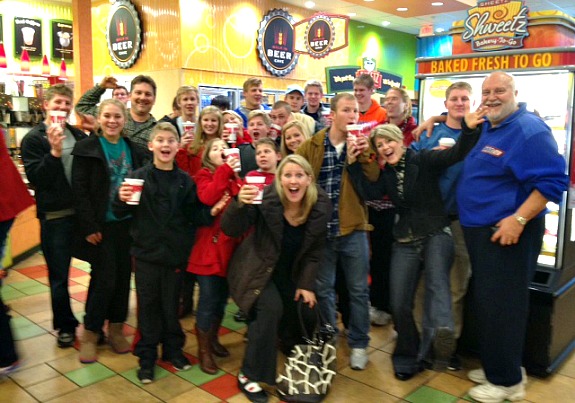 Family tradition of free Christmas Day coffee at Sheetz after delivering meals to those in need/refugees
Statistically, the week following Christmas brings melancholic feelings to the surface for many. With expectation, we wait to capture that perfect Normal Rockwell scene, yet it never comes, and the post holiday let down now surfaces.
As I reflect on my varying relationships, my desire to approach this new year with a renewed sense of purpose towards building community reminds me just how intentional I need to be in this decision.
I'm sharing the rest of this over at (in)courage today. Please join me.