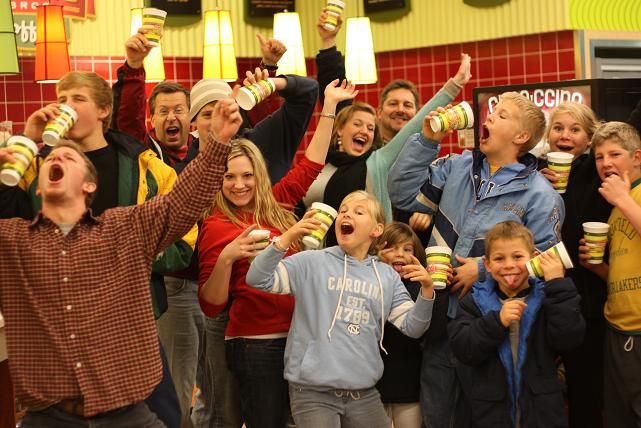 (The first year of our new Family Tradition – Sheetz Gas Station on Christmas Day. Read about my crazy family.)
There's nothing more comforting than a family who comes besides you in your crazy blog photo moments.
This pictured commenced the first year of our Free Coffee at Sheetz Tradition, and we will continue it this Sunday. After we deliver meals to some refugee families, a highlight of our day will be partaking in the self serve coffee  – FREE ALL DAY at any Sheetz Gas Station (and they are offering this New Year's Eve as well).
Yes, I love a family who gets excited about hamburgers from a gas station free coffee at a gas station. If you stop in, make sure you throw up a toast to frugal, family fun, and capture a picture for sweet memories. 🙂

Here are the Free Sheetz Coffee details that I got via email:
'Tis the season for a hot and tasty freebie. Warm up and celebrate the holidayz with FREE SELF-SERVE COFFEE ALL DAY on Christmas Day, and again on New Year's from 4PM on December 31st to 4PM on January 1st.
*Offer applies to one 16 oz. self-serve coffee per person. While supplies last. Sorry, no rain checks. Offer good any time Christmas Day and from 4PM on 12/31/11 to 4PM on 1/1/12.