Thanksgiving on the homestead
The candles flicker on the table, while the fire crackles from the side room. The aroma of our feast awaiting permeates the kitchen, while kids storm in from all areas of our family homestead.
We gravitate around the table and naturally reach for the hands of those beside us. We've done this before, it's life breath to most of us. My father, our patriarch, leads and prays words of truth and blessings over our marriages, friendships, occupational choices, ministries and our time together.
It's the kind of evening that Norman Rockwell captured. The kind of evening in which everyone wishes they could be included.
Nearly two decades ago, my family choose to buy land together. With lots of acreages, grandparents, brothers, sisters, and a plethora of cousins, we chose to build houses sprinkled around 20 acres, and have our young families grow up in community with one another – a kids' dream land.
My parents place a life long value on our generational legacy, and they continue to breathe and ignite that vision into us (their now adult children), but little did any of us know the cost involved in making community "work."
Yes, just like the history behind some of Normal Rockwell paintings where tears, poverty, and injustice, were mixed side by side with celebration and joy, being in community, whether with friends or family, is never easy.
Often, we don't see those struggles plastered on any magazine covers.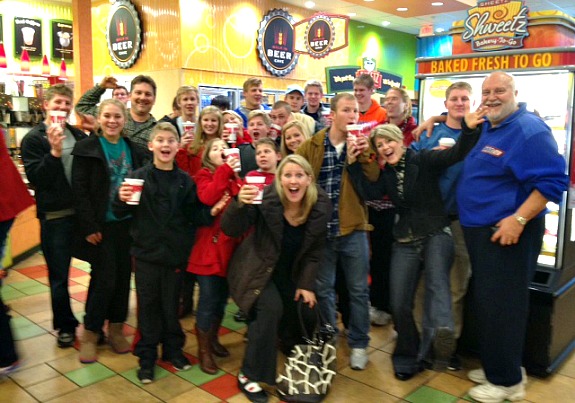 Family tradition of free Christmas Day coffee at Sheetz after delivering meals to those in need/refugees
Statistically, the week following Christmas brings melancholic feelings to the surface for many. With expectation, we wait to capture that perfect Normal Rockwell scene, yet it never comes, and the post holiday let down now surfaces.
As I reflect on my varying relationships, my desire to approach this new year with a renewed sense of purpose towards building community reminds me just how intentional I need to be in this decision.
Yet to breathe life into authentic community, where my desire is to really be known and to know others, it comes at great cost and sacrifice of time.
There are no fast forward buttons that come with friendships. It's a decision to work hard in those relationships, and be willing to let go of the "little stuff" (which feels rather large and overwhelming at times). There's a cost to stay committed, even when it's inconvenient, and a cost of extending communication, or as I like to call it "care-frontation", even when we'd rather stay silent. In some of my circles,  I've been coined the Queen of "Forced Bonding." Often, someone needs to take that role, and I gladly acknowledge the title.
At (in)courage, all of the writers have focused on varying aspects of community this year, and there has been an out pouring from you, our readers, that this theme truly resonates.
I look at community in the body of Christ much the same way I do community within our family homestead. When people ask how our "Norman Rockwell" family is as close as we are, I chuckle.
"First, nothing is ever as it seems. Second, not everyone desires the same kind of community, and third, it takes commitment, prayer, grace from an All Mighty God, and hard, hard work."
Often within the church, we view community as a "warm and fuzzy, let's sip Starbucks around the fire and share life together," kind of endeavor. There are blissful moments like that, but realistically, it's a  "I choose to love and be in community, even when it's painful," kind of journey.
But when that happens, when true community ignites, and we choose to dive into the nitty gritty of life together, the cost is so worth it.  Some of you have experienced that, haven't you?
It's then that we sit at the feet of the master painter, and marvel at the real masterpiece He just created.
Romans 12:9-10
Don't just pretend to love others. Really love them. Hate what is wrong. Hold tightly to what is good. Love each other with genuine affection, and take delight in honoring each other.
I want that, don't you?
I'm willing to take the risk. Won't you join me?
What's one baby step that you can take to bring community closer in the new year, or if you already have a place you belong, can you share encouragement for those still on the journey?

Christmas caroling and sharing treats
Originally, I shared this over at (in)courage. Comments are there.