As my daughters and I entered our local Goodwill last week, the oldest took a big whiff and sighed, " I love the smell of Goodwill."
I practically snorted my last gulp of coffee, and just began to chuckle. Contemplating how she could possibly enjoy that distinct thrift smell, I realized that she embraces thrift store shopping as an experience, just like her mommy.
When most can't get past the musty smell, I embrace the smell of potential.
When most walk in, look around, and feel overwhelmed,  I see it as a challenge of creativity.
When most look at an outdated tacky barely brass lamp, I envision it spray painted with amazing butter cream yellow.
When most think they don't have any good thrift stores around, I may challenge that – are you looking hard enough?
Yes, thrift store shopping is not for everyone, but for me...it's part of who I am – the beauty and the bedlam. 🙂
So here are some small ways in how I navigate a thrift store.
In every Frugal Fashionista and Trash to Treasure post that I write,  multiple commentors state that there aren't any good thrift stores where they live. I obviously can't speak to every single state, but I have been through most of the continental U.S. and I always sniff out thrift stores.
The ironic thing is that most of the people in my own home town would claim the same thing.
Do you know how often I hear, "Jen, I just can't find anything  like you do. I only find junk."
The problem centers around the fact that thrift stores do not advertise, are typically situated in lower rent, fairly junky looking buildings (except for the revamped Good Wills with a Starbucks – whoot whoot), and people only find out about them by world of mouth.
Start asking around. Find a classy lady that shops thrift and find her secret locations. I can't tell you how many people from our little city have now frequented "my" thrift stores. They just didn't know what they didn't know and never asked.
Living in the country, I do have to travel thirty minutes one way for most of my life in general. You may need to drive…a bit.
Thrift stores are NOT created equal, and some are…well…nasty. A few that I frequent necessitate two bottles of hand sanitizer. If you're new to the whole second hand thing, you may want to leave those stores for the veterans, but I have found amazing pieces of furniture to repurpose/paint from some questionable establishments.  🙂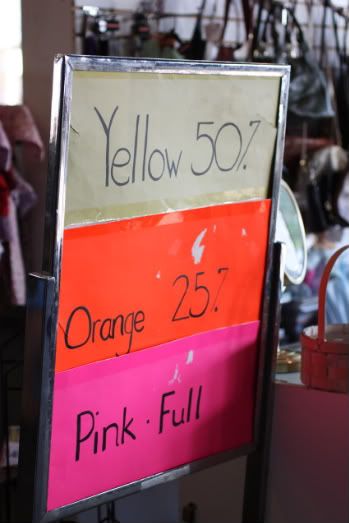 Prices will vary dramatically. Many stores have special days throughout the month where they discount specific items. Some days clothes may be 50% off, other days it might be housewares that are on sale. Our local Goodwill has set prices on clothes, and does not have any discount days throughout the year. But when our family went on our "no spend vacation" to Pigeon Forge, their Goodwill had discount days every week. The prices were higher to begin with, but you could still find great deals on the marked down merchandise.
Stores are often open to negotiation on larger ticket items such as furniture, so it never hurts to ask. (Remember to ask really nicely with gratitude in your heart. The "I deserve it/this item is a rip off" approach never works) :).
Thrift store shopping is not for the faint of heart. You may go in and not find one single thing, but then week later, you hit the treasure jackpot. During the summer, I stick to yard sale-ing, but as winter approaches, I  pop my head in at least once a week for a quick look see. I have it down to a science and I can spend as little as ten minutes so it doesn't feel overwhelming any more. If I am doing a  big clothes shopping trip, then I do take longer.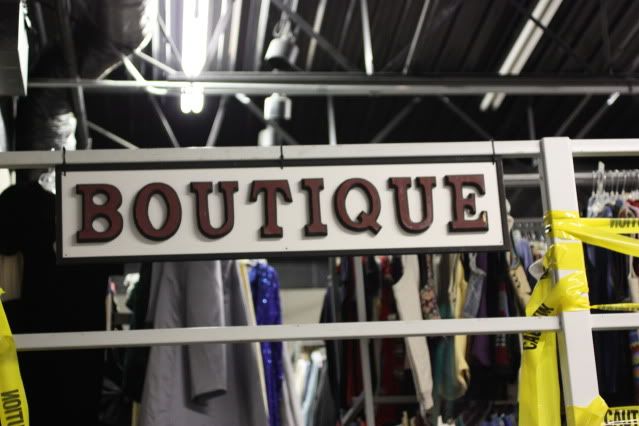 Most Sunday evenings right before children's choir begins, you can find me scanning "The Boutique."
Oh, this place keeps me grounded. It's probably the only "boutique" I'll ever shop.
If my rich college prep high school friends could see me now…they would never believe that the girl whose dad owned a ritsy country club would ever shop here. And guess what I'd tell them…what I do tell them…I love every minute of it.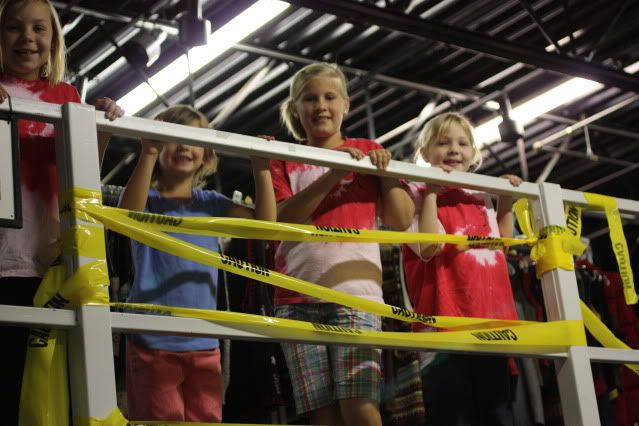 And yes, I realize my boutique looks something like a crime scene, but it doesn't bother these cutie pies one bit.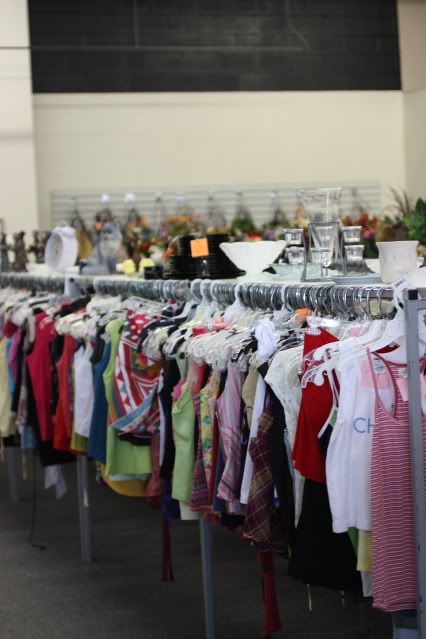 Yikes, this is becoming a novel.  How do I navigate the overwhelming amounts of clothes? I've begun to cover that topic in "Finding Great Clothes at a Thrift Store.
Now onto a "thinking out of the box mentality."
Typically, when I first enter a store, I head straight to the housewares, glassware, and furniture sections. (Browsing through clothes takes more time.)
I look for quality glassware, frames, pictures, trays…anything that I can reuse and repurpose. Yard sales are where steals can be had, but thrift stores have a broader selection.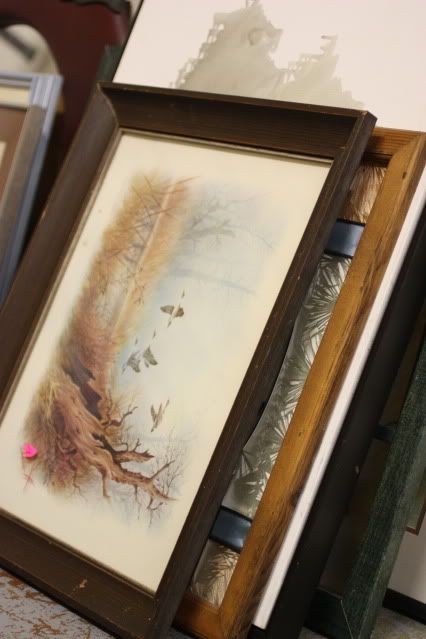 This was a large quality wood frame. These old, ugly frames become gorgeous fabric art for dollars or painted white, they become the centerpiece of a gallery wall. Check out more ideas for these old frames – DIY Cheap Wall Art.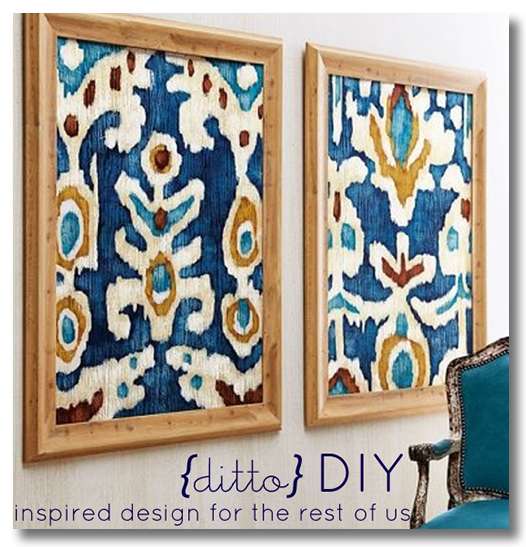 Covering over the ugly picture, putting some gorgeous scrapbook paper or fabric as a background, and then hanging a pretty decorative plate in the center would be beautiful with this picture. Or maybe I may paint over it with some chalkboard paint, and use it as my kitchen command center. I love that thought.
Or How about attempting a larger version of what I did for my daughters' room?
This mirror screams 80's decor, but loving it up with a quick coat of black paint would scream class. So many possibilities for only $10.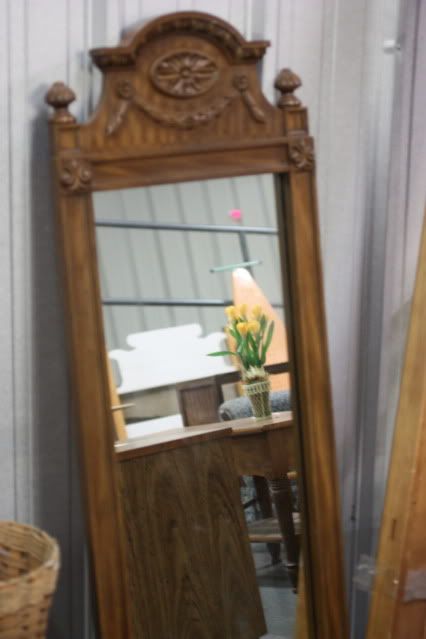 Guess how long this piece of table trash sat waiting for someone to see its treasure potential?
TWO WEEKS! And every time I saw it a piece of me died because I knew it was a steal for only $12.99.
Do you know how I just knew?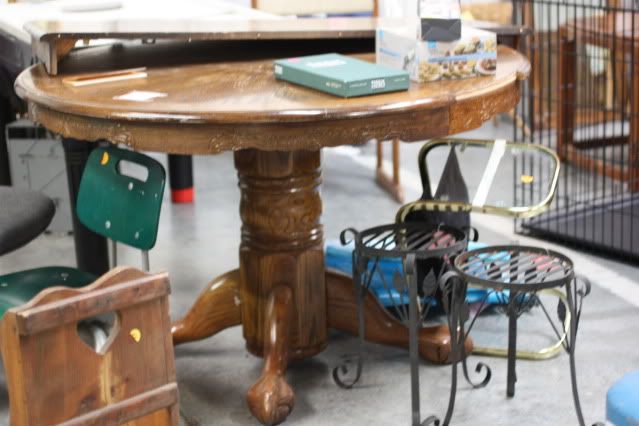 Because since March of 2007, this copy of BHG has been sitting in my bathroom "reading basket."
I have been drooling and coveting (in the most Godly way possible) this table debating how I could squeeze our family of seven around it.
THIS IS  just me!!
I've looked at this cover so often, and now I found out my daughter has too.
With this in hand, she came out of the bathroom and said, "Quiz me." She then preceeded to tell me every tag line on the ENTIRE FRONT COVER…no lie. 🙂 Isn't that hilarious? Just had to share.
Back to my point.
For $12.99 and an oops can of paint at $5, anyone could have had this table, but no one could see beyond the dirt, scratches and "dungeon factor."
Is black more you? It's practically the same style. I know, I know…I'm rubbing it in.
My point is…open your eyes to the amazing possibilities that surround you. Whether it's with items that you already own,  or something waiting for you in "The Boutique," trash becomes treasure when you allow creativity to take wings.