Presently, four pieces of wood furniture scream my name.
Under our outside lean-to, they wait and wait. As bits of pollen, dirty paw prints, and fallen leaves accumulate, they understand that sometime the same yard sale master who saved them from certain demise, will surely put them out of their misery with a magical brushing of paint.
Then and only then will they find comfort, shelter and safety within the realm of their new home.
Until then, the yard sale master will show off her brother's inspiration. (I mean he lives just through the woods, so it's kind of like I did it.)
This is the same brother who I featured as the Master Wedding Cup Cake Stand maker. The same brother who high-fived me at the check out stand when I took him triple couponing for the first time. The same brother who I now call, "The next Design Star," although I don't think he truly appreciates that accolade.
Soon enough, I will cross the threshold where my daughters will move from our haven to that of another. Yet, for my oldest brother, two out of three of their daughters are now married, with the last spending the majority of her time in NYC. Their home consists of a separate two bedroom/ one bath "girls' suite" which was filled with the typical white furniture that graces many rooms. The girls had three identical sets of furniture so my brother decided to surprise my niece and her husband with a "honeymoon suite" for their  visit last weekend.
The amazing part about tackling a weekend room project such as this, is that you can do it on a budget of $20 or less…much less if you find some OOPS paint at your local Home Depot for $5/gallon ,which he did.
He also used the free Glidden paint that I posted about last month….whoot whoot. 🙂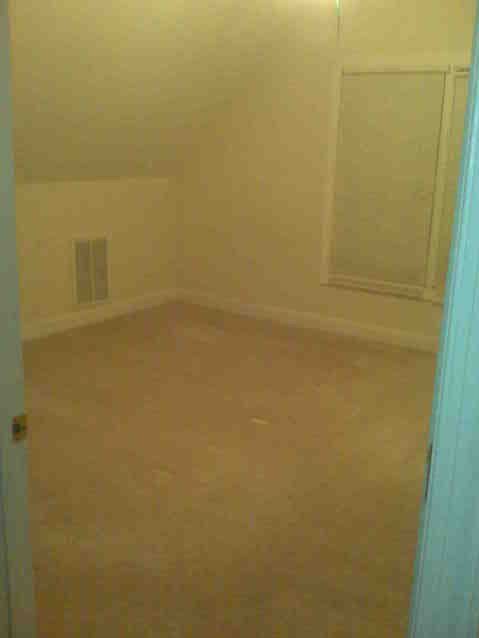 Room before…plain white walls, white furniture…
I know many of you are probably gasping that he would paint this furniture…trust me, it needed it. Doesn't all our children's furniture need a good painting every decade or so? 🙂 Plus, there are still two more white sets in the adjoining room.
After…isn't it gorgeous? It's a grown up look.
Inside the desk before…well, not quite before, but after it was cleaned out, before it was painted. 🙂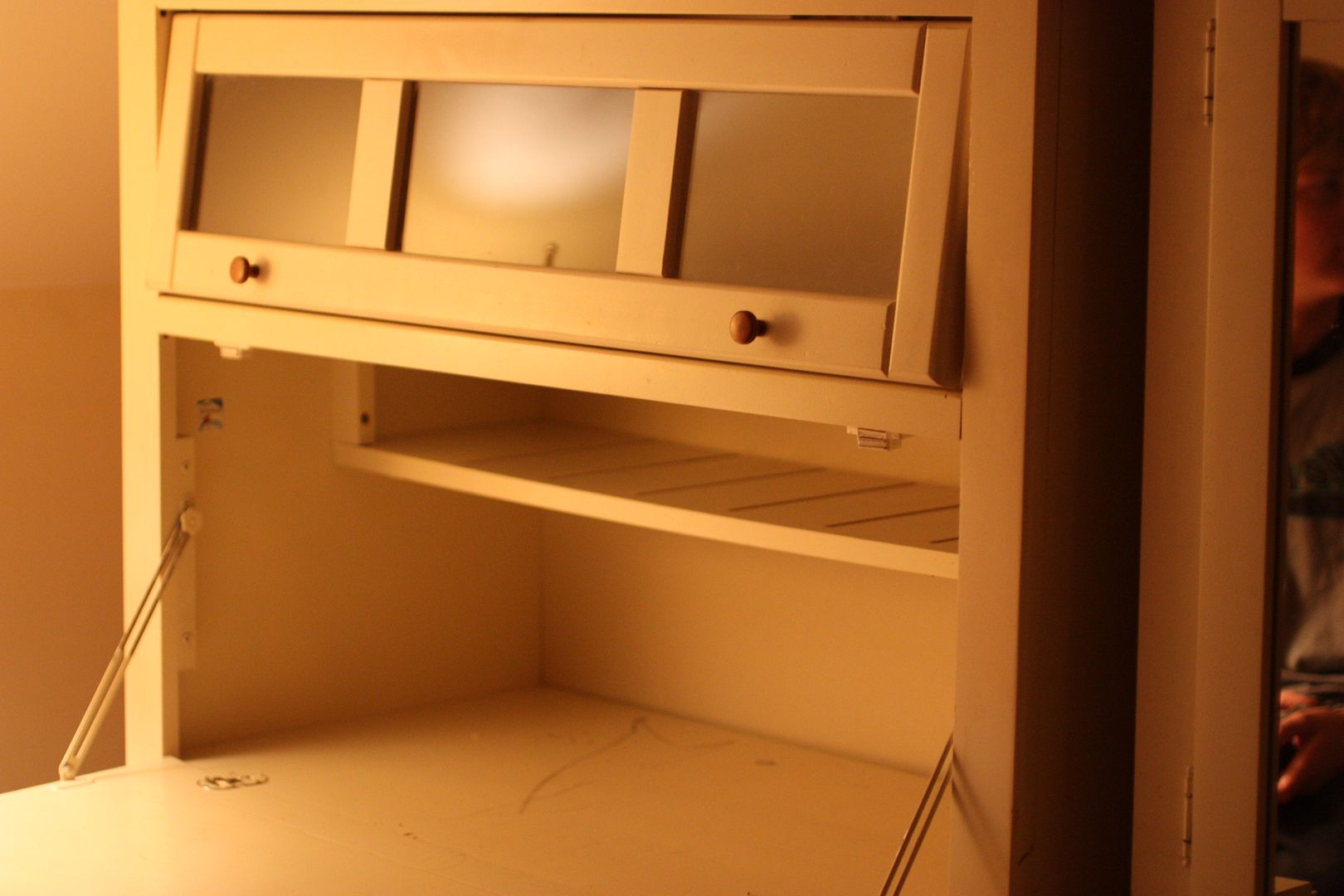 After –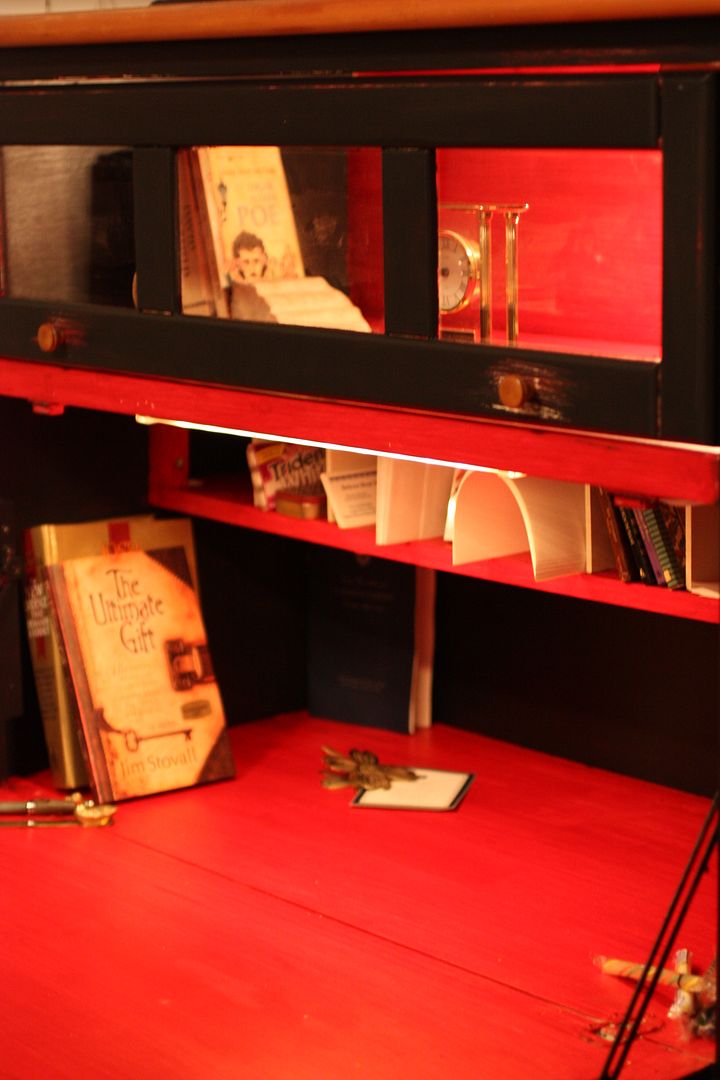 My brother was in furniture marketing/advertising for many years. Organizing photo shoots for magazines was one of his responsibilities.
Those instincts never die.
After painting the white pencil marked walls a soothing blue, he went to Goodwill and purchased a handful of accessories to change the little girl decor into a get away in which any married couple would revel.
Finding small God moments makes my day…this was one of my brother's Goodwill finds – exactly "as is."
Can you believe it? He didn't have to paint this picture, distress it or match the colors. God loves to surprise us with perfect matches like that. 🙂

Twin bed before…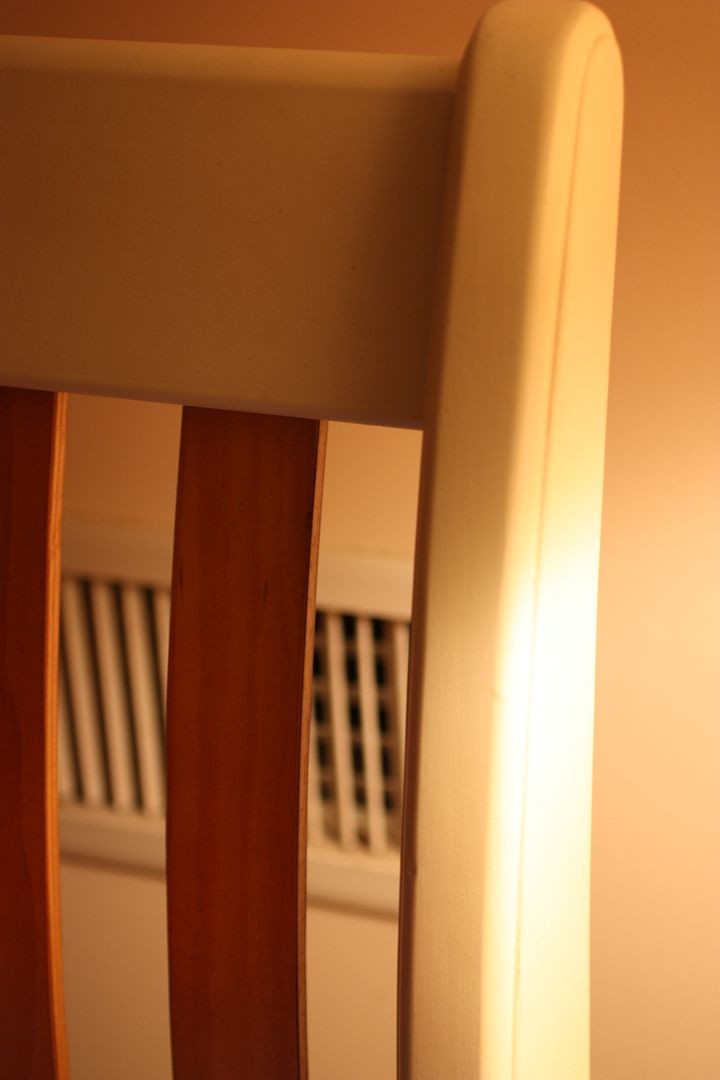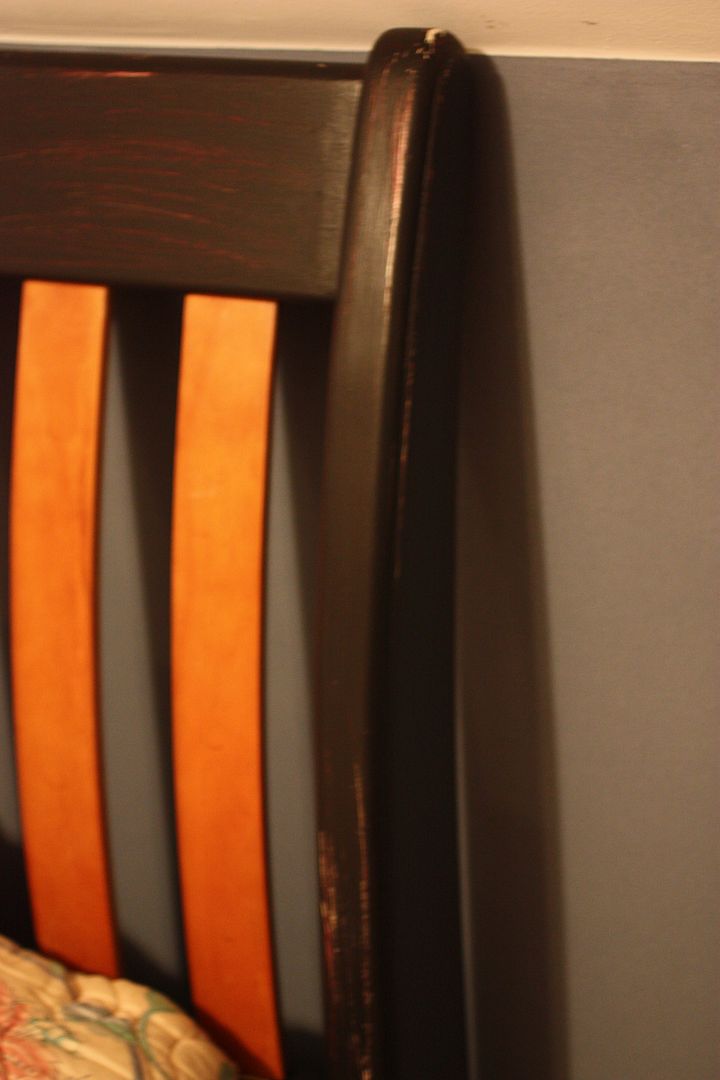 Here two of the three twin beds are pushed together to make a masterful King sized escape.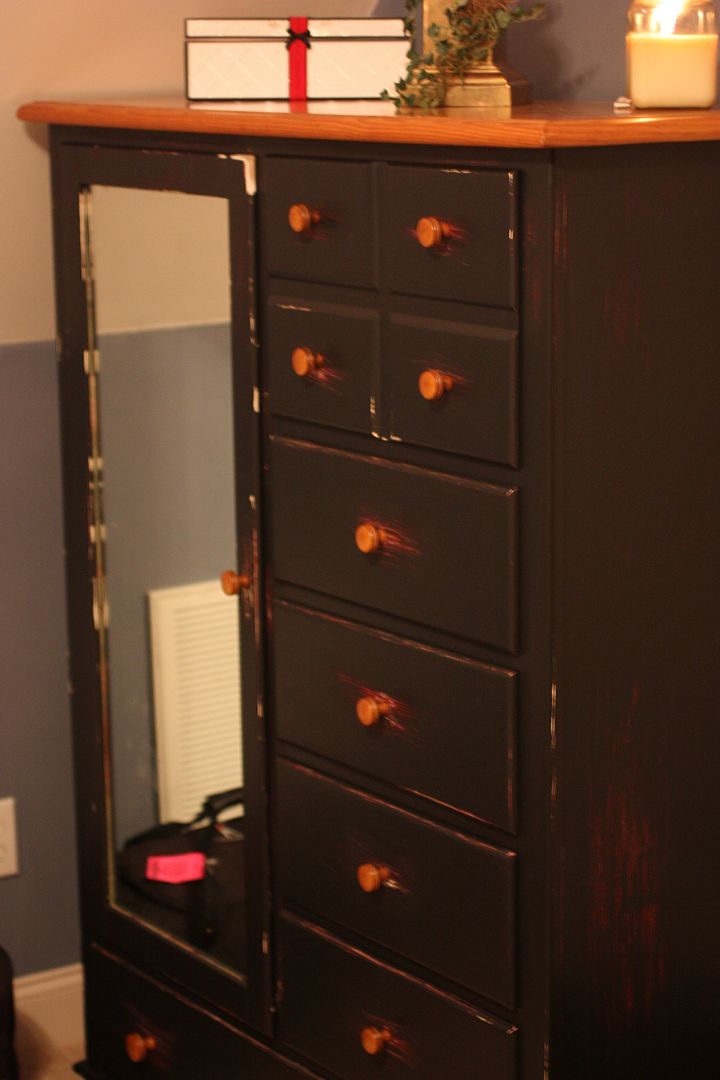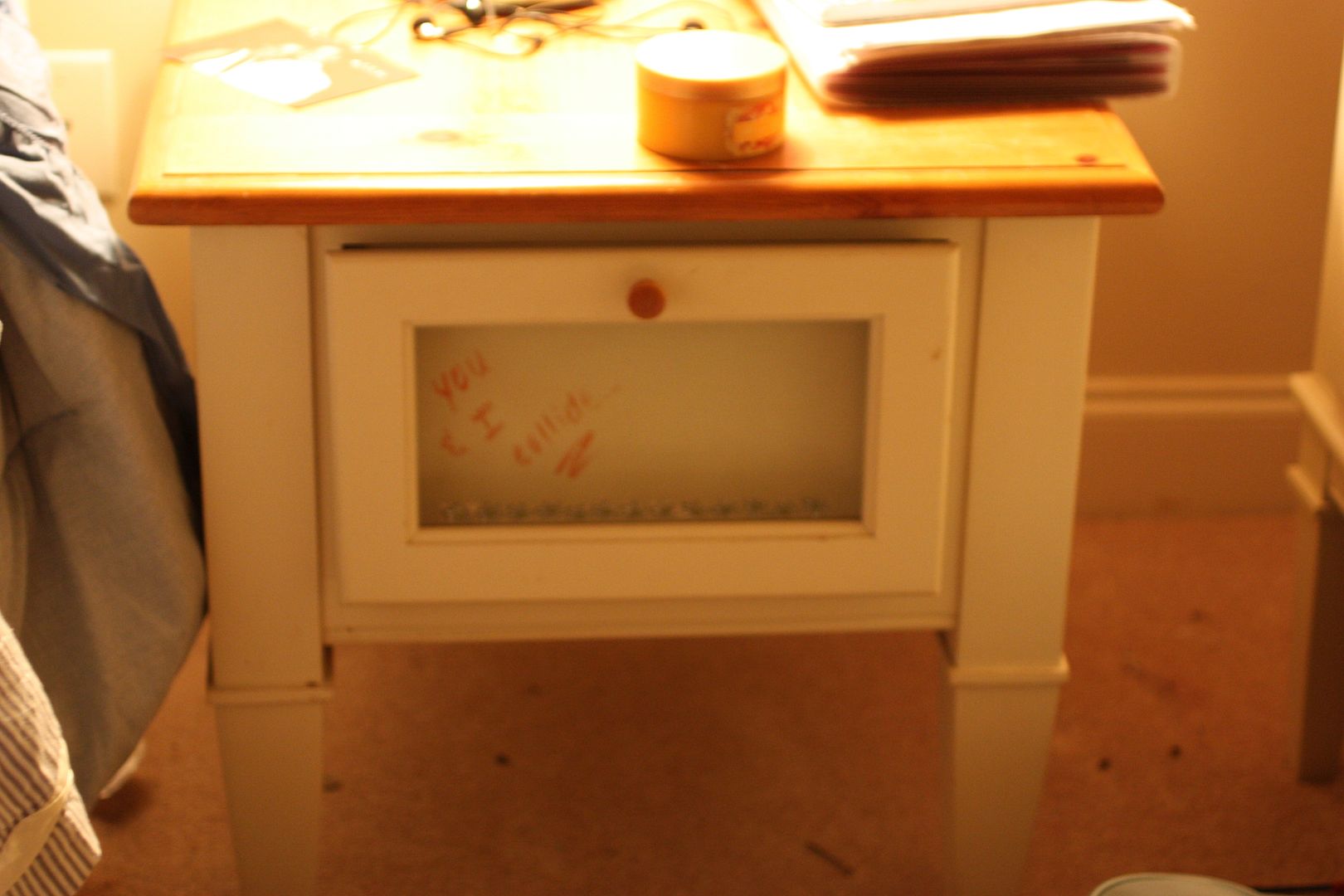 Candles were lit, fall leaves accented the front, and sparking grape juice was waiting as they entered. Don't you just want to get away for the weekend?
I know many of you are thinking…I can't do that.
Seriously,  you can.  Painting wood furniture is so easy, so simple…it just takes a chunk of combined time (and thus why my four pieces are patiently waiting.)
He cleaned the furniture well – years of makeup spills, and hair spray can do that in teen girls' rooms. 🙂
Then he sanded down many of the surfaces. I know that you can use an amazing primer to avoid that step. (That's what I do, but he's much more professional than I am. )
First, he completely painted over the white furniture with the free red paint, and then the black (latex eggshell finish). This allowed the red to peek through with the aged, distressed look he was going for. He purposely wiped away sections of the black/red so that some of the original wood shone through. Check with your paint store assistant for the best type of paint. If you don't mind paying extra (instead of the Oops), they may recommend enamel.
The beauty of the distressed look is that it takes away the perfectionist mentality. You don't want it to be perfect; that would completely defeat the purpose. Painting like this, there are no mistakes, and therefore,  it is just perfect! 🙂
Posted at: Kimba's DIY,