There's a funny thing about writing a blog such as mine. My desire is that you really feel like you "know" me.
Yet as much as I want to be an "open book" and share both the beauty and bedlam of my life, there are many things  that I just haven't had the chance to write about yet. I want to, or plan on getting around to it…some day.
To write about  significant issues takes a considerable amount of focused time, which is rare these days, and the fun stuff, well…sometimes I just need to let you take a sneak peak at my life through pictures, and today's one of those days.
Years of my life have included some sort of acting/drama ministry, which you probably didn't know. During the past three years, my husband and I have been involved in a multi-generational family worship experience called "Kids Stuf" (spelled correctly).

For two years, we did a full length 50 minute production every week, but for the last year, that commitment is now only once a month. Whew!
Our old church sanctuary has now been turned into the theater – Kid's Stuf clubhouse, and since I have spent a huge amount of time on this set, I had to show you. It continually oozes with a creativity that never ceases to amaze me.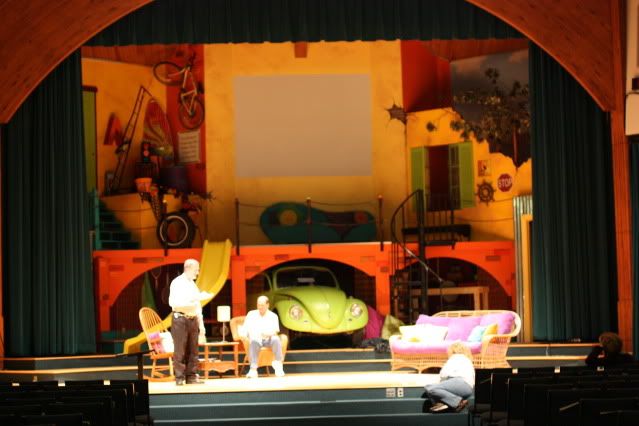 As you browse these photos, know that my wonderful friends did this on a "Goodwill" budget.  Do you see the old Lovebug?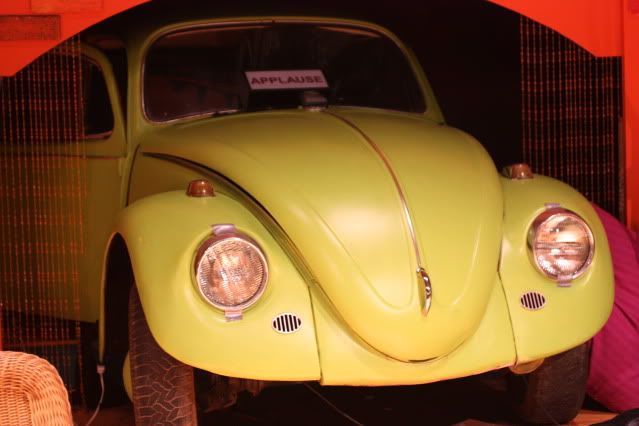 The "Kids Stuf" plot weaves the same characters in and out the script every week.  Focusing on a monthly character quality and what the Bible says about that virtue, I have played 16 year old Cammie for the last three years.
"It's been, like, totally fun, for sure!" 🙂

Cammie acts just like her name, but the trademark we chose for her is PINK. I've had a blast being a 16 year old pink Frugal Fashionista. hee hee

Our director spotted this old fridge on the side of the road and called her hubby to snatch it up. Check out the designer's details. She has carried the color theme perfectly throughout every little item. She spray painted the shelves, and even has matching accessories.


Wouldn't this be fun for a girl's room? Again, spray paint is your frugal decorating friend. Our set designer spray painted the inside of the shades lime green and then hot glued the pom poms for added fringe.
Yes, we can enter through the fridge. (This is my sweet friend, Sharon, who also plays Mrs. Finkenhoeffer.)

Liz is our amazing designer prop extraordinaire. She is the designer behind every decorating detail that you see. The phrase 'trash to treasure' should have her name next to it in the dictionary because she is the queen of creativity.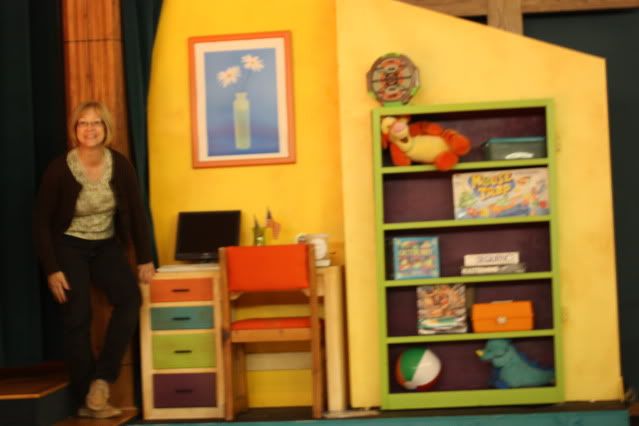 Remember my post sharing how easy it is to paint wood? This is another great example. Every one has seen or donated one of these desks to GoodWill. Now I bet you wish you hadn't? If you have one, spruce it up like she did. (Maybe with different colors.)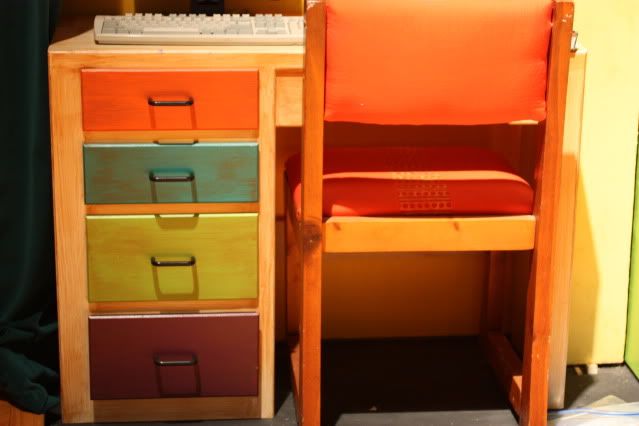 She recovered this old abandoned sofa with purple towels -yes, both the pillows and cushions. I told you she's amazing. It's now the cutest thing, and perfect for a teen's room.


Look underneath the circular staircase…


it's the clubhouse "workshop."
Again, excellence is in the details (and I had nothing to do with that, for sure ).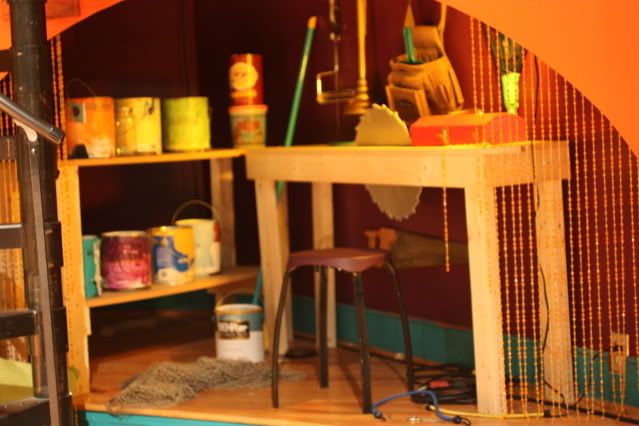 Details from the rafters.


Meet "Mona" – one of other entrances. (She was hiding behind the curtain in the first picture.)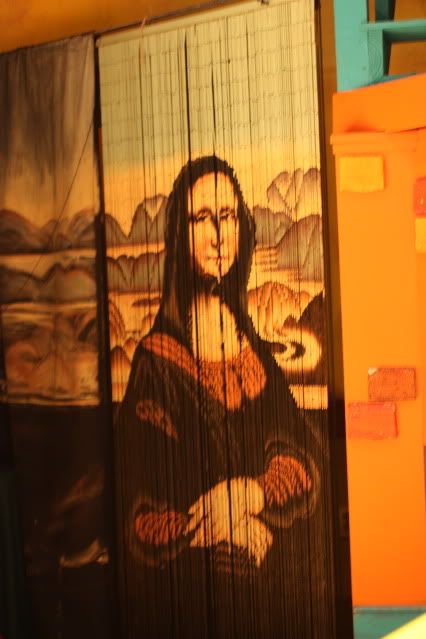 It's been such a blessing to work with this creative group of people. We have become like family, and it's been a joy to walk in ministry together doing something that's so much fun.
Posted at : We are that Family
I hope you enjoyed a sneak peak at a big aspect of my life that I haven't yet shared. I realize blogging is like that. Just like the people who watch me on stage as "Cammie" have no idea I write a blog, you never knew I was "Cammie."
Bloggers can choose to have a split world, I don't want that…so here's to another apect of  intersection between real life and blog life. 🙂