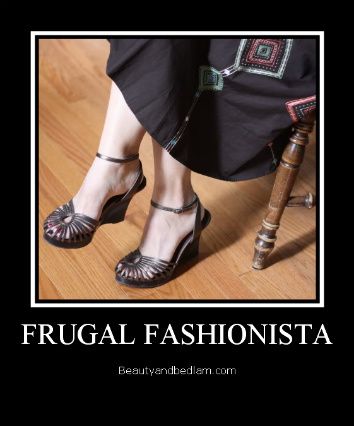 Are you new to my Frugal Fashionista series? Find out how I dress for less with designer outfits for mere pennies on the dollar. Yes, all outfits  from head to toe are less than $15.)
It's time for another Frugal Fashionista Fashion Show. THIS FRIDAY, JULY 9th, link up to your Frugal Fashion posts. As much as I love seeing what you found for 90% off the store rack, this link up fashion show MUST have at least 50% of the outfit found from a thrift store, consignment sale or yard sale. It's to show that thrift shopping is back, it's the new black. 🙂


It's that time of the year when I finally got around to sorting, packing, and donating my winter clothes to make my closet and drawers more manageable for my summer items.
Yes, I live in NC. Yes, this should have been done months ago, but unfortunately, this is how I roll. I always have to pause and mourn for the loss of my long sleeve black shirts that get put out of sight.  If you've been reading my Frugal Fashionista series for any amount of time, you know that my black and monochromatic outfits are my "good to" items when I just don't know what to wear.
The shirt featured above was one of my favorite $3.75 GoodWill finds of this past season. It's dressy enough that I could wear a long black skirt with it if I ever get invited to fancy schmancy dinner by someone famous and need something to wear (which I won't, but just in case….), yet I can pair it with  great big silver earrings, classy, slightly flared  jeans, and hot red shoes for a fun, hip day look. It's very hard to find jeans that fit just right second hand, so when you do…snag them (even if you have to pay a little more). These jeans were only $5 from our local Junior League Bargain Box thrift store.
Typically, I am all about investing in a few solid accessories and jewelery to make an outfit pop, but this shirt had such a unique collar, with a slightly glittery lining, that I felt a necklace would actually detract from the simple elegance of the neckline. I showcased it with larger earrings, and feel that no necklace was definitely the way to go.


When I was in NYC a few months ago with some fabulous bloggers (learning more about Invisalign for my daughters),  this was one of those weekends where black, highlighted with accessories, was my choice for most days.  For my travel day,  I chose to wear a $1 yard sale short sleeve shirt, which works for summer or winter, with a fun, large necklace, and comfy loose pants.
( Ari , Alli I were being crazy taking pics in the mirror.)


Ari is another great example of how classic jeans, and a long wrap can dress up any kind of outfit.
Everything Alli is wearing is either from a yard sale or a thrift store. She shows exactly what my next post will talk about…having fashion fun with color. She also demonstrates one of the core wardrobe musts – "an A-'line skirt". Both of these are outfits I would wear, and you've actually seen me in Frugal Fashionista things quite similar.)


The shirt I wore above, was from this outfit last summer.
Total cost: $9.99
Sunglasses – $1 (yard sale)
Shirt – $1 (ys)
Necklace – $1 (ys)
Gab Shorts – $3 (thrift store)
Anne Taylor shoes – $3.99 (thrift store)


This group photo shows that black on black with a splash of color, and black with  jeans will work any time. As any Frugal Fashionista knows, black is the easiest of treasures to find – as experienced by my "Little Black Dress Confession."


But we're not pining away about my love for black because it's summer time. We need to throw off the dark and embrace the light. (Can you tell I am going on little sleep?).
As I enjoy from change from black to white,  summer is when I pray I don't spill my coffee, or that our dogs don't jump on me or that the kids don't throw up near me because I am all about switching out the black and enjoying the white.
White is fresh, classy and can be paired with anything for a look that says more, even though you paid less.
This $1 yard sale Anne Taylor Loft shirt is made of  fabric in which I can snuggle and sleep in all day. I layered a $1 hot pink yard sale with a $0.50 yard sale cotton skirt for a casual, yet super comfy look. For a day of errands, I wore the same shirt with khaki shorts earlier in the week.
Total: $2.50 for the clothes (add on a whopping $0.50 for the bracelet and the earrings break the bank at $2.50.)


Same day (just to show another white shirt option with the layered tank.)
Summer is all about layering. Often the low cuts on shirts these days are so incredibly inappropriate that I find having multiple tanks for layering essential.
This brand new shirt with tags was a hand me down from Joy. I tried telling her to keep it since it's  SUPER cute, but she passed it on anyhow. I am not to proud to turn that down.  Plus, what's more frugal than free?
Are you the recipient of friends that dress well and pass down their clothes to you?


As I share about bringing out the white for summer, my sis in love is a marvelous example of mixing the two. She is a Frugal Fashionista at heart, but she takes it up a level from me. She invests in great accessories at a local boutique in town, therefore making what ever outfit she puts on come to life.
Look at how a basic $1 white t-shirt with a black wrap screams class and sophistication when paired with a perfect necklace and pin to dress it up. (If I was a better fashion photographer, I would have straightened her necklace first. Just imagine it's straight. :))


For years, these black pants that she bought at a consignment store have been a core wardrobe piece.  When you find a classic piece that you love and that fits like a glove, buy it or invest in it because it will bring you years of wear.
Her yard sale shoes tie the whole Frugal Fashionista outfit together for class and sophistication. Plus, it's casual enough that she can meet the needs of her ELEVEN children if they need her. (YES, you read that correctly…remember my sweet sis in love…mom of eleven...all hers….no twins.)


So embrace the summer and our opportunity to pack away the black (well, some of it) and embrace the chic look that white brings.
White offers a cool and refreshing, classic clean look. Pair it with monochromatic colors, and if in doubt, always ask. 🙂
Can't wait to see what you all show off for the Fashion Show this Friday. Get those cameras out and get ready to inspire others with your frugal treasures.