Are you new to my Frugal Fashionista series? Find out how I dress in designer clothes for less. Yes,  for mere pennies on the dollar, my outfits are less than $15, and did I mention…all second hand?)
Looking through my memory card of the last few outfits I remembered to photograph, I saw a theme.
Even though I enjoy shorts, jeans and pants, there's something so easy, comfy and fun about a casual cotton skirt. And better yet, often find them at yard sales for $1 – 2.
I get a lot of comments from you all saying you aren't a skirt kind of girl. My question is "Why not?" Now, these outfits that I have pictured this week are worn dressier, but I wear casual skirts with T-shirts all the time, just like I would shorts. Often, they are much more comfortable, especially in the summer because of sweat with shorts, which I won't mention. Pictured above was my find from last week. A light, cotton skirt for only $1. The seller was a much smaller size than me, so unfortunately, nothing else would have fit, but because this skirt had an elastic waist, I thought I would take a chance, and I am glad I did.
The cost of the total outfit? $10….yes, only $10 (with shoes and necklace).
The white shirt, cotton skirt and ITALIAN LEATHER, like new purple sandals were all yard sale steals totaling $4. The wrap was a thrift store find for $2.75 and paired with the fun pink necklace, it brought the total to only $10.  Besides the detailed embroidered flower on the skirt making me just happy because it's gorgeous in real life, the cost, makes it that much sweeter of a find.

Now, since most of you know I am challenging myself to 30 days of healthy living right now, with the hopes of dropping some of my added pounds and starting to exercise again, I want to point out how I manage to cover up much of that extra weight gain. I'm taller, so admittedly, it's a bit easier I suspect.
The picture of the pink and weight outfit was taken the same week as this one with the green shirt, and yet I look ten pounds heavier in the second photo. The key to "instant weight loss" in fashion is creative concealment. 😉  By wearing a wrap that hits right above the waist line, it not only covers up my side muffin top, but draws the eyes away from it, therefore slimming the whole line of my waist, and covering what should be covered. I love the look of the second outfit, but I added a thin sheer, white, cotton cardigan over it, and it was perfect. (I should have taken a pic…ugh).
Again, this skirt has a very detailed embroidered flower, a bit bold, but it was fun and came from a boutique store. I bought it at Goodwill for $3.75, and I am sure originally it was a pretty penny.
The green tank was $0.50 at a yard sale, and these unique designer shoes were only $2 at a "rich person's yard sale. (And yes, I was at this yard sale for over an hour and got some GREAT treasures..to be shown later.) These shoes are so unique. The detail is exquisite in real life.


(For all of you wonder if you should seriously wear second hand shoes, these are my thoughts.)


I have a lot of black skirts, but this one is made out of of that "so soft you can sleep in it" cotton, and I just love wearing it…a lot. I wear it to church (like here). I wear it as a swim suit cover up. I've even have worn it gardening, oh yes, I have. This was one of the best dollars I have spent at a yard sale. Pair it with a silk, dressy thrifted purple top for a pop of color,  and a great statement piece necklace, and you have another outfit for under $10.  This necklace was new, but I got it for $5 online. You can see it up close on this video of our upcoming frugal living – Becoming Conference.


The following pictures and thoughts were taken from a post last year (and over ten pounds ago), but again, it shows how fun and versatile skirts can be.

I'm just going to say it…I was giddy when I found this skirt, oh yes, I was.
The possibilities are endless. Getting ready for church and running really late, (yes, I literally left the house with soaking wet hair), I grabbed the first shirt that matched – white. But this style would be spectacular with turquoise, light blue, black, brown, green, or orange. I have at least eight shirts that would match and it can be worn all year round – dressed up or down. Again, remember that sizes when thrifting really varies. This skirt is a petite and I am on the tall side. Assuming it would be too short, I tried it on anyhow since I LOVED the fabric. I guess it's meant to be worn longer, but I snatched it up anyhow…for just $2.99 (Carolina Thrift).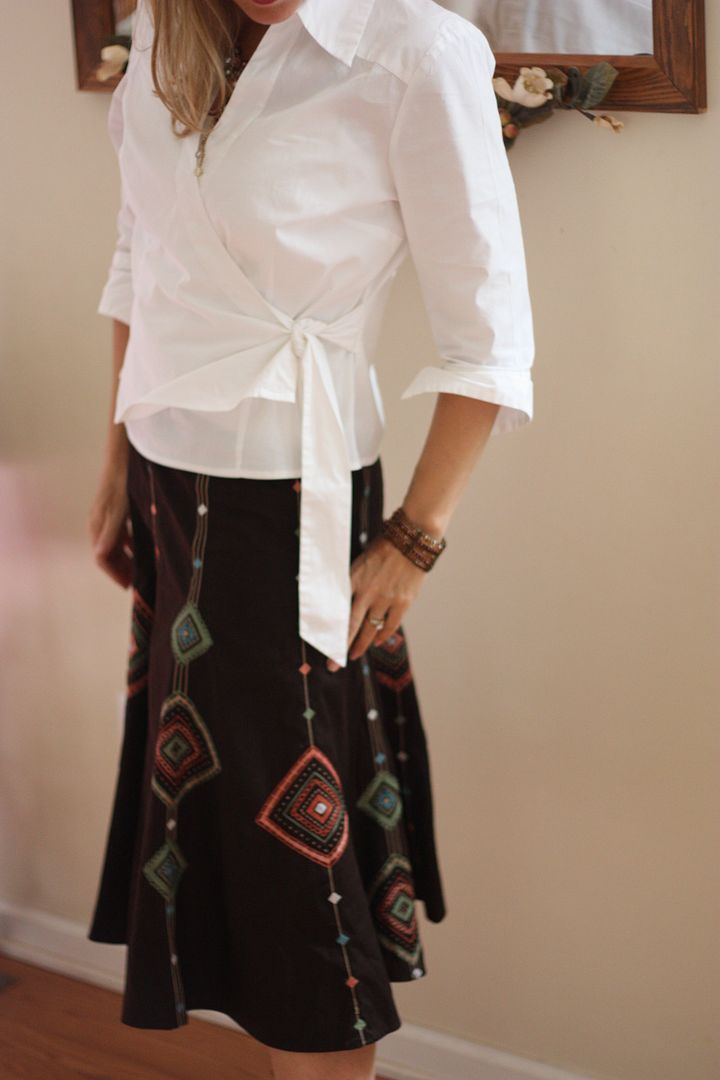 Remember my tip about trying on various sizes? This shirt is a prime example. It's a much bigger size than I would typically wear, but since I purchased it at a yard sale for $1, I wasn't about to pass it up.
A classic white shirt is one of my core wardrobe pieces and this style flatters any size. Because it ties on the side, I cinched it tight and love it! Even when I was 40 pounds heavier, this same shirt would have fit. A $0.50 yard sale Liz tank is layered underneath for modesty.

Shirt and tank – $1.50
Skirt – $2.99
Shoes – $1.00
Jewelery – $2.00

Total cost of this outfit (which really does look better in real life): $7.50
So what about you? Are you ever a skirt kind of girl? Either for dressy occasions or even day to day fun?