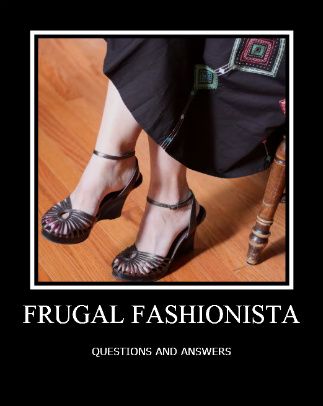 (Are you new to my Frugal Fashionista series? Find out how I dress for less with designer outfits for mere pennies on the dollar. Yes, all outfits  from head to toe are less than $15.)

One of the most asked questions of my Frugal Fashionista series is in reference to shoes. People see the cute outfits, possibly understand wearing designer second hand clothes, but they just can't get past the fact that I wear shoes…shoes that other people had on their feet.
First off, let me just say that in no way, shape or form will I be offended if you just can't get past the "eww" factor of thrifting for shoes, but I am going to try to sway you just a little.
I am VERY picky with the shoes I purchase. I pass by hundreds of pairs at Goodwill and yard sales on a regular basis to snatch the 2-3 gems that have been discarded. Now, with that disclaimer, there are still tons of unbelievable shoes up for grabs.
I have not bought shoes from a "real" store in…thinking, thinking…ten years (at least).
Some women spend money on make up, some on handbags, but many women spend exorbitant amounts of money on shoes. Shoes is just their "drug" of choice and and they have shoes to accessorize every outfit. When women have that many shoes, quite often none of them get worn very much. Especially with dressier shoes, they may be worn for one special occasion and then not touched again before they clear out their closet. Those are the shoes that I snag and trust me, there are plenty to go around. If you are a minimalist, this is where I ask you to PLEASE stop reading or I will feel your palatable disdain through the computer screen.
Growing up, I had three pairs of shoes – tennis shoes, church shoes and every day shoes. Money wasn't an issue, we had money, but I didn't get what the big deal was with shoes. Even into college, I had no care about my shoes.
Then, I bought my first pair of HIGH BLACK LEATHER BOOTS, and my life changed (in just a superficial way, of course). I realized that with just the right pair of shoes, an ordinary outfit turns from drap to fab in an instant.
Shoes, like accessories, can make the most basic of outfit pop with pizazz. There's nothing I love more in the winter than to pull out my tall boots. They give me confidence about an otherwise normal outfit that previously I wouldn't have had. Since the price tag on the shoes I gravitate towards typically run well over $100 in the stores, my Frugal Fashionista finds allow my new found love for shoes to flourish without heart failure.
Notably, now my biggest problem is that I need to pass on the pairs I don't wear anymore.  I'm confessing this is a sampling of what I own.  I just pulled out some summer favorites (that were on my first two shoes shelves…lol).
Here's the deal with excess shoes. Yes, they take up room (I'm working on weeding through them now), but it's so fun to mix and match shoes with outfits. Considering that most brand new leather boots cost more than what I spent on all the shoes in my closet, you can judge me. I can take it. 😉


Two weeks ago, I bought these Steve Madden sandals at the "Fashion Haul" ladies' yard sale for $2 (in the box). Considering they probably cost around $55-90 new, I'm all over those.  I always check the bottom soles; that gives me a good gauge as to how much wear and tear have occurred on the shoes.
These can easily be wiped down with some kind of disinfectant. But let me ask you if you've ever tried on shoes at a store? Hmm….not much difference from putting on these wooden sandals I might add.


These $1 sandals were worn once for a wedding (and yes, I heard the whole story, including the part about the ex-husband…yard sales, you gotta love them.)


When I purchase shoes that have any kind of cloth on them, I always do the "smell test". Yes, I do and I am very subtle about it. (Maybe that should be my next vlog…it's kind of funny how I do it.) I will not purchase any shoes that have any kind of odor, and so thus, the smell test is necessary for shoes with cloth. Many pairs you can throw in the washer. I find like-new Nikes quite often. I don't have a problem wearing them right away, but if you do, just throw them in the washer with a little bleach. It works really well on my sons' shoes all the time (yes, even leather).
Above – Adorable blue canvas – $1 (same "Fashion Haul" ladies who LOVE clothes and shoes) They had about 70 pairs of shoes between them – all of them designer names….quite unbelievable. If only my foot was smaller.


$4 leather – Good Will


Sister in loves sporting their thrifted shoes.


These red Birkenstocks were approximately $125 new, and I bought them for $1 at a yard sale. They had virtually no wear on them. If they were in a box, I would have thought they were new. The white sandals were brand spanking new in the box with the tags at Goodwill for $4.


$4 Goodwill


Anne Taylor Loft – $2 Yard Sale


I Love finding colorful shoes for the summer. Both of these really make an outfit super fun.


I got both of these at yard sales for a couple dollars. The blue ones are Aerosoles (I think, but am not running up stairs to double check. :))


(Above) Fun red, Goodwill shoes from my Finding Great Clothes at a Thrift Store Video, and (below) last weekend's yard sale shoe find – $1. (And those I will only wear for probably one special occasion. I need to practice in them first. Those are high…even for me. I don't think my calves are in that good of shape, but they were super cool.)


(Because my dear daughter really wanted to be in my Frugal Fashionista post…she decided to take matters into her own hands (on many occasions.)
Whew – that was exhausting, even for me.
Hopefully I've inspired you to think twice before you disregard the notion of second hand shoes.  Even if I haven't, enjoy spicing up your outfits with a few carefully chosen pairs of shoes…it will make all the difference.
Feel free to throw any questions at me…I'm up for the challenge.