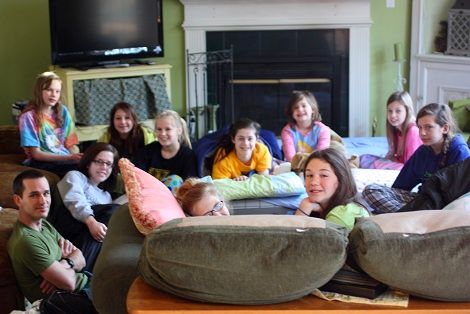 Every March, for the past five years, we have hosted a house full of  middle school students (typically around 15 people) for our church's annual D-weekend (Discipleship weekend).  Girls and boys from various schools, backgrounds and personalities come together for a pivotal time of sharing and fun, and we have the privilege of opening our home, our floor, and our kitchen, to these kids. I put on my "Cooking for a Crowd" cap and get the recipe ideas for large groups simmering.
When I was cleaning out my cook book cabinet this past week, (oh yes, I love my cookbooks, and I know you do to0 from your comments), I found a small recipe binder that my former youth group put together for me. When I mention former, I mean as in 18 years ago. When I was single and then newly  married, I was the Music and Youth Director (pastor) at a church.
Finding this binder is a treasure. They gave it to me as an initiation for all the "Fun foods" that teens want to eat during youth group, and I can't wait to start making some of these now. This is perfect timing.
It's filled with titles such as: No Bake Cookies, People Chow, Puddingwiches, Carmel Apple Dip, Strawberry Fruit Dip, Pizza Snacks, Dirt Cake (already made this), Peanut Butter Goodies (very similar to my No Bake Peanut Butter Balls), and Rocky Road Pizza (which they bolded as a MUST TRY! You know it's an old recipe when it calls for Oleo.) It will be fun to try some of these, even though some of the directions are "interesting." They are all hand written by my old group.
While I won't be experimenting this weekend, I will be going with my tried and true recipes that every middle schooler enjoys.
Taco Casserole Recipe: A family favorite for dinner.
Stuffed French Toast Casserole with fruit for breakfast
My Sausage Crescent Roll Recipe for our second breakfast, and I am still debating on the last meal. I could do homemade pizza, or chili or a baked potato bar. Of course, there will be lots of treats, chips, snacks – the best that  junk food has to offer because truly, feeding their tummies opens their hearts to some good 'ole soul fillin'.
If you were hosting a large group of Middle School Students for the weekend, what would be on your menu?
Simple Rules for Tasty Tuesday Parade of Foods – As always, please link directly to your recipe post and not your blog URL, so that everyone can find the recipe months from now.

Also, link back here in your post so that everyone can join in the fun, it's just common courtesy of blog carnivals. Please do not link up a recipe meme that you have started. Thanks for your understanding.