Enjoy instilling more memorable traditions into your home by searching my activities and Thanksgiving tradition posts.
As we pour out gratitude, our soul feeds joy.
It's that time of the year, when we focus on feeding our tummies, yet what's more important than feeding the hearts of our children with one of the most important character qualities -  a heart of thankfulness.
These Gratitude Rolls put a fun "foodie" twist to expressing our gratefulness in a unique and creative way that will impact your children for years to come. This Thanksgiving tradition is similar in purpose to my Leaves of Thanks tradition, which I shared earlier, yet these Thanksgiving traditions shouldn't be saved for only special occasions, you can enjoy this encouragement any time of the year.
Today we made these Gratitude Rolls "Just because," but I envision using this during a birthday celebration and have everyone write something they love about the special birthday "blessing."
Gratitude Rolls – This simple tradition is a fun way for your family to express what they are grateful for during your Thanksgiving dinner.
As guests arrive have each person write a few things that they are grateful for on small sheets of parchment paper, or regular paper if you don't have parchment. If you want to spend extra time making homemade butter horn rolls each Thanksgiving like we do, you'll love them,  but purchasing one or more packages of Store bought Crescent Rolls works well without the extra work (which is what I used for these pictures.)
Remember, it's not about having the perfect meal, it's about celebrating life together.

Place your gratitude paper slips on the dough wedges, roll them up into the crescent shape and follow the baking directions. When the rolls are served, pass them around and enjoy savoring the moment as each guest tears into their hot roll and then shares the written gratitude statement. If you want to add a fun twist, keep the notes anonymous and have everyone try to guess who wrote what.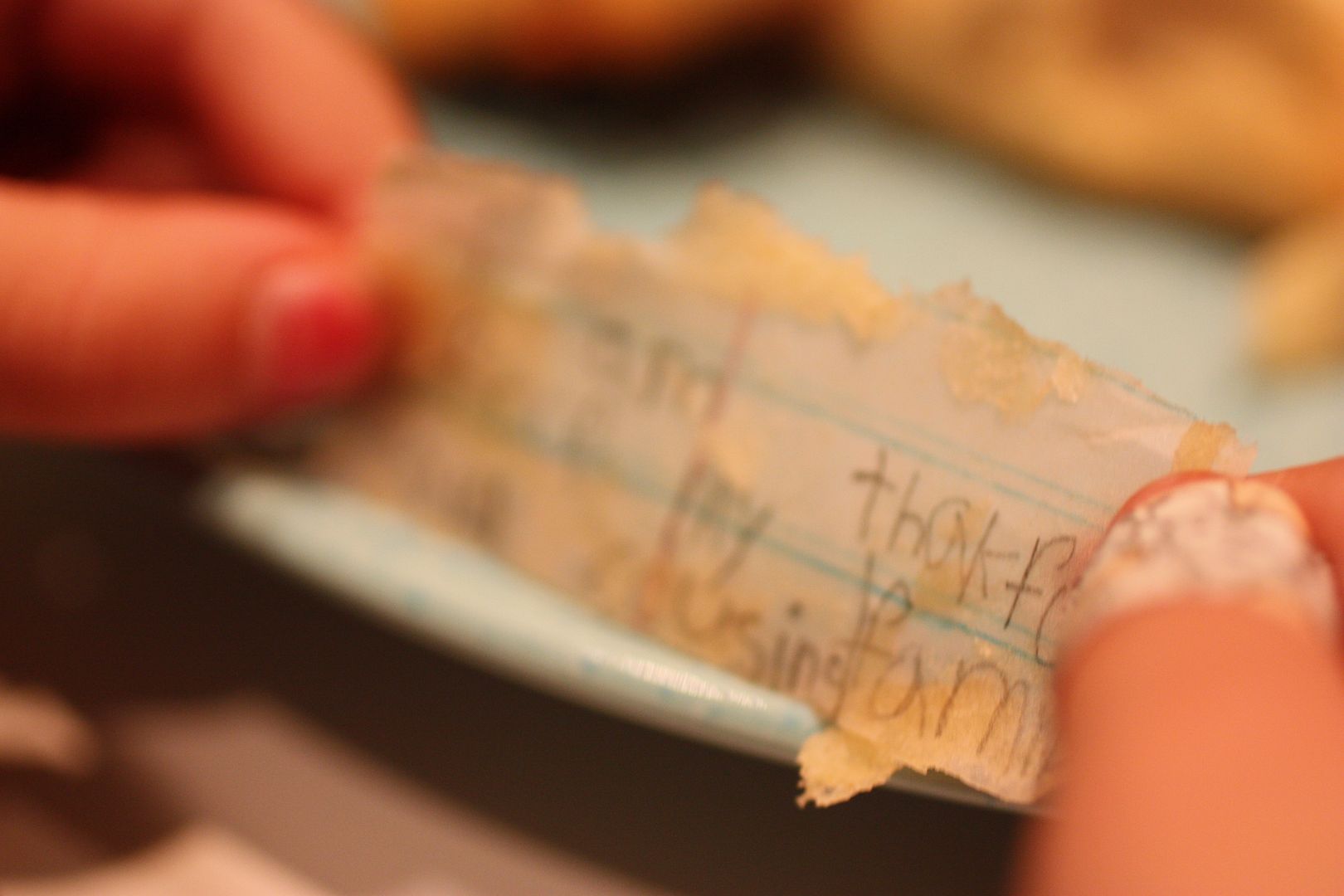 Lessons learned: Since my daughters did the rolling, they wrapped the dough so tightly and made them only bite size. To avoid the paper sticking to the roll, wrap them looser. Also, if you are using a homemade roll recipe that doesn't have a higher fat content, I might suggest spraying the area with just a bit of butter or oil spray where you are going to lay the paper, or another option would be to wrap the notes in parchment paper before baking. That way you may use any roll recipe you desire. Place the notes anywhere in the dough.
If  children are helping, they will be so excited to take the rolls out of the oven before it's time. If you do this, the dough will stick a bit to the paper, as witnessed above. They're still edible and readable, but just a lesson learned.
Enjoy this fun new tradition, while reaffirming the importance of showing gratitude in our every day lives.
"We ought to give thanks for all fortune: if it is good, because it is good; if bad, because it works in us patience, humility, contempt of this world and the hope of our eternal country." (Clive Staples) C. S. Lewis