As we enter the new year, a list of creative ways to save money is probably one of your desires. You may have high hopes for reducing debt, creating new streams of income, cutting coupons, or even cooking more from scratch.
While I address all of those topics here on my blog, one of my favorite topics encourages women to embrace the Frugal Fashionistas mindset and "dress like a million bucks", even if you only have a few dollars to spend. It's much simpler than you might think.
The bottom line for each of us is that we all have to get dressed…every day…and then it starts all over again twenty four hours later. 😉 We tend to get stuck in a fashion rut, yet the prospect of digging ourselves out seems like it will be costly. Anyone can dress like a magazine ad for a hefty price, in fact, we've all seen the Frugal Fashion magazine articles that give "amazing deals" for $200 or less. That is NOT frugal to me. For $20, I can spend an hour at a thrift store, find you a fabulous outfit, and accent it with items you already have just by following five simple ways to dress fabulously for less.
Anyone who's been at Balancing Beauty and Bedlam before knows that the majority of my designer Frugal Fashionista wardrobe has been found second hand, but for those of you who aren't sold on that radical concept yet, these are tips that can help anyone save money on their wardrobe, no matter where you shop.
(Goodwill trench coat – $5)
My goal is to establish a quality core wardrobe that oozes class in its cut, color, fabric, and style.  I'm searching for ten essential pieces that will last for years to come. Building a core wardrobe is key whether women buy retail or second hand, and it's really about simplifying your wardrobe. So often, we purchase something just because it's a good deal, and we may not particularly love it. Nothing is a "good deal" if it's not worn, so by establishing your ten essential core wardrobe pieces, you can then begin to mix and match with other items from your closet. For me, one of the most difficult stumbling blocks in purchasing clothes at thrift stores is the huge amount of "junk" one has to go through in order to find the "jewel." Identifying essential pieces in a core wardrobe makes that process much easier because there is a starting place to the "search and score" process. So whether it's finding a $360 Anne Klein suit for $7 to enjoying the versatility of a trench coat or a little black dress, managing my wardrobe by starting with these pieces has been key.
One of the ways that I have managed to save thousands of dollars on clothing is by shopping out of season. Applying this basic shopping principle works so well that you can often find clothes at the end of the season for 50-75% off the original price. My Frugal Fashionista hint for thrifting today? Now is the perfect time to look for summer clothing. People's New Year's Resolutions are in full swing and closets are being attacked. Do you think they are donating their awesome winter Land's End coats in January? No! The are purging adorable Ann Taylor summer sun dresses. You can be assured that when it's 90 degrees here in NC, I will be looking at Goodwill for my "new to me" J Crew peacoats for $5.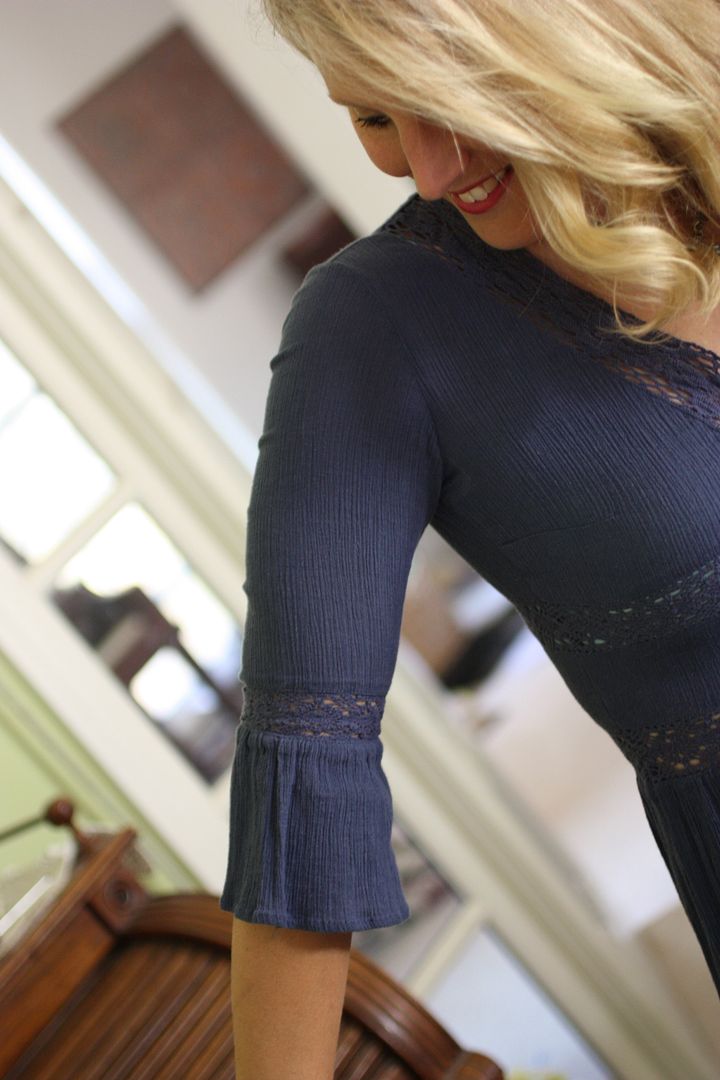 3. Be Bold with Color and Style
Only over the last few years, have I allowed myself to have fun with fashion and dare to be a bit different. Last week my seven year old daughter said, "Mommy, you look like a cute, little teenager." Yes, I succumbed and tucked my jeans into some look alike Uggs boots that I picked up this summer, but I considered that high praise from her. I had fun wearing it because it was so different for me. I was still dressing my age, but wasn't afraid to wear something that was trendy for the year because I knew I hadn't spent a fortune to create the look. One of my "must do's" when browsing for clothes in a thrift store is to  look for creative details and interesting hemlines. This dress below is something I would have NEVER bought full price because it took me a long time to get up the nerve to wear it. I often hear, "well, it looks great on you, but I could never wear something like that." Why not? Have fun with fashion. Once I started dressing outside my typical fashion personality, I realized, I don't have a set style anymore. In fact, I don't know if I ever did. I wear a variety of styles, and have never enjoyed it more.
(Yes, I left all mess just to make you feel better about your housekeeping. This is Balancing Beauty and Bedlam.)
Don't forget that in the matter of frugal fashion, color is power! A shirt can go from blah to beautiful, just by changing your choice of color or accessorizing with pizazz. Have fun with it and don't be afraid to try new things. Determine your skin tone and the best colors for you. This is crucial. A shirt can be fabulous, but if it's not your color, don't wear it. So don't be afraid to Take the Color Challenge and wear some new colors.
4. Know what NOT to wear…
Start purging your closet and eliminating outdated clothes. Remember, this is about simplifying. Donate items if you haven't worn it in a year, but if it's a classic or core wardrobe piece, rethink it first. I've been having fun with items that were lost in an overstuffed closet. Get rid of outdated patterns, please. Nothing screams frump more than florals from the 90's. Also, clothes that are way too baggy or too tight need a new home. Somewhere in this generation, it's become OK to wear clothes that are incredibly tight, skirts that are way too high and shirts that expose huge amounts of cleavage. It's labeled "sexy"…I beg to differ. Let's start a new trend and model for our children that fashion can be fabulous, while still leaving something to the imagination, but I think I may be on a tangent. 😉
5. Accessorize, Accessorize, accessorize!!!
I've left this one for last because it's the single most important fashion skill to attempt when one wants to turn frump into fabulous fashion. Whether it's accessorizing with necklaces, bracelets, handbags, hats, boots or scarves, start somewhere.
Buy a scarf! Learn how to tie it, and USE them. Shop your closet for a simple shirt, add a scarf and don a great pair of boots, and you've instantly turned into a Frugal Fashionista for pennies on the dollar. In my "One Dress with three looks" posts I show how a scarf and boots can make the simplest of outfits into instant glam.  As an experiment, I took five minutes and made ten looks just by accessorizing. Try it and have fun, but learn how to accessorize. You'll never go back.
I hope these Five Simple Ways to Dress Fabulously for Less have sparked a few ideas.
Continue to follow my Frugal Fashionista series as I scour for the latest finds, and share my love of all things frugal and fabulous.
Enjoy our new series as the rest of my friends each share their "5 Simple Ways"…
5 Simple Ways to Organize Your Home by Laura from I'm an Organizing Junkie
5 Simple Ways to Make Money From Your Blog by Carrie from Springs Bargains:
5 Simple Ways to Live a Natural Lifestyle by Laura from Heavenly Homemakers
5 Simple Ways to Decorate on a Dime by Myra from The Casabella Project
5 Simple Ways to Take Better Photos by Melissa from A Familiar Path
5 Simple Ways to Start Using Coupons by Jenny from Southern Savers
5 Simple Ways to Save Time in the Kitchen by Lynn from Lynn's Kitchen Adventures
5 Simple Ways to Have a Successful Homeschool Day by Connie from Smockity Frocks
5 Simple Ways to Save Money in 2011 by Toni from The Happy Housewife