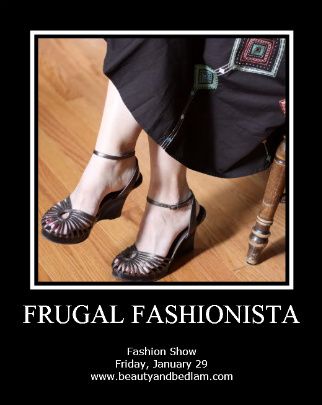 One of the ways that I have managed to save thousands of dollars on clothing is by shopping out of season. Applying this basic shopping principle works in retail as well, and often you can buy clothing off the rack at the end of the season for 50-75% off the original price.
The problem with that? I have quickly become a lover of quality clothing. A quality, designer dress that was originally $250 is still way above my price point, even at 75% off. But let me find that same like new dress at a thrift store for $5, and I will gladly take it and do a happy dance all whole night long. 🙂
It is a complete shift in thinking. When it's horrendously hot in NC, the last thing I want to do is think of trying on a cashmere turtleneck, let along look for one. But that is what you need to do…especially because others aren't, and that turtleneck will sit on the thrift store racks waiting for a savvy shopper like you to scoop it up for only a few dollars.
Now is the perfect time to look for summer clothing. People's New Year's Resolutions are in full swing and closets are being attacked. Do you think they are donating their awesome Land's End coats? No! The are purging adorable summer sun dresses.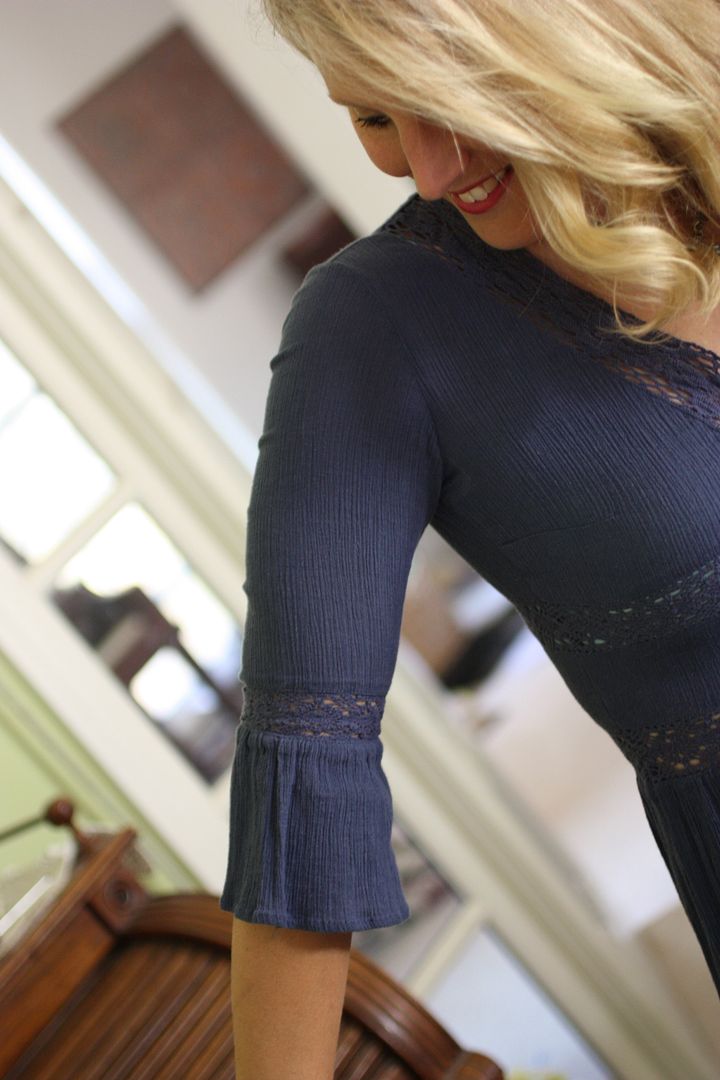 One of my five "must do"  things when browsing for clothes in a thrift store is to look for ornate sleeves and details that make clothes stand out.
Another is to buy sizes bigger and smaller than what I actually wear because brands and clothing vary so much.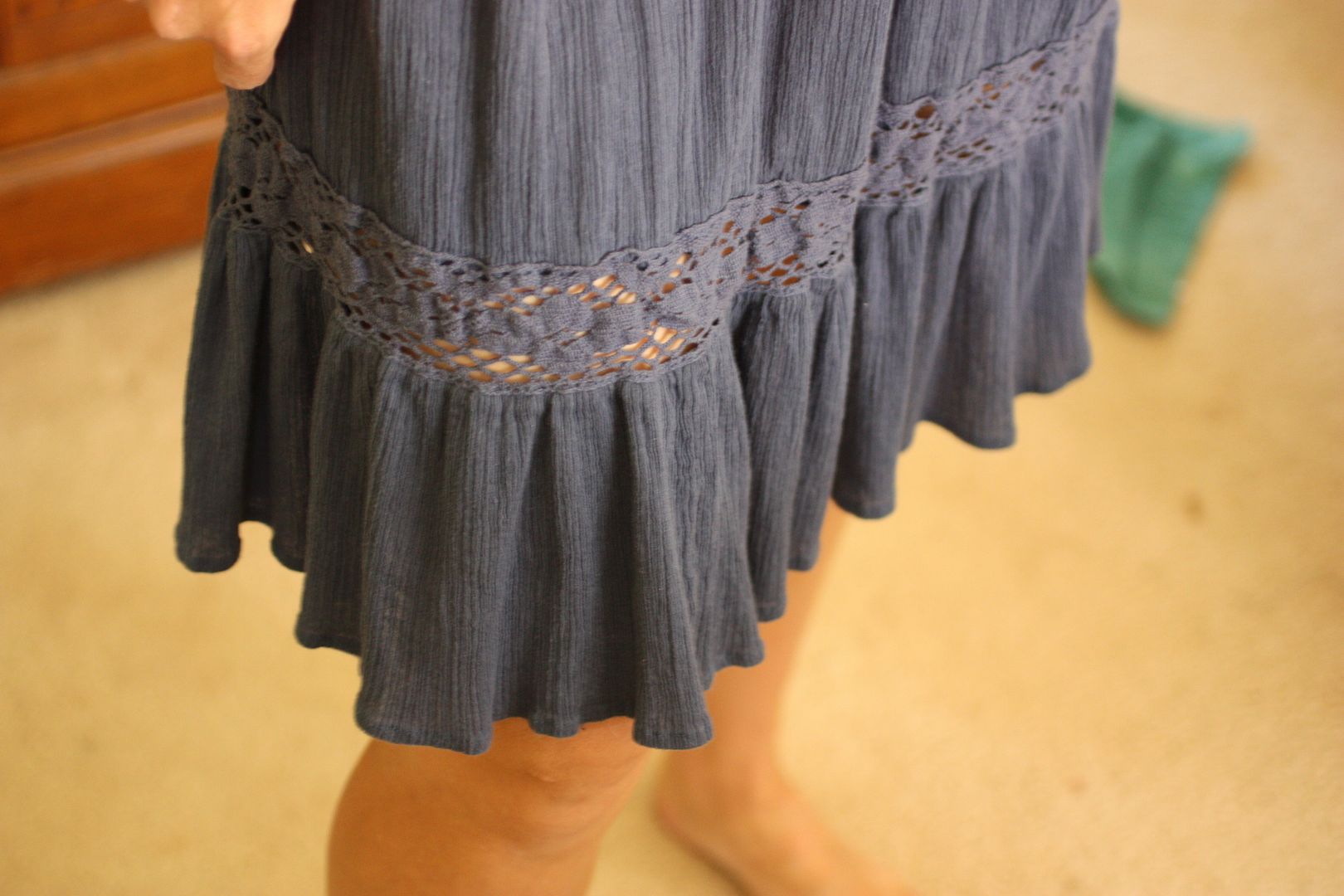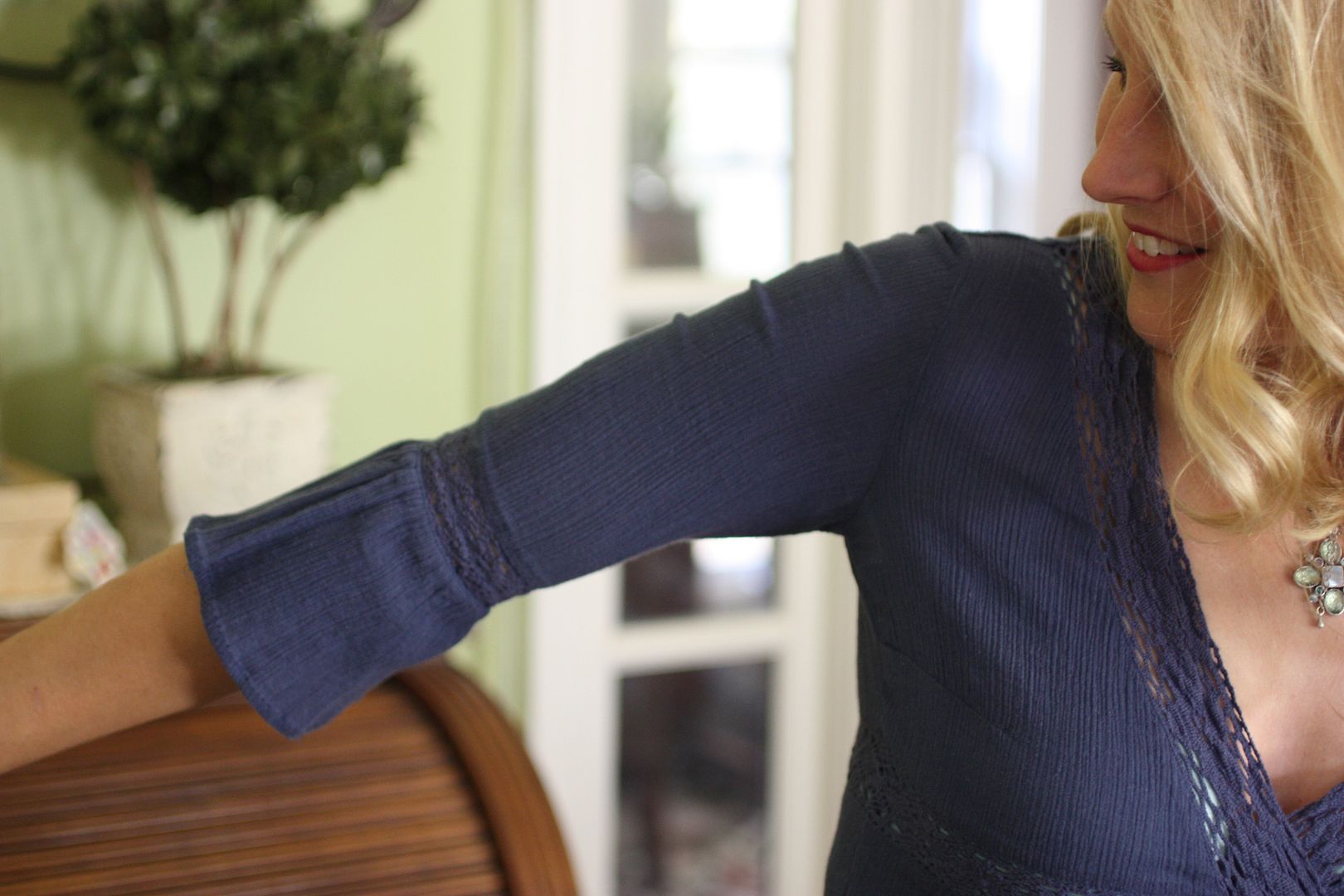 Anne Klein is a classic designer who screams sophistication and elegance. Yet, it comes with a price tag (who many thing is well worth it, I might add.) ME? I am incredibly happy when someone buys it for me, wears it once and then clears out her January closet. Browsing the web, Anne's dresses average $200…
$5 from Goodwill is sounding awfully appealing. Now whether or not, I can fit in it this summer remains to be determined.


Someone loved brown, and they can bring it on because brown is a new friend of mine. As a blond, I never wore brown until a few years ago, but now, with the right accessories and make up, I LOVE brown. (I think my daughter will too, although she won't wear this dress until she's 25 and then only with a cover up). 🙂
This beautiful and extremely comfortable Ann Taylor dress probably retailed around $100. Sit down for this…I got it on 50% off day for $2.
It fits perfectly, like a glove,  and that's a bit of the problem. Waiting patiently to find just the right wrap will be well worth it.


Remember that often, we can "dare to be different" when shopping second hand. When I first saw this skirt smooshed between twenty others,  I went right by it, but the embroidery made me pause, and then the price tag of $1 (75%), made me stop.
You never know until you try something on how it will look. And it was ADORABLE!


The hem line is asymmetrical and gives it a  fun flippy feel. Paired with an terrific teal tank and some sandals, this will surely make my Frugal Fashionista summer line up.


BUT THIS J CREW JACKET is why I have eagle eyes out of season. Back in September, we were having some scorching hot days. A black peacoat would never have entered my mind if I didn't have an entirely different mindset about buying clothing. I saw it waiting patiently on the rack at Goodwill and thought surely, this is a mirage.
Do you know how long I have wanted a warm, black jacket like this? Do you know how much this was originally at JCREW  (hint..think at least $220). So even though $7 is typically above my flinch point for thrifting, I twitched once and then snatched it right up laughing myself all the way to the bank!
The funny thing is that I forgot I bought this find of mine. I packed it away, and when I brought it out yesterday, I was just as giddy all over again.
I just love to buy second hand. Seriously? I love the thrill of the hunt. I love to repurpose, and I love the knowledge that I don't need to keep up with the Joneses and either do you. 🙂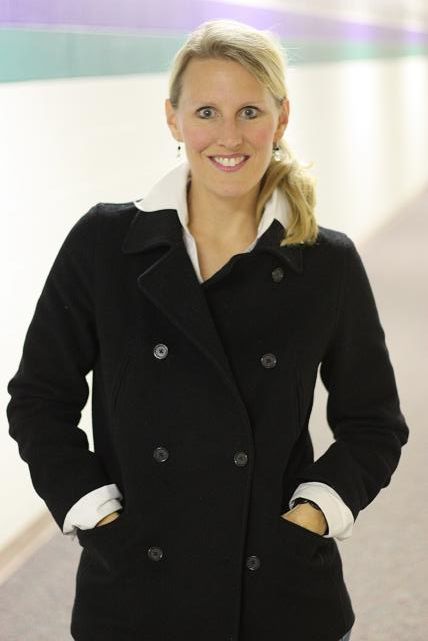 The reason I did not model any of those dresses tonight. I was gone all afternoon and evening and stuck in the pouring rain. Thank you for putting up with this one poor photo of my very bad hair day, but I just had to share my JCREW jewel. Isn't it good to know we all have those really bad hair days?  Superficial, yes, but still comforting. 🙂
Looking forward to seeing all that you have to share next week. Be brave, link up, and I promise you'll get some traffic sent your way.