We love homemade waffles in this house, but my "Go to" Malted Belgium Waffle recipe consists of a lot of butter.
Trust me, my  Belgium Waffle recipe is worth the extra time,  but I have been experimenting with an easy and quick homemade waffle recipe that uses oil.
I've found it…
"Oh Boy" Waffles...Yes, easy homemade waffles without any butter! Using oil instead really helps on the budget as well.
(I found this in my 1953 estate sale Better Homes and Gardens New Cook Book, and tweaked it)
Easy Homemade Waffles (without butter)

2 1/4 cups sifted all-purpose flour
4 teaspoons baking powder
3/4 teaspoon salt
1 1/2 tablespoon sugar
2 beaten eggs
2 1/4 cups milk
3/4 cup oil

Sift together dry ingredients. Combine remaining ingredients;  add just before baking, beating only til moistened. (Batter is thin.)

Bake in waffle iron. Makes 10-12.
***Update on the Pantry Challenge: Since I first made these during my Pantry Challenge where I could only eat from my pantry for one month , I had to be creative. I TRIPLED the batter, knowing that our family consumes large quantities of food and I was hoping for a few extra to freeze.
I had a few bedlam moments along the way. I mixed all the dry ingredients, added the eggs, and then added 2 1/2 cups of milk because that was ALL I had. Yikes, and I had already tripled everything else.
But guess what? When you are committed to creative cooking for one month, you just ad lib.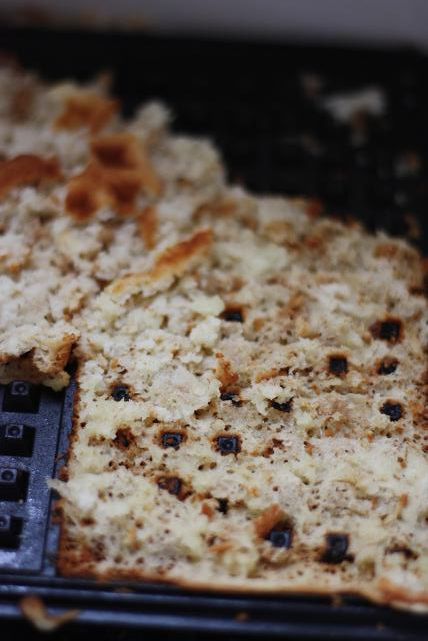 Yes, I greased it. Yes, my waffle iron was 15 years old. Yes, I noticed the last time I made waffles that possibly the non-stick aspect was on the fringe…but I forgot…until I had TRIPLED this recipe. My waffle iron was shot!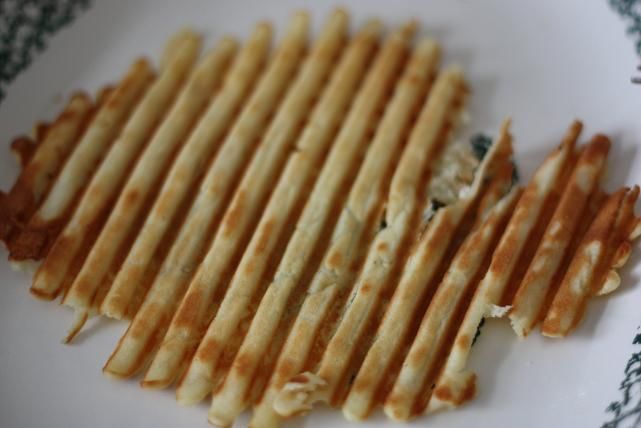 It was time to make beauty from this bedlam moment and attempt to GRILL the waffles…well, it doesn't really work,  just in case you were wondering, but they sure were delicious.  I still whole heartedly recommend this easy homemade waffle recipe without any butter. Just make sure you have a working waffle iron. That one has now been put to rest.
And do you know how gracious the Lord was the very next day? I found a new waffle maker at Goodwill for $5. How cool is that?
I'm saving up my Swagbucks and "buying it for free" because we really "need" two waffle makers or at least one that makes four waffles. Otherwise, waffles take two hours in our home. I can't wait to reach my goal using my swagbucks. Don't you love Swagbucks?