It's no secret that connecting around the table for regular family dinners is something I highly value.
But no worries, I am going to save my "soap box" speech for another time. 🙂
Instead, I'm going to point out my "Family Dinner Conversation" jar in which my sweet daughter has her hand.
It's filled with a variety of conversation questions that keep our discussions lively, unexpected, silly and serious.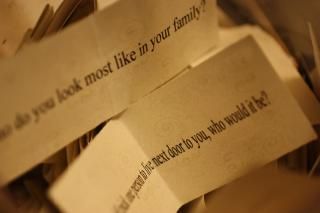 With five children, there is definitely no lack of chatting, but sometimes it wonderful to discuss things that don't come up in typical dinner conversation.  Often it's light and fun so that our six year old can participate, such as, if you could pick anyone to live next door to you, who would it be? Or if you were an animal, what would you be and why?
But just hours ago,  it was our eldest son that brought the discussion to a whole new level with some quotes he has been memorizing by the likes of Chesterton, Reagan, Oswald Chambers and others.
"The single greatest cause of atheism in the world today is Christians, who acknowledge Jesus with their lips, and then walk out the door, and deny Him by their lifestyle. That is what an unbelieving world simply finds unbelievable."
Brennan Manning
This quote makes me pause, ponder…and pray that our family "walks the talk" without hypocrisy. Authentic living is the goal, and I pursue that with our children as well, – yes, the good, bad, and ugly of life.


Week by week we link up our Tasty Tuesday recipes, yet sometimes I miss out on the most important aspect.
What great Dinner Conversations have you had this week?
Edited to add: Many of you have emailed asking for my list of questions. I am in the process of tying up all FIVE HUNDRED of them and then will try and figure out how to upload them onto a PDF file to share. In the mean time, I have many posts sprinkled throughout that have questions. Here are some discussion starters I shared at Thanksgiving. Feel free to tweak them if you have younger children. Remember, sharing stories is priceless…that's where memories become magic.