(Some of my real life friends, sampling spinach smoothies, on our quest to decide between a Vitamix or Blendtech.)
This photo was snapped on Tuesday.
Yes, I deemed Valentine's Day the official Pajama Day for our home school group because for the last ten years I have worn these Valentine's Day PJ pants every February 14. (Well except for last year when I could not find them, and my disorganized closet caused me to break a decade long tradition.)
As I look at this photo, I am reminded that my real life friends love me just the way I am – a slightly disheveled, slightly disorganized, slightly, no, completely passionate person who loves life, yet knows her limitations all too well. I know when I am dropping balls, and one giant ball that is bouncing all over the place is the friendship ball.
This past September, I shared about my struggle with loneliness, a battle that was a new one for me. Even though I could be in the midst of large groups of people, I wasn't taking the time to really invest in breaking down those barriers that I was dealing with during the fall, and so lonely became a part of my tapestry. I was so busy that I wasn't slowing down enough to invest in small group time, which is so important.
Since many of my friends have sprouted as a result of blogging, I've learned what it means to merge my on-line life with my real life. I realize that those friends that I am closest with are people that do have a peak into my blogging life because when I see them, they already feel connected and caught up with some of my day to day. Yet when I really think of real life, I think of people who are willing to do the day to day with me. Friends who love me even when I show up with crazy pajama pants on and a over stuffed coupon binder. Friends who love me when I don't have a to-list because I can't even figure out what to put on it. Friends who listen to me share frustrations with parents teens, even when they only have young ones.  People who are skin-touching-skin kind of friends, who if I need them, they would be there in minutes.
I am all about being real, about sharing real life with people – our failures, our learning times, our successes. There are no perfect people, yet I am so thankful we have a perfect God who knows that and celebrates my imperfections.
That's why my friends at (in)courage want to bring you together to meet others that are local to you. I attend a lot of conferences, which give me time to see friends from all over the US. I LOVE those times of connection, but if I needed those friends in a heartbeat, they'd want to be there, but couldn't be, due to proximity. And in all honestly, unless I tell them, they'd have no idea there was anything wrong, since on-line relationships are all in our ball court. It's important to develop friendships with those around you, no matter what life stage we are in. Women need other women. There's something about that time together that can feed a soul well, if we invest in trust worthy friendships well. (in)RL weekend wants to bring others from your area together.
What is (in)RL?
On April 27- 28, a two day event takes place all around the world. It's been coined (in)RL (in real life), and will kick off with a webcast on Friday, and then a local gathering on Saturday. Each (in)RL host will pick the meet up place. You may meet in a home, coffee shop, church, club house – where-ever – just somewhere fun to connect with those around you.
It's about bringing the huge world wide wide closer to home and opening the door to new friendships. It's a day to meet and spend time with people from your area connecting, talking, eating – anything your host plans.
To search locations and find out how you can be a part of (in)RL and build local community, click here. If you are set to go and want to register, go here, or if there isn't a meet up scheduled in your area, and you affirm all that the (in)courage community stands for, host your own! There are even neat Beach House in a Box Kits for hostesses.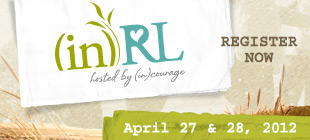 What do you think of when you think "in real life?"
Here are some thoughts about community from some of my friends.

All month long the writers of (in)courage are sharing about (in)RL. Yesterday, my in real life friend, the Nester shared, and today, the ever poetic Amber is giving her take.