Are you new to my Frugal Fashionista series? Find out how I dress in designer clothes for less. Yes, for mere pennies on the dollar, my outfits are less than $15, and did I mention…all second hand?)
Reading your emails, and sharing in your enthusiasm of finding that very first designer score, is such a thrill for me. Yet I know that many of you have shared your struggle of pulling outfits together, especially if you are tiny or larger sizes. (I'm in the process of doing a Plus Size post, so stay tuned. I'm still shopping.)
Just like we get in a meal planning rut, the same things happen with our fashion. We wear the same look over and over.
How do we end that cycle, use what we have, and yet look like a million bucks?
Accessorize! Immediately, most think of jewelry when I mention accessories, but today I am going to showcase the simplicity, sophistication and sass of the scarf.
Whether your outfit was $10 or $1,000, scarves are a "must have" fashion accessory for the fall.
By taking a T-shirt, long sleeve, dress or blazer, and then accenting it with a scarf, an outfit goes from simple to spectacular.
I found two scarves last weekend at a yard sale for just $0.50. She had a few more that I put back, and I am now struggling with buyer's remorse.
One Dress, Wear it Three Ways
For years, I had never been much of a scarf wearer. It required stepping out of the safe fashion comfort zone that I came to love, but I've realized it's so worth it.
The picture below shows  a very "easy to find" thrift store/yard sale outfit for me…for most of you.
If you don't know where to begin in the second hand hunt, I encourage looking for solid color shirts, as there are normally a plethora of them to be had. This Banana Republic black shirt was a $1 yard sale find, while the green Talbot's pants I scored last week at the thrift store for $2.99. Paired with my $0.50 yard sale scarf and $1 dangling turquoise earrings, and it's adorable at a total cost of $5.49 (and yes…I did wear shoes – cute turquoise yard sale ones :).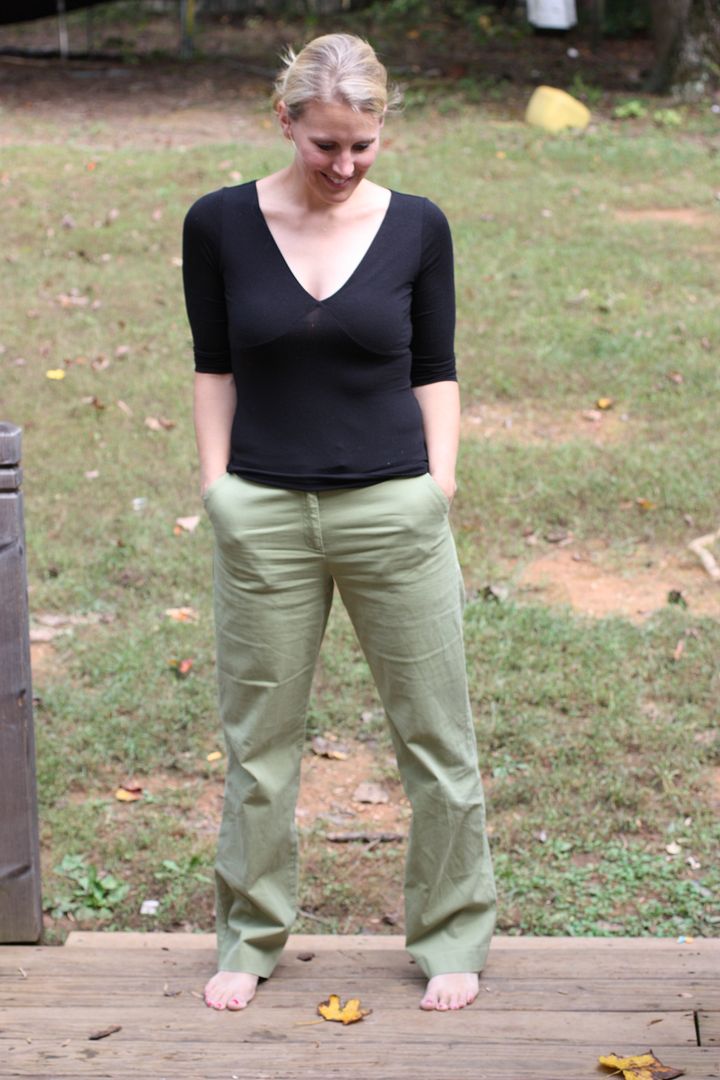 As much as I love this shirt, it is a bit low for my more modest taste, so I either layer a tank underneath it or I utilize the scarf.
This simple way of tying it, allows me to be totally comfortable without worrying if any cleavage is showing (what little I have left. :).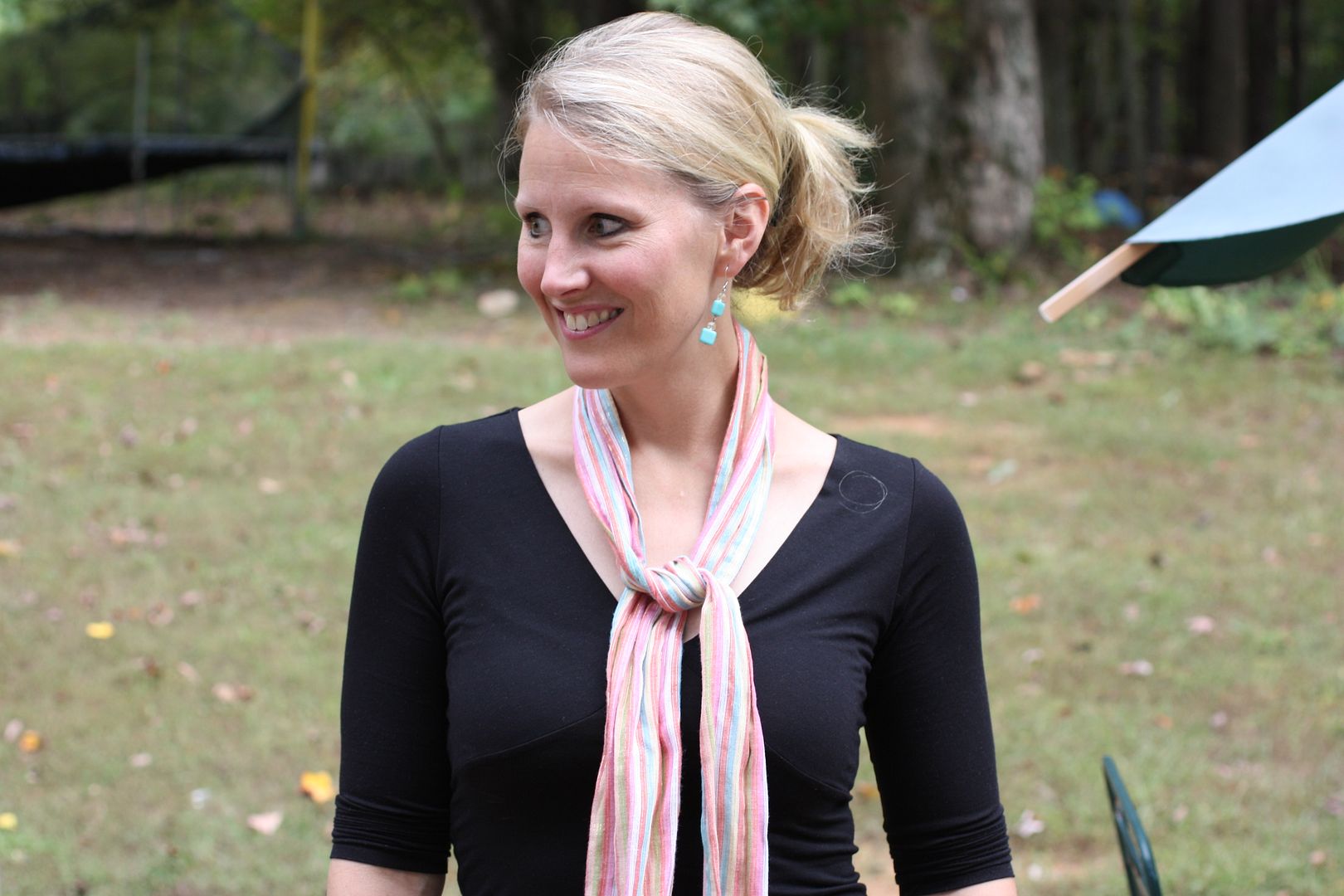 With the scarf double tied around my neck and chest, this is the same outfit with the addition of a Talbots Good Will blazer find for $5.
I just wrapped the scarf to the side.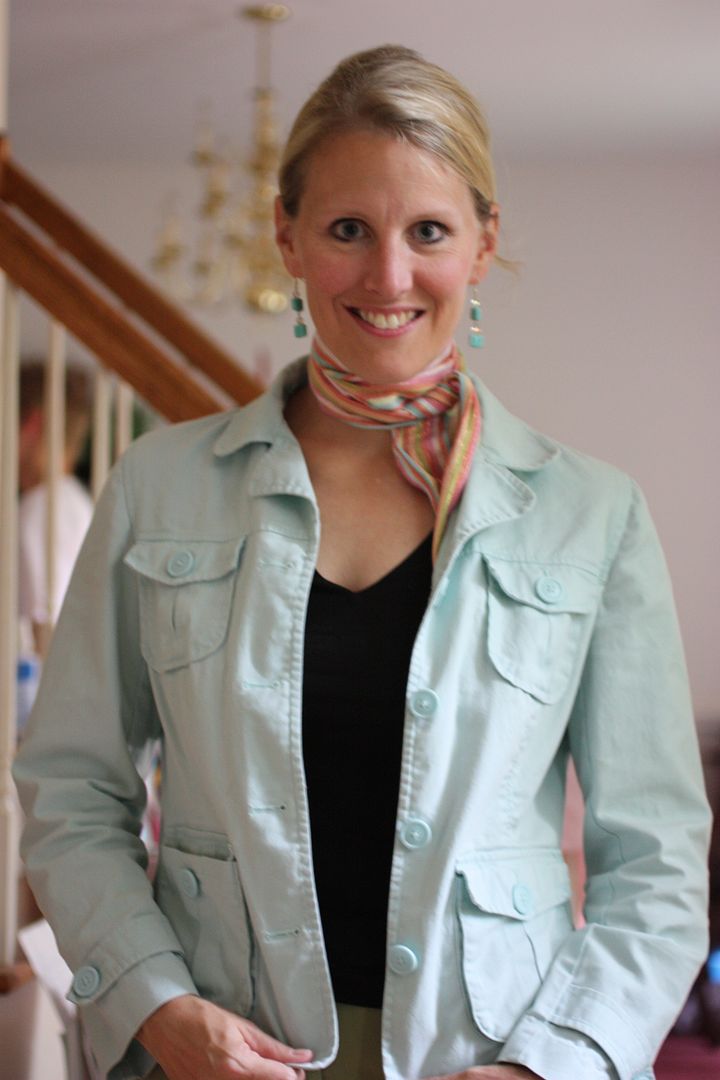 My sweet friend Leah is another frugally fabulous friend who shows again how easy it is to dress up a basic black Tshirt and jeans.


My gorgeous niece, Amanda, who's home from college in NYC, shares that scarves are everywhere.
She also illustrates my point  – simple, yet sophisticated.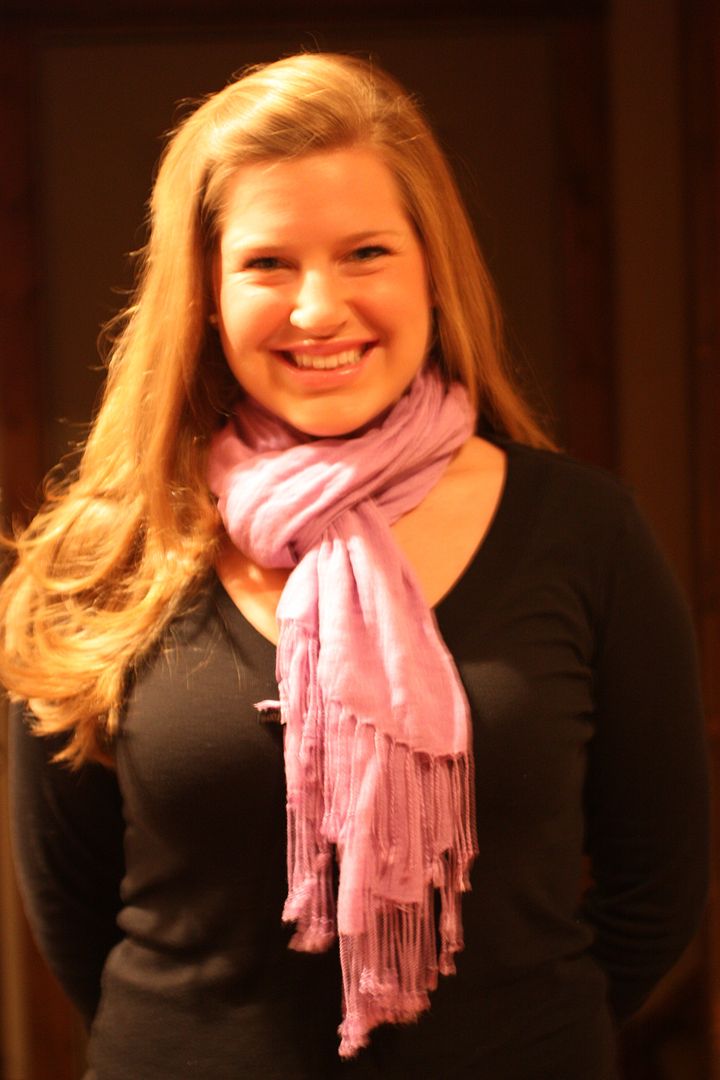 Are you wondering how to do this easy knot? It's a simple loop.

Fold the scarf in half, wrap it around your neck, allowing one half an opening. Then just loop it through and pull.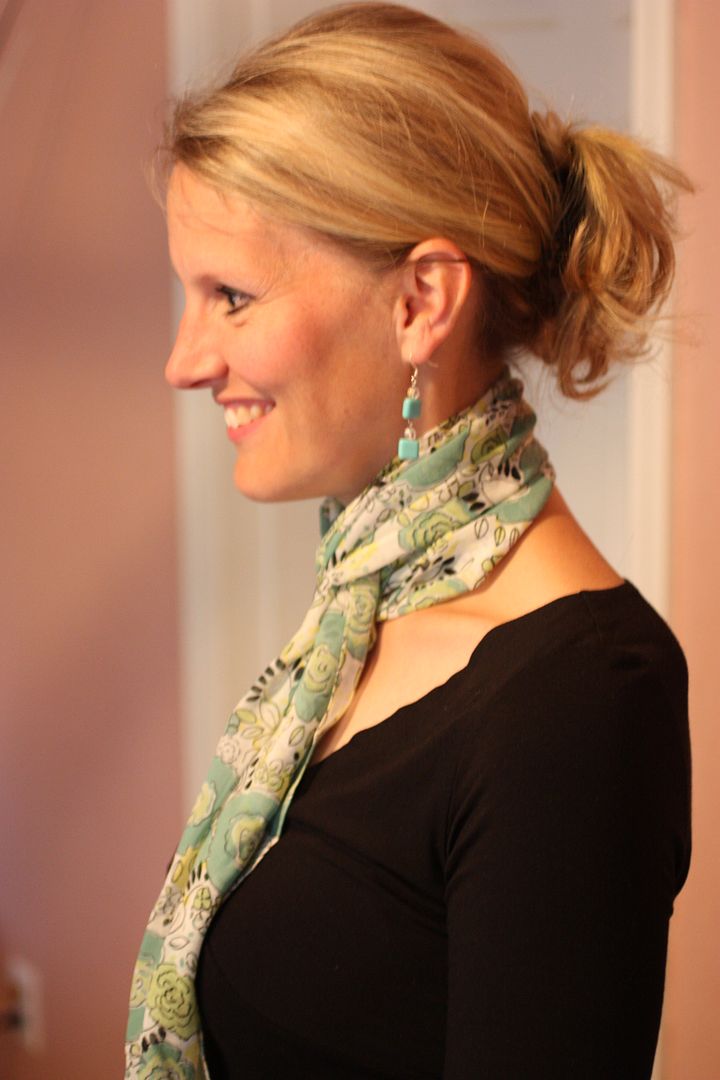 I was going to crop this photo, but in the interest of keeping it completely real with the bedlam in my life…yes, those are cords over my the door leading into my master bath. We needed to hook up a computer in an adjoining room that didn't have a phone jack, and it's just not the time to install one now.
I guess that would NOT be called creative concealment. 🙂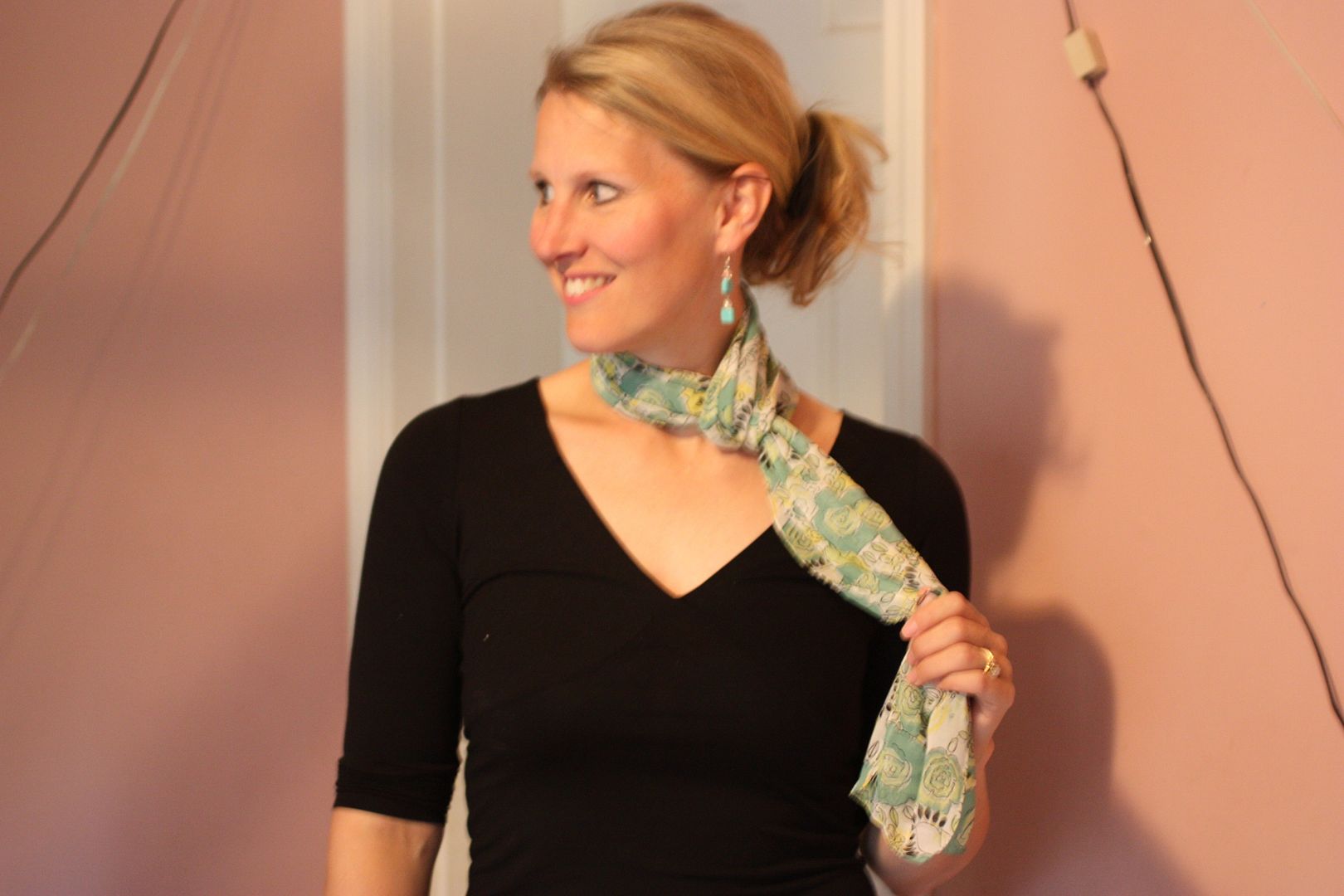 Here are a few photos from previous Frugal Fashionista posts that feature scarves.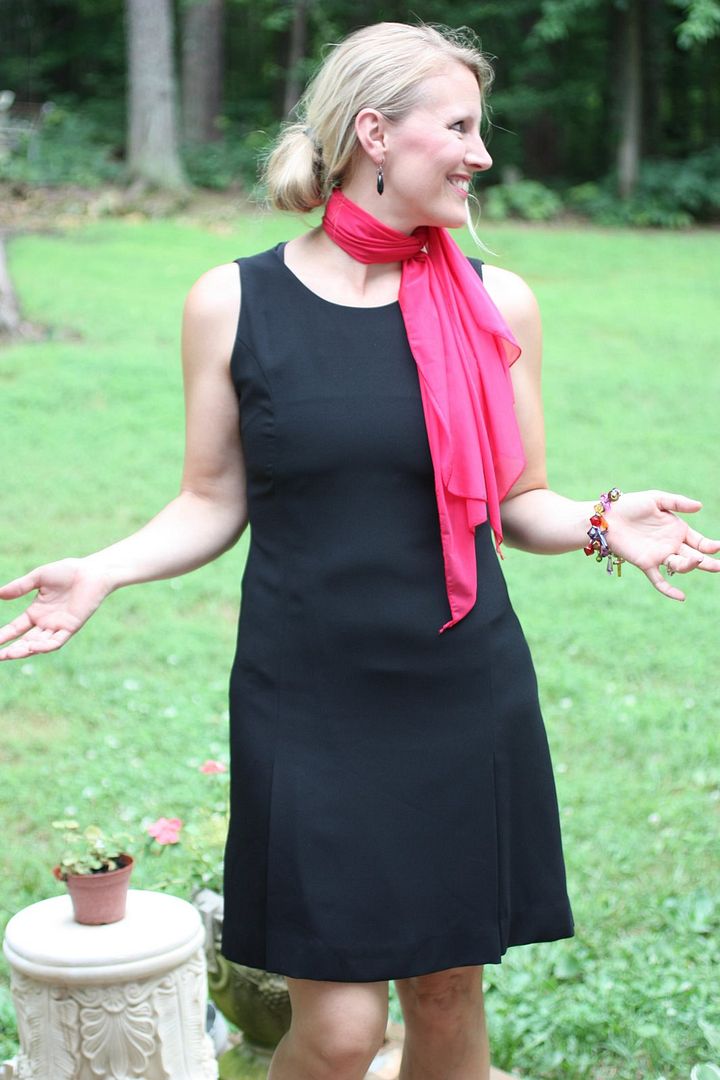 One of my "go to" core wardrobe pieces involves the LBD – Little Black Dress. I recommend every wardrobe having one.
Yes, I am still laughing at this picture.. Remember my encouragement about going from frump to fabulous? You don't have to be a frumpy mom. 🙂

Before….without accessories.
AFter – All that happened with just the addition of a scarf.
My sweet (in)courage friends. Check out the Nester and Steph's great scarves.
There are so many different uses for scarves.  Try using them as a belt, tied in the hair, or tied onto your purse for starters.
I also love to simply wrap them around my shoulders for an elegant accent.
This was my designer Goodwill outfit that I wore to a movie premier. Yes, a premier with real Hollywood stars in attendance. I know that no one knew I was dressing thrift, but I probably told them. 🙂
And of course, my littlest Frugal Fashionista did not want to be left out of the mix.
Tying a scarf is so easy that my six year old did it all by herself. 🙂

I don't follow the trends in Hollywood, but celebrities are loving scarves as well.
Choosing just a few "model" looks was an arduous task. All of these amazing outfits, I can reproduce for pennies on the dollar from thrift, consignment or yard sales. Finding just the right scarf may be difficult, and if you can't find one at a thrift store, I would actually recommend finding a few discounted ones at the store. (Gasp…I can't even believe I typed that.)
Some are very reasonably priced, and for the pizazz that it adds to the simplest of clothing pieces, it's worth the investment.
So my frugal fashionista advise for the day? Experiment with a few scarves this season, you won't be disappointed.