The final days leading up to Christmas holds the greatest tendency to make impulse purchases.
Don't do it! Oh, I know it's so hard to resist, but let's get creative!
Are you trying to think of  last minute gift ideas, but your pocket book is stretched to its limit and pressure is mounting?
My "Do it Yourself" Earring Organizer will take minutes and only pennies out of the wallet. It's so simple, and the creative possibilities are endless. Most of you can probably put your hands on unused frames if you "shop your house," and if you're like me, the huge amounts of unused scrapbook paper from years of promising the completion of those baby books is just a closet away.
If you don't have any frames, run to your local Goodwill. I can guarantee there will be plenty. Pick up a solid wood frame and spray paint it to match the recipient's decor. What a unique and personalized present that any woman, young or old, will appreciate (well, unless she doesn't wear earrings.) 🙂
I will do a detailed post on the many options in making these, but here's a quick and easy method.
Take the back of the frame and place the scrapbook paper under the glass just as you would the picture. Then place mesh gutter netting over the glass, put the frame back on and close it. Voila! It's done!
I have too many earrings, yes, I admit, so this small frame is not big enough. I just bought a fabulous wooden antique frame at the thrift store and I am painting it white. It's a 11×14 size and it will look wonderful on my bedroom wall hung by a gorgeous ribbon. The possibilities are endless.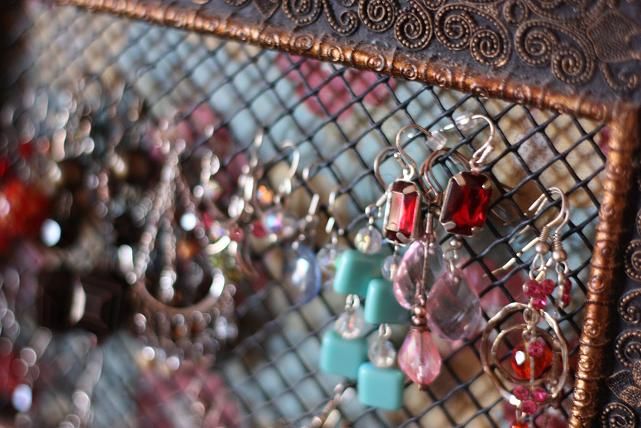 Sometimes frames do not include a  full backing. In that case, I recommend using a staple gun to affix the screen.
If the frame is thin, the staples may go too far through the wood, then just use a hot glue gun.
Here is another option for netting – use an old window screen that you may have lying around the garage.
My friend, Shannon, asked her local hardware store if they had any leftover window screening before she made hers. They did…brilliantly free.
This is definitely a little girl look I found while browsing. The frame is a wooden Dollar Store frame, so this would be a really fun project at any time of the year for a little girl get together.
I am so excited about the Clip Board project that I just finished. It was also super quick and cost less than $1. (Do you see a theme with my life lately? :)) This clip board takes my Family Manger role to a whole new level.  I am going to keep my miscellaneous "To do" lists, notes, etc. all on here because I have a terrible propensity to leave little notes everywhere.
The clip board that I made took less time that typing up this post, but you can go to town embellishing it with fringe, die cuts, ribbons, pictures, stickers etc. for a truly amazing effect. The wonderful thing about this project is that you can use scrapbook paper, wallpaper, wrapping paper or even thin fabric – all things you probably have on hand right now.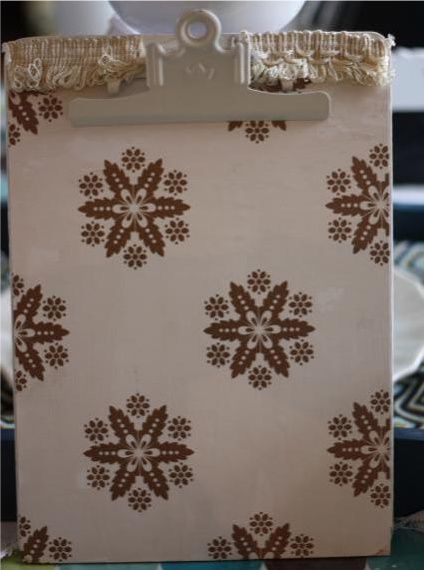 I was thrilled when I found a stack of ten clip boards at a yard sale for just $1. Again, I am going to devote a whole post to the amazing possibilities that abound with this new found project (including a Pottery Barn inspired organizational system). For now, let's just get it done for Christmas.
Pick your favorite spray paint or acrylic paint, if that's all you have on hand. First, do a primer coat since the spray paint does absorb quickly. If you're using scrapbook paper like I did, you don't need to paint the surface thoroughly since you will be covering it.
Paint the handle last…trust me on this. I had paint on my fingers for days. Pinch it, and paint under the handle first, finishing with the handle.
Cut the scrapbook paper to size, and glue with your choice of adhesive. I used Modge Podge first and let it dry, then finished with a top coat over the paper. If you're using it in the kitchen or are adding pictures, the extra protection is highly encouraged. Modge Podge is the trickiest to work with since you need to make sure you get out the bubbles. Have a brayer or scraper ready to run over your paper to help eliminate any air bubbles.
Isn't it so much fun to see all the possibilities?
Enjoy some quick, easy and creative last minute gift ideas that won't put any extra dollars on that credit card.
Trust me, the temporary happiness brought about by opening one more present will not make up for the distress felt when that bill rolls around in January.  You'll thank me later. 🙂
If you're interested in following my frugal homemaking "journey of balancing it all…the good, bad and ugly," please

click here

.