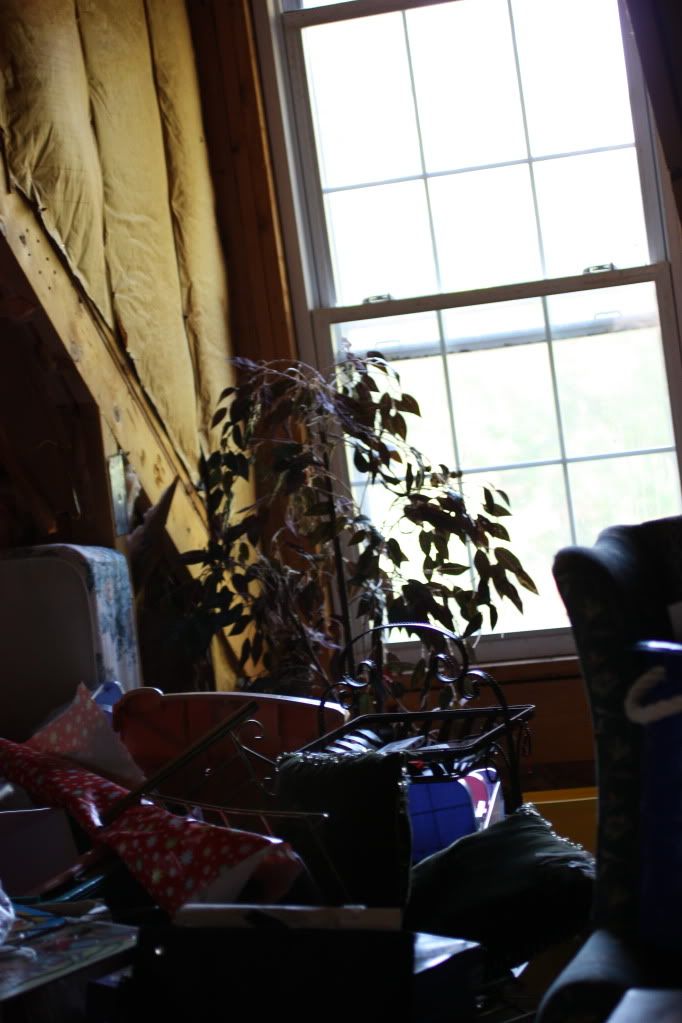 Our third story is 1,000 square feet of unfinished space, affectionately termed "The attic." Once we finish it off, one half will house the boys bedroom, while the "teen hang out" will be on the other, and then it will be affectionately coined, "Thee attic." After fourteen years, some phrases would be hard to switch.
The only thing standing between beginning the dry walling process and completion is STUFF. (More stuff than I care to think about.) In my defense, it's our attic, storage, garage, closet and then some.
I dream of just one HGTV show coming and tackling it for me in one week. Seriously, a one thousand foot blank canvas is a designer and organizer's dream, isn't it?
But until that dream becomes a reality, one thing rings true: KIDS JUST DO NOT CARE!
This is one of their favorite places. Kids come over and gravitate to this spot. (Although visitors are no longer allowed up there for safety reasons…lol.) My kids, along with my nephews, begged me to sleep in the attic, and I immediately said, "No."
Why would I let them sleep up there? Certainly, it's not healthy for them! 😉 But then that little voice whispered…and I listened.
I responded to that reminder to be a "YES MOM."(Read about that revelation from a prior post.)
So many times I must say "no," but this time…it was "yes" all the way. (Clarify – I said yes to the sleeping up there, not to the cleaning out part. I have to gear up for that one, and the goal is by Christmas.)
So, the next time the kids want to do something you may think is just a little crazy…
Just. Say. Yes!
(Can you Eye Spy the number of bodies? Don't forget under the Foosball table. ;))