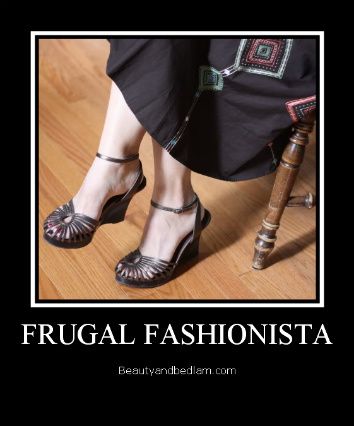 (If you're new to this series, start at the beginning by unpacking your reservations on a Frugal Fashionista wardrobe. )
I've taken a little time off from our Frugal Fashionista posts, and I thought you might have wanted a break from my frugal fashion trips, but obviously not. I've received the emails and the requests so, it's back..
One of my biggest problems that I encounter when doing these posts is that I always forget to take pictures when I am wearing the outfits.
Oh yes, and then there were the dogs…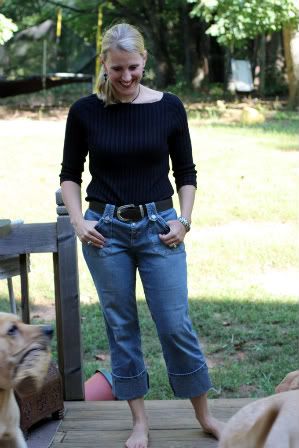 And the kids…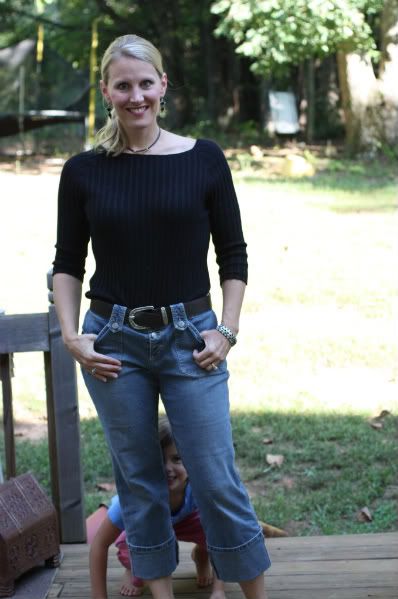 Enough excuses…on to what you've been waiting for.
I am doing a two part post for this one.
I have decided to take you through a typical thrift store outing and show you what I look for.
Everything I am wearing in these pictures was from one shopping trip last week.
My goal of this post is different. It's not to put together my cutest ever outfits, but to show you how you can mix and match while spending pennies on the dollar.
As you are reading, try and guess how much I paid for it all.
You are going to drop to the floor!
I approach my wardrobe much like I do my couponing and stockpiling.
Many local thrift stores offer discounts on certain days.
On Sunday, one colored ticket is always 75% off.
Keep that in mind as you guess. I only looked at that color.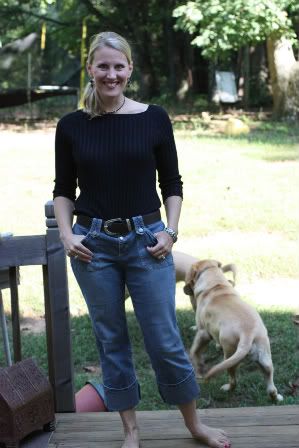 With winter right around the corner, I love to look for new sweaters, turtlenecks and comfy clothes that I can wear to football practices. I need to be warm, but don't have to look frumpy.
This Banana Republic sweater is perfect, and can easily be dressed up with a scarf or jacket. These Limited jeans are a bit too short for me, but you'd never know it once I rolled them up and made them capris. I love them and think they look like they were made to be capris. If you have great ankles – show them off. 🙂
A classic green Gap turtleneck will give me so many options.
Here I paired it with the comfiest, down vest by Lands End.
The Anne Taylor brown pants were a steal, and hopefully after I wear them they'll stretch out a bit. ( I didn't try them on.)
The only other option is to lose the eight pounds I've gained- ugh.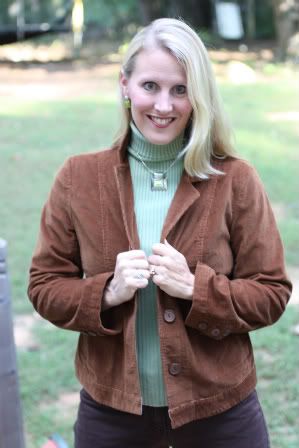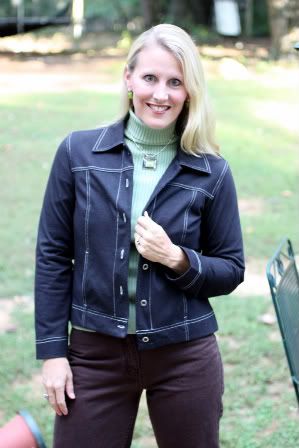 Here is the same turtleneck and pants paired with two jackets that were UNDER one dollar.
Do you see how different all three outfits look just by switching them up a bit?
Our NC fall days don't always necessitate a heavy coat, so these are perfect. These are a typical find at thrift stores.
One of my favorite finds of the day was this great black dress. If you've followed this series at all, you know I have a thing for the perfect, little black dress. I have about ten of them.
Please.no.lectures. Just being honest. But, I wear them – alot.
When something like this is so comfortable that you can sleep in it, I buy it…regardless.
And this is one of those finds. I wish you could see my drop down pink necklace more closely.
It's perfect with the V-neck, but if someone gave me a big chunky pink necklace, I think I'd prefer that instead.
It would make more of a statement and bring out the pink accents. This style looks great on almost any body shape.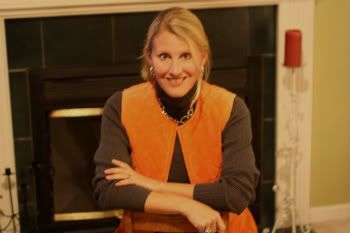 I love, love, love this classic Eddie Bauer turtleneck. I'm so disappointed that we didn't get a better picture of it.
The quality is so fabulous that it will always appear new, and the look will never go out of style.
Now, I admit, this orange vest was an impulse buy…
I am a "summer," and "summer" skin tones don't wear orange. But it's fall harvest time, and I want to be festive. Yet more importantly, this was a BRAND NEW suede vest with the $69.00 price tag still on it and I got it for $1.50. I'm just saying.
As long as that orange isn't against my face, I'm fine with it. I'll wear it to the pumpkin patch and take my pictures with fall orange pride, and them probably pass it on to someone else. It's cuter in real life. 🙂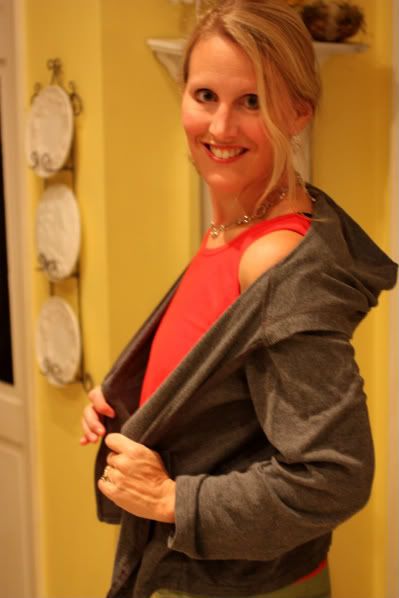 Yes, this was taken moments ago as I just got back from football practice and was sporting my cute Hanes hoodie and Liz Claiborne tank. If I dress to exercise, it sometimes gives me the false sense that I might actually walk during my boys' practice. 🙂 Exercise clothing is expensive, but I find fabulous items for pennies. Probably because people like me fizzle out on their New Year's Resolution quicker than they'd care to admit.
Now imagine that I didn't just get back from football practice, and that my hair was done in a sleek updo.
Oh, how I love this white dress from The Limited.
Simple, elegant and classic.
Again, comfort is key and this one passes the "nightgown" test as well. Can you see why I have started wearing dresses more? Seriously, this dress is more comfortable than any pair of pants I own. Don't be surprised if it doesn't end up as a night gown after I get tired of it.
When you spend $1 on something, who says it has to be an elegant dress? Why can't it be a nightgown…hee hee.

Ok, so that was all purchased in one shopping trip.
Remember, it doesn't always happen like that, but I am fairly consistent in popping into my favorite stores and I have it down to such a science that I could dress almost any of you in a complete wardrobe for under $100.
Come with me next time as I show you how I look through the trash and come out with the treasures.
Did you take a guess at how much all of this cost? Remember that I ONLY looked at the colored tags that were marked 75%, and the majority of the other items in the store were full price.
I am going to duck now because I know you are going to throw tomatoes at me.
Under $12. I know…it's not fair, but just love me anyhow… 🙂