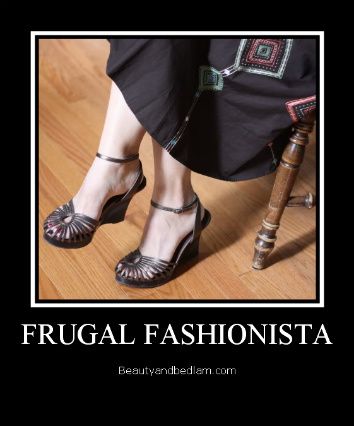 My First Frugal Fashionista post
This is where it all started…now it's an ongoing series…:)

With frugal living becoming the new buzz word of the year, people are becoming more aware of the many options for
living on less…and loving it!
While some people may be open to saving dollars by eating at home, or possibly cutting a few coupons here and there, wearing someone else's cast away clothes seems like it's crossing the line.
Well, we are going to change your mind about this. Just because you may buy clothes second hand doesn't mean you have to look like it's second hand.

This new weekly series called the Frugal Fashionista will:
1.

Unpack your reservations about choosing second hand clothes


(you've told yourself you just can't get past the smell),
2.

Give you tips on where to look


(all stores are not created equal),
3.

Teach you how to browse efficiently


(ugh, I just don't have the time to go through all the racks)
4.

Give you a place to start


(we'll begin with some basic "easy to find" core wardrobe pieces that

all thrift stores or yard sales will have),


5.

Give you the opportunity to share some of your Frugal Fashionista finds.
Each week I'll show you a designer labeled outfit that was put together for less than $15. That will includes the accessories and shoes.

My desire is that this will peak your curiosity, open up a financial savings possibility that you may never have before considered, and spruce up your own wardrobe at the same time.

Last fall I was interviewed on the news about my Good Will shopping. The reporter took me by surprise and asked, "Do you have to shop at Good Will?"
I thought that was a bit bold of her, but for me, that was an easy answer.
At times in our earlier marriage (with four children in 5 1/2 years), I may have needed to, but now that I can afford to buy retail, I would never go back. The quality and variety of clothes that I have become accustomed to would never fit into our debt free living budget if I were to purchase them retail.
Last year, I hit one yard sale in a very wealthy neighborhood. The wife was clearing out her closet and brought out over 75 designer pieces of clothing and 20 pairs of shoes. Her hubby told me after she left that she was just getting started on the first closet. WHAT? Many of these items still had the tags on and some of the shoes had never been worn (yes, I know the used shoe topic is a whole different ball game. I'll save it for a separate post. 🙂
After you hit one "jack pot" like that, the thought of paying $1000 for the pieces that I purchased from her would make me hyperventilate.
Maybe this season will be your "jack pot."
***************************************************************************
I wanted to begin with all the core wardrobe pieces, but this is what I was wearing today and I had the camera in hand.
Nothing fancy, but frugally fantastic.
One of the quickest ways that I feel like a "million bucks' is when I wear a fabulous pair of boots. Even though I am definitely a comfort over looks kind of a gal, I can suck it up for a few hours to top off the outfit. 🙂
And of course, the camera battery died with this shot, so I couldn't retake it.
Leather Aerosols that had no wear on them
( and no, they are not your grandma's brand anymore) –
$6 at Good Will (plus 10% off since I have the frequent shopper card, oh yes I do).
This is about as much as I will spend on footwear.
One thing I love is trying new accessories.
I used to be quite conservative with my accessories – small hoop earring etc.
Now I experiment with a large variety of styles, and have fun.
If I don't like them, I can pass them on. I only spent $1.
Perfect example – long brown earrings – $1 (new at yard sale).
Chunky necklace – $2 (ys)
Sheer Anne Taylor blouse – $3.25 (GW)
brown shell under shirt – $.50 (ys)
Banana Republic jeans – $1 (ys)
Let's see how we did:
Earrings -$1
Necklace – $2
Shirt – $3.25
tank top – $.50
Boots – $5.40
Total cost of outfit:
$12.15
Now, that's a good thing!
The Next post in the series…
Building a Core Wardrobe – Frugally