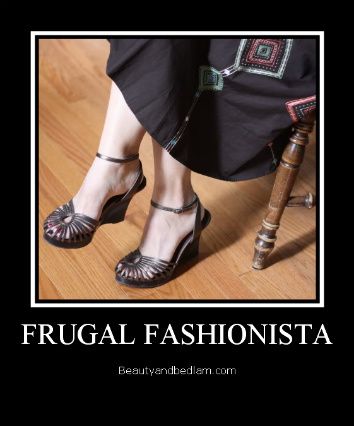 Are you new to my Frugal Fashionista series? Find out how I dress for less with designer outfits for mere pennies on the dollar. Yes, all outfits  from head to toe are less than $15, and did I mention…second hand?)
Many of you have emailed and requested another Frugal Fashionista Fashion Show.
Well, your wish is my command. This Friday, January 28th, I invite you to come link up your post that showcase your Frugal Fashionista finds.  As much as I love inexpensive pieces from the store's clearance rack, I ask that the outfits you share with us showcase at least one or two second hand treasures (shirt, skirt, jacket, pants, jeans, accessories etc.) The more the merrier.
This can be such an encouragement to others who are still contemplating if shopping like this is for them, and reassuring them that I am not the only one who finds great treasures in the clothing department.  If you're interested to share how long you've been a Frugal Fashionista, where you've been inspired to give this second hand thing a try and of course, how much you paid for those frugal fashion finds, I'd love to hear. If you don't have a blog, but want to join in, feel free to email me with your picture, and a paragraph description that I can include in my post. I can't guarantee that I can fit them all in this week, but I'll give it a shot.

Here's my outfit for this week. This is the first year I found some great jackets. At one yard sale, a  lady sold three,  3/4 quarter length sleeve jackets that fit perfectly. At $3/piece, I grabbed them all, but only have pictures of this one.  Paired with a thrift store black shirt, yard sale jeans, $3 Target hoop earrings, and a $2 glass necklace, this jacket can be dressed up for an evening out, or worn with jeans, for a dressed down look.
Since I didn't have many 3/4 length shirts that would work under this jacket, here's an example of how a Frugal Fashionista gets creative. While most ask "What Should I wear," and assumes another shirt must be purchased to make the outfit work, we shop our closet and pocket the saved dollars.
Jacket – $3 (Yard Sale)
Black shirt – $3.75 (Thrift Store)
Jeans – $2 (Yard Sale)
Earrings – $3 (Target)
Necklace – $2 (Myrtle Beach vendor)
Total: $13.75
Bracelets (Christmas present – more than the whole outfit. Thought I needed to confess ;))
I look forward to having you join us in our first Frugal Fashionista Fashion Show of 2011. I can't wait to see what you will share this Friday.