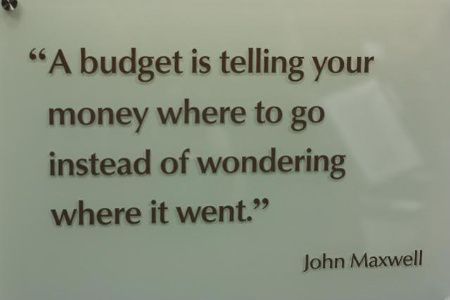 For me, creating a budget is pretty similar to fingers on a chalkboard, my daughter "serenading" me over and over in my ear, spending money on underwear (what a waste), committing to workout with the "30 Day Shred" for….30 days and, well, you get the idea. Have I clearly communicated that creating a budget is not on my list of favorite things to do on a fabulous fall day? Just making that clear, so you have no doubt.
With that being declared, figuring out where your dollars go on a monthly basis is key to not only financial peace of mind, but financial success, whether you like it or not. If you don't like it, and choose to ignore the time it takes to do this critical step, then you're basically disposing of income. No,  I don't mean you have disposable income, that is a great thing. I mean you are literally disposing of income. Yes, throwing it away…and you don't even realize it. Creating your budget, and learning to make it work for you, will  give you freedom
Budgeting is about seeing and understanding where all your dollars are going, no matter what your annual income. Tracking our spending is critical, and will be our first step, but budgeting is about so much more than that. It's about telling your dollars where to go and making them live up to that goal. It's not just wondering if there's going to be any cash left over that month, but determining what your financial goals are, giving each dollar a job, and then watching those dollars perform their task.  It's about creating a plan that works for your financial situation, and empowering yourself that you have a say with what happens, even if you're making ends meet. It's about committing yourself to no more "I'll save it for another day," because for many, that's where the financial crisis began. Budgeting is about kicking the notion that "I don't have time to work on a budget," where it counts and accepting the truth that "You don't have time NOT to."
Oh my! I'm climbing on my soap box and must quickly scurry down. Friends, it's because I know the emotional stress that money puts on relationships, marriages, friendships, work…life, that I care so much. I want to encourage you down a path that will help you manage your money, and while clipping coupons and shopping at thrift shops are means to cut expenses, if you don't dig in and dissect your overall budget first, those things won't make a dent in your long term outcome.
In Stephen Covey's book, "The Seven Habits of Highly Effective People" he states that one of the habits of highly effective people is that they begin with the end in mind.  I often quote my own dad who drilled into us "nothing becomes dynamic, until it becomes specific." (Why does that always require "Type A" kind of work that this "Type Z" person can't stand?) Yet, I know that wandering aimlessly, especially in terms of finances, only leads to huge amounts of frustration.
First, we are going to start by setting a straight course, with practical and easy steps. We'll walk through this with plain, Jen- style English.  None of this," I have no idea what you're talking about finance mumbo-jumbo talk."
Do you care to join me?
(Maybe I should rephrase that. You probably don't want to join me, but this may be one of those situations where you need to join me.) 😉


Click here for my previous "31 Days to More with Less" posts, and visit my friends joining me on this journey.