(No camera lenses were shattered in the taking of these photographs. If it appears blurry, it's not your eyes. It's called forgetting to take pictures of my outfits before midnight and then relying on hotel room lighting.)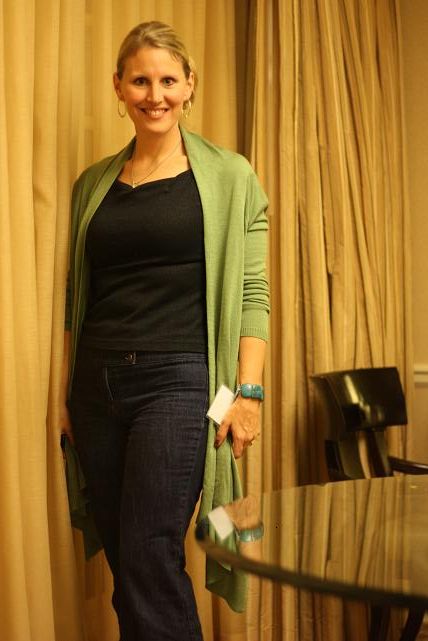 When invitations state "business casual," various images and mixed opinions are shared from different people.
Especially when a blogging conference with five hundred women is your destination, you realize just howt women and clothes are a CRAZY combination. I can't begin to tell you he worrisome buzz going around for months leading up to this weekend. Never before was I so thrilled to have committed to $10 Frugal Fashionista designer outfits. Without the anxiety to purchase new clothes, my stress was lifted. (Well, besides the pressure that I had to make sure everything I wore was second hand, cute and under $10/outfit. :))
Classy, dark jeans and heels are always a win in a business casual environment.
My $5 thrift store jeans, $1 yard sale sleeveless tank paired with a wrap that I just let hang loosely at my side, can take you from daytime conference to evening party without having to go back and change.
Total for outfit (including shoes):  $9.50
Time taken: After Cinderella's pumpkin popped

FIFTEEN minutes before closing, the thrift store's rude cashier yelled at me to get out of the dressing room, so I never got to try on this shirt (true story). Yet the cool sleeves lured me even before I saw the whopping price of $1.50, (whoot whoot) which only sealed the deal. If it didn't fit me, I'd pass it onto my best frugal friends, and they'd love it. Honestly, I never would have picked out a shirt like this just by looking at it on the rack. It was one of those "Dare to be Different" decisions, and I am so glad I bought it.
Pairing the shirt with jeans is an adorable and trendy option, but I decided to dress it up with my $0.50 yard sale skirt. This skirt is a bit big for me,  but the comfy, comfy material allows me to nap in it, clean in it, and use it as a swimming suit cover up during the summer. Ask me how I know. 🙂  I've done all the above and more with that skirt.
Shirt – $1.50 (thrift store)
Skirt – $0.50
Boots – $4 (thrift store)
Necklace – $2 (yard sale), (earrings – gift)
Total: $8.00 for the entire outfit
Time taken: Past the point of no return.
( Kimba (my sweet roomie) and I were laughing so hard thinking about what a bedlam moment this was of me modeling my cheap, Goodwill duds in the richy Opryland hotel hall. You know that kind of punchy laugh you get when you're so tired that everything is hilarious. We were at that point. Well, I was laughing. Kimba was snorting…just telling you how it was. 🙂

It was a blessing to meet other fun frugal friends who didn't raise an eyebrow when they asked where I got my cute shirt. I can't tell you how many people came up and shared that they had entered a Goodwill for the first time because of me. I don't know if that's what I want written on my epitaph, but it sure warmed my heart.
I sat next to Julia on the bus, and somehow I mentioned thrifting. How fun to find out the outfit she was sporting was second hand. I think with the cute purse the total came to around $18 (and I wish I could remember the brand of that bag because it is quite the designer label.)
Mela introduced herself to me after I spoke on "Niche Blogging" (representing the frugal living niche), and she shared her outfit were some Goodwill love as well. (And I don't even know if she knew how I'd love that scarf. Did she see my video tutorial? LOL).
Isn't it wonderful to know that women around the country are embracing the fact that we can re-purpose, reuse and look fabulous while still dressing for SO MUCH less?
I love being a Frugal Fashionista.
Have you found any fun frugal finds lately?