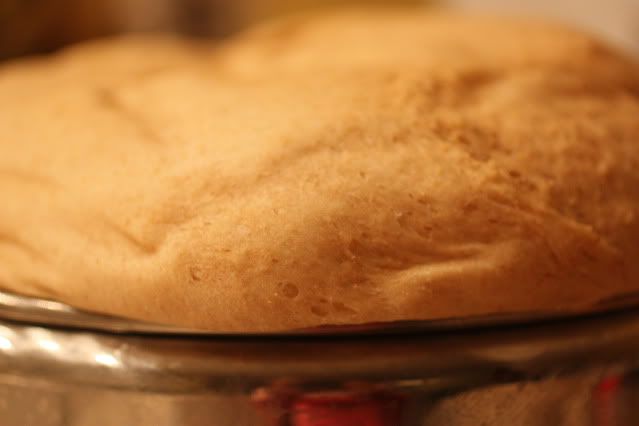 Tackling homemade bread is a topic that sends any reasonable homemaker running for the hills.
I mean seriously, why would one spend hours mixing, kneading, rising, shaping, and baking when she can go to the store and purchase a loaf for next to nothing?
Forget the hours when your house smells  like a slice of heaven, or that the  family will crown you the next "Domestic Goddess of the Year. "
It's just a delicious hassle…unless you have one of these.
You could spend an entire day walking through our house and I guarantee that there would be only a handful of items that I purchased retail from a real or online store…and yes, this would be one of them.
It was an investment. An expensive investment, and one that I never regret.
Fourteen years ago, when I moved from WI to NC,  I was terribly homesick and my monthly phone bill was racking up.
In the midst of a really "natural" cooking period, I wanted to make this purchase but couldn't justify adding it to our monthly expenses.
I decided that for every dollar I could save from my monthly phone bill, I would put it towards my industrial strength kitchen machine purchase (Magic Mill DLX).I only had two small children at the time, but I guess I was planning ahead.
I nearly went cold turkey on my phone bills, and purchased my mixer four months later. I do have a Kitchen Aid, which makes two loaves of dough, but this will mix and kneed up to eight loaves of bread at one time. I still have to shape it, and form it into loaves, but this does all the kneading.
The result? A machine that gives me the "appearance" of a professional since I am not nearly in enough arm shape to kneed that much dough by hand :).
Yes, there are still learning curves to making homemade bread, but it is so worth the effort.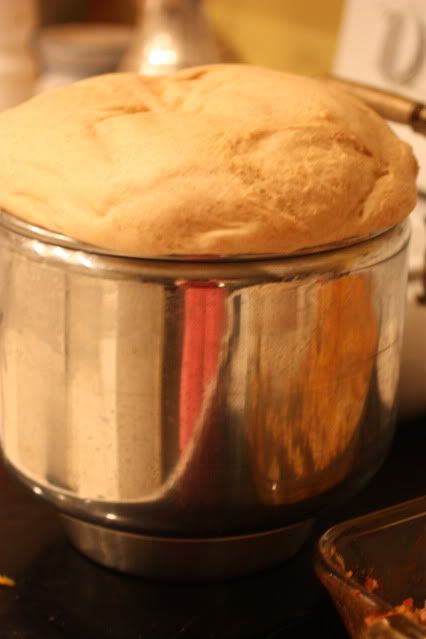 Hmm – one of these loaves is not like the other…
(Don't let them over rise 🙂 )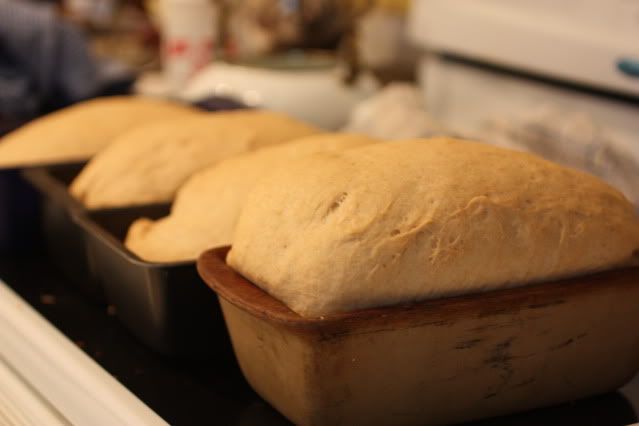 Whole Wheat Bread Recipe using Evaporated Milk


I tried a new recipe after cleaning out the pantry and finding some expired evaporated milk. Not wanting it to go to waste,  I thought I would give it a try.
It was delicious, although the added expensive of evaporated milk offsets my desire to make it again (unless I would find a deal on it).
I'm posting the evaporated milk recipe, and will post my traditional one later.
Homemade Whole Wheat Bread
INGREDIENTS
1 (.25 ounce) package rapid rise yeast (I used 1 TBS of instant)
1 teaspoon white sugar
1/2 cup warm water (110 degrees F/45 degrees C)
1 (12 fluid ounce) can evaporated milk
1/4 cup water
1/4 cup melted shortening (I used canola oil)
1/4 cup honey
2 teaspoons salt
2 cups whole wheat flour
3 cups bread flour (I used more whole wheat instead)
2 tablespoons butter
DIRECTIONS
Preheat oven to 375 degrees F (190 degrees C).
Dissolve yeast and sugar in 1/2 cup warm water.
Combine milk, 1/4 cup water, shortening, honey, salt and wheat flour in food processor or bowl.
Mix in yeast mixture, and let rest 15 minutes.
Add white flour, and process until dough forms a ball. Knead dough by processing an additional 80 seconds in food processor, or mix and knead by hand 10 minutes.
Place the dough in a buttered bowl, and turn to coat. Cover the bowl with plastic wrap.
Let dough rise for 45 minutes, or until almost doubled.
Punch down, and divide dough in half. Roll out each half, and pound out the bubbles. Form into loaves, and place in buttered 9×5 inch bread pans. Butter the tops of the dough, and cover loosely with plastic wrap. Let rise in a warm area until doubled; second rise should take about 30 minutes.
Place a small pan of water on the bottom shelf of the oven.
Bake for 25 to 35 minutes, or until tops are dark golden brown.
Butter crusts while warm. Slice when cool.
There's lots more that got cooked, fried, grilled, and baked. I'll post more later, but for now, this mom has got to go be a momma.
Did you miss my Baking Day Plan?