Welcome to Tasty Tuesday and my new "home."
Balancing Beauty and Bedlam still has the same feel and the same goals, but our options will help you in the browsing process.
Notice the great little "search" box to the right? How amazing is that? Now you won't have to spend hours trying to find that one recipe or tutorial that I posted months ago, you can just type in your topic and voila – it's there.
Christmas traditions? Give it a try. Spray paint? Oh, more than you would care to read.
We are still working out the kinks, so if you find some things that need our attention, let me know.  It is a work in process, just like me. 😉 You can subscribe in a reader or for all my non-blogging friends, you now have the option to have my posts delivered right to your email in box. I love that!
So, onto the task at hand – Tasty Tuesday!
I had this massive "Bulk Baking Day" scheduled with high hopes of posting it all for you today, but it's not going to happen tonight. (Try out the new search bar if you want to read my other posts on Bulk Baking and you'll get the gist.)
My Tasty Tuesday tip for the day…clean as you go. Trust me, this is a great piece of advise. One with which I typically adhere.
I sure wish I would have followed it today. Off to do the dishes.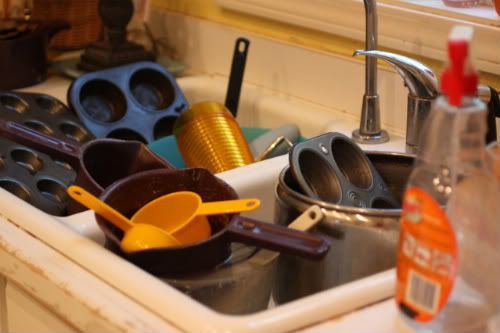 Here we go: Link up to your direct recipe URL and make sure you link back to Tasty Tuesday's new location, so that everyone can join in on the fun.