As the time came for our oldest son to turn sixteen,  I wanted to plan something special, sentimental, and yet still be deemed successful in his teenage eyes.
As the time came closer for this birthday party, he assured me, "Don't worry, mom, I'll take care of it all."
With that one phrase, the sentimental aspect had been obliterated, but I knew "making it a success" still needed to be upheld.  He took care of all the invitations…(mass email and announcement on Facebook …who knew…). And once again, his strong reassurance resonated , "Don't worry, Mom, only forty have said they can come with sixty unconfirmed, but it's still 2 days before, so who knows…"
WHAT? Oh, that makes it "SO" easy to plan for food. Being a mom of teens requires flexibility and creativity with party ideas, so I determined the challenge of throwing a large Sweet Sixteen party on a frugal budget could be done. Rest assured, it can, yes it can be done.


Honestly? What has taken American parents hostage to the all mighty birthday dollar? It's become a preconceived notion that hundreds, if not thousands of dollars need to be spent on children's  birthday parties; it continues to boggle my mind.
I am convinced that when our children are grown, they are not going to remember the fancy rented thing-a-ma-jobs, the over the top decorations, or the crazy amount of money spent on grab bags/favors.
I am convinced that the creativity, love and ingenuity that comes with honoring their special day will be what resonates within their heart and memory.
Some of our children's fondest birthday memories? Mud football, treasure hunts, water balloon fights, pyramid building contests, tiara decorating…yes, all moments that were priceless – literally. 🙂 Yet, I know that those things would not be considered "cool" at sixteen. Knowing that he was already a little worried that his friends would think his party "dumb," I resigned to NOT be the mom that threw an uncool party.
So what needs to be determined when throwing a teenage birthday party on a budget?
Food/Menu
Decorations
How many/Who to invite
Theme/Activities/Games
Food choices

–

Looking through the narrow lens of multiple teenage boys,  success is measured by prioritizing large quantities of food. They'll take tons of food over quality any day, so I decided not to stress over a smorgasbord of homemade goodies.
Throwing together food for large groups is something I am used to, but with a mystery curve of 60 guests, it narrowed my choices just a bit. Typically, I love doing homemade pizza for groups up to twenty five, but we choose hot dogs and burgers since we could easily use the left overs at a later time. Buying these in bulk at Sam's Club or Cosco is a  frugal option and adding the typical junk – chips, pickles, cookies, soda etc. was brainless. I then added some homemade touches by making my taco dip, cheese ball and veggies/ dip for those girls who were watching their figure (or at least watching it in front of the guys. 🙂 )
Dessert – Remember how I initially made the donut birthday cake with Marked Down Krispy Kreme donuts? Well,  my final run to Walmart revealed a marked down, day old sheet cake that I added to the repertoire (and I promise, no teens knew or cared that it's a day old – only my pocket book squealed with delight.)
Decorations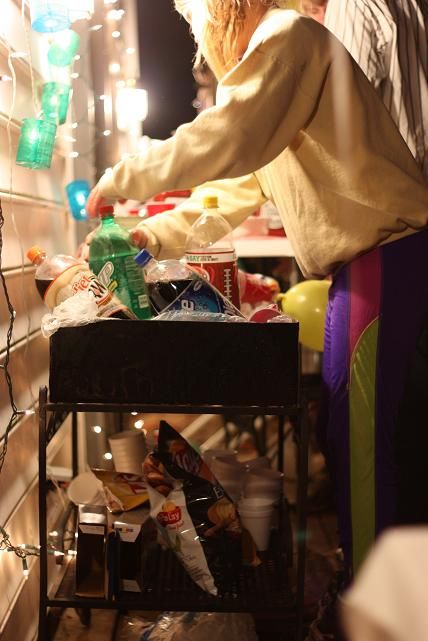 I choose to go simple, but fun. I decorated the back deck with strings of lights, which gave an instant party atmosphere. Both inside and outside tables had simple tablescapes, but I can't believe I don't have any pictures of them (bad blogger). Yet, the best decorating accent piece for the whole party, I found hours earlier that day for only $2. 🙂



Rushing back from last minute errands, one last yard sale of the season (end of Nov) called my name. Pulling over, I saw this garden cart – worn, broken and lonely. When it's owner said "take 'er for $2," I knew something magical was about to take place.
And it did! This sorry looking cart was perfect for the drinks and snacks. I put a clear, plastic garbage bag in the bottom and filled it with ice. Instantly,  festive drink holder was born.
(And once spring hits, I'm going to spray paint this baby and give her the rightful place she deserves….I just don't know where that is yet. 🙂 )


I told you she was broken, and I had to think fast. She's missing one wheel, but we're home schoolers and have LOTS of books. I haven't figured out how to add another wheel, though, but I have time.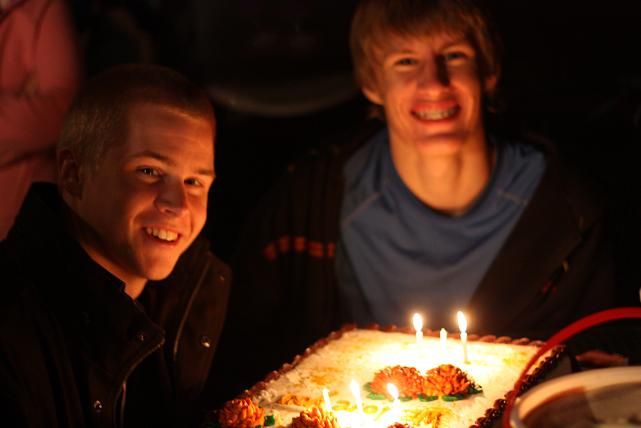 Determining the Guest List
A sentimental time of honoring our son would have called for a short and sweet guest list of treasured mentors and guest. But since this was a celebratory time, with guests invited by my son, the more the merrier. (Merrier ended up being seventy five guests with some coming and going throughout the evening.)
Enough life lessons and communications about the importance of choosing friends wisely led to complete freedom for my son to invite whoever he wanted. He has a solid, quality group of friends from the youth group, but if you're skeptical at all, this factor needs to be carefully considered.  Teen age parties can quickly get out of hand and the old adage, "a few bad apples spoils the bunch,"  could not be more true.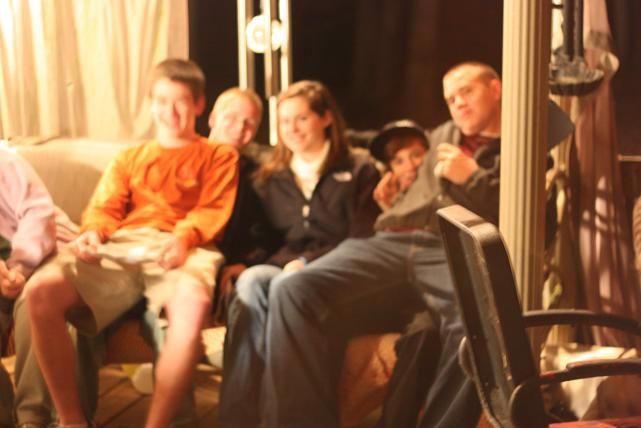 Activities
Assuring my son that his guests would have a blast just hanging out at our house took some convincing.
Yet, I know one thing. Suburban kids coming to the country is always a fun thing. There's something about our wooded setting that just screams, "Kids Heaven."It's all about relationships for the teen years, so activities do not have to be elaborate. Even though I am the "Queen of Forced Bonding," I resisted the urge to do my mixer type, get to know you games. 🙂
We had our fire pit/bon fire area set up for smores and roasted hot dogs. The boys had a stroke of creative genius and rigged up my key board amp to their Ipod, hung strobe lights from the trees and made a make shift dance area (carefully monitored, of course.)
Then to top if off, we had my neighbor bring his big 'ole Kabota for a hay ride.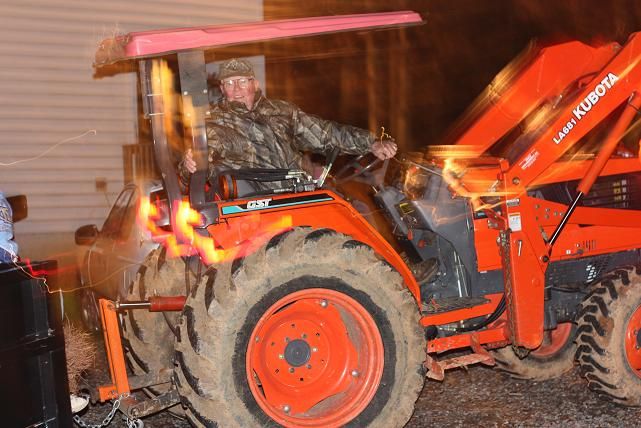 This made the evening. Nothing else would have needed to occur but this, and the night would have been a success.
(Knowing that many of you don't happen to have a neighbor like this in your hip pocket, the night would have been a success without this as well. The hay ride just stretched the party out by another hour and a half.)


There were so many wonderful things about that evening, but the highlight happened when my son grabbed me in a corner and shared, "This party is really awesome. I think everyone is having a blast, don't you?"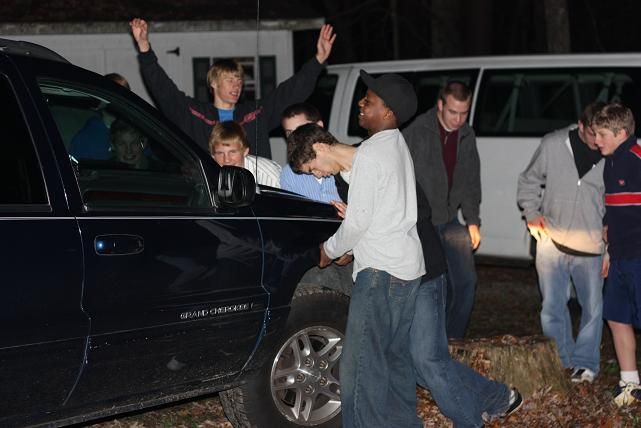 And if a night of seventy five doesn't sound like enough bedlam to you, we had to christen it with a proper bedlam moment,  didn't we?
Teen age drivers…that should say enough….This Grand Cherokee pulled right up and got stuck on TOP of the tree stump in the middle of our turn around driveway. Seeing so much testosterone run freely as they lifted the vehicle off the stump was enough to even make me want to grunt along with them.  (I missed the picture by just a second…bummer, it was funny).
So as the final guest left at 12:30 am, (with six additional guys deciding to spend the night), the teenage boy birthday party on a budget was complete with the final outcome = magical memories.