Hearing that a post has inspired both creativity and frugality in one of my readers delights me to no end.
When Cara emailed me that she had some Pottery Barn inspired bedroom decor and had conquered a Pottery Barn chandelier for under $10, I was delighted that she shared the pictures. Her ideas can be fitted to any number of varying decorating tastes.
I am in the process (yes, the process has been stalled on quite a few occasions) of finishing my girls' room with a PB inspired butterfly theme. I can't wait to show you how an entire room makeover can happen for under $100 (with furniture).
This butterfly chandelier is a wonderful start.
Here is the original inspiration from the Pottery Barn, which is no longer sold.
Considering that this gorgeous Chapiz Chandelier is selling for $129 right now, I am guessing, the butterfly one would not have fit into my frugal bedroom decor category.
Let's see how you can make one of these DIY Pottery Barn inspired chandeliers for less than ten dollars. Your daughters will love you for it. 🙂
Supplies:

Ribbon Punch (optional – this is a tool I use for scrapbooking that punches out two slits for ribbons to feed through)
(1) Take the embroidery hoop and tie a grid across it with the strings.  I chose to do three strings in each direction.  (You can see the grid in image directly below).  Make sure to tie the strings tights.
(2) Using the hot glue gun, wrap the ribbon around the hoop until it is completely covered, periodically gluing it so that the ribbon stays put.  Once the hoop is covered, add two ribbons criss-crossing for hanging.
(3)  Cut out your butterflies.  I opted for 36 butterflies in dark pink, pale pink, and white.  Cut slits in the middle of the butterflies just wide enough for the thin ribbon to feed through.  You want a tight fit so that the butterflies stay put on the ribbon.  I used a ribbon punch, but you cut also just use scissors.  You could also try using an adhesive if you have trouble getting the butterflies to stay, though you might want to wait until the end and the butterflies are exactly where you want them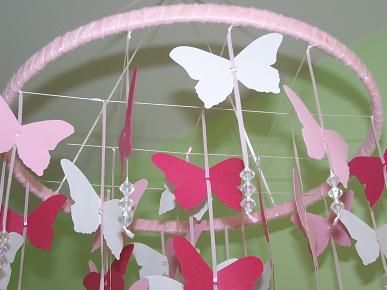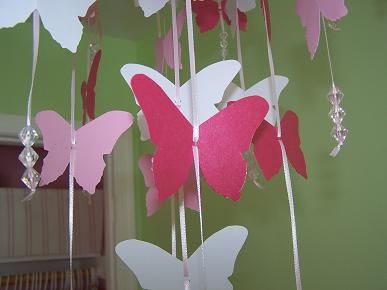 (4)  Start assembling the butterflies on the thin ribbon, threading a few beads on the bottom to help weight each strand.  You can add as many butterflies on each strand as you like for your design.  For the chandelier effect, have a longer string in the middle and gradually have shorter strand toward the outside.  Based on the size of my butterflies, I opted for four butterflies on my center strand (tied to the middle point of the grid).  Then I had 4 strands of three butterflies, 4 strands of two butterflies, and 12 strands of one butterfly.  I then used to three beads at the end of each strand.  As a hint, find someplace to balance the hoop so you can look at the strands as you attach them to the grid.  That way, you can play with the length you want.  Since I tend to do crafts on my living room floor while watching TV, I brought in two of my kitchen chairs and balanced the hoop between the seats.  That let me keep shifting things until I achieved the look I wanted.
(5)  After you have attached all the strands to the grid and have everything set, clip any excess ribbon from where you tied the strands and go hang your chandelier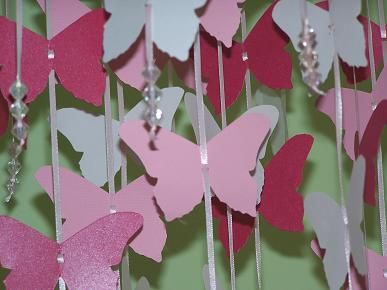 I hope you have enjoyed this beautifully frugal way to decorate your girl's room. I know I sure did. 🙂