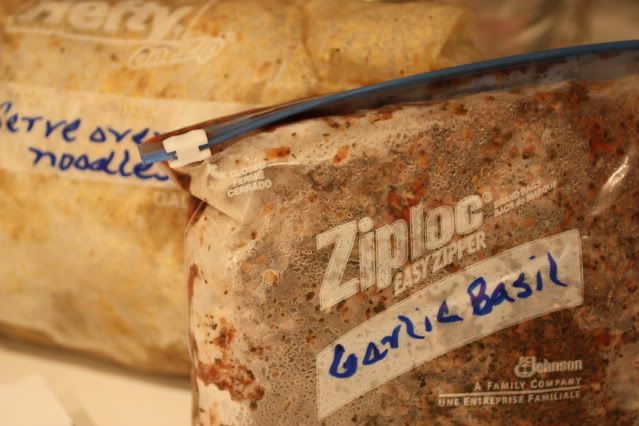 If you currently subscribe to my old site on Blogger, please click here to re-subscribe to this site. You are now able to receive updates via email. Click here to subscribe to Balancing Beauty and Bedlam by email.
******************************************************************************************************************
Years ago,  friends and I commenced our inaugural Kitchen Sister's Club.
Gathering together with a group of women for a united task, especially a mundane one, makes the tedious task of cooking and meal planning so much more fun. So many of our recipes came from Mary Beth Lagerborg and Mimi Wilson's Once a Month Cookbook.
So when I had the opportunity to review their new OAMC Family Favorites, it was  a no brainer. I must confess that I have never ever done a complete one month cooking cycle as outlined in a true once a month cooking format. I put my own spin on it.
Their method is to shop for an entire month all at once, buying in bulk, thereby saving money. You do all the food prep for a month the next day, freezing and refrigerating what needs to be kept cold, stocking the pantry shelves when appropriate.  Finally, before dinner, you do some quick finishing and voila! -dinner with more time with your family at the table and less time at the stove. This is an amazing way to reduce meal expenses, and if you don't have time to coupon and stockpile when things go on sale, buying in bulk at once is the next best way.
Even though it sounds overwhelming, you can take their method and get creative with it like I did.
This is the foundation of how I do most of my meal planning, but without attempting to do it all in one day.
Do you remember my own One Hour Experiment? Meal planning with a Twist?
Or my Easy Kitchen Tips vlog where I demonstrate who easy it is to get 4 meals in 4 minutes accomplished? Yes, a combination of what I have learned with my years of Once a Month cooking and Homemade Gourmet.
I am thrilled that Once a Month Cooking is offering a free one week cooking cycle on their website as well as lots of useful information. Check it out at once-a-monthcooking.com.
So what about you…have you ever attempted Once a Month Cooking? I'll be sharing some more of my own freezer meals over the next few weeks, so stay tuned.
Can't wait to hear what you've been cooking up in the kitchen.
Please leave a correct link IN YOUR POST letting your readers know of our new location at https://beautyandbedlam.com.
Hope you are having a terrifically Tasty Tuesday!