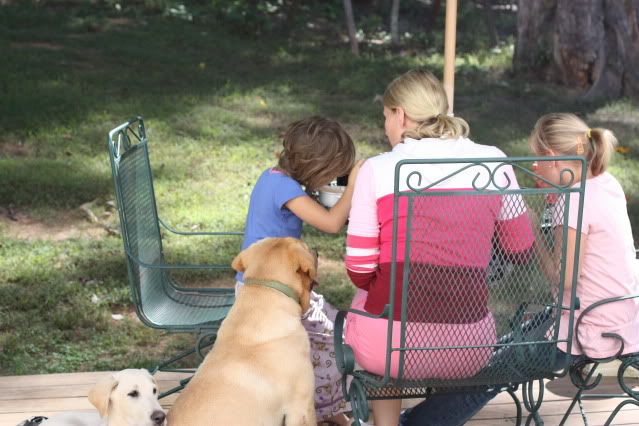 Do you remember the Tasty Tuesday challenge I gave about creating ambiance at meal time?
Candlelight is one of my favorite and easy ways to create ambiance, but often it's just about changing locations or "finding your spontaneous place."
Last week, my girls and I were able to soak in some of the last rays before the approaching cold front. It warmed my heart to see them light up with excitement merely from the anticipation of eating outside. How many times have I said, "No" when they have asked to venture outside?
Why? I wonder that now as I type this post. There's something about eating outside that is so relaxing and peaceful.
Why would I deny them the opportunity to change from the mundane to the magical?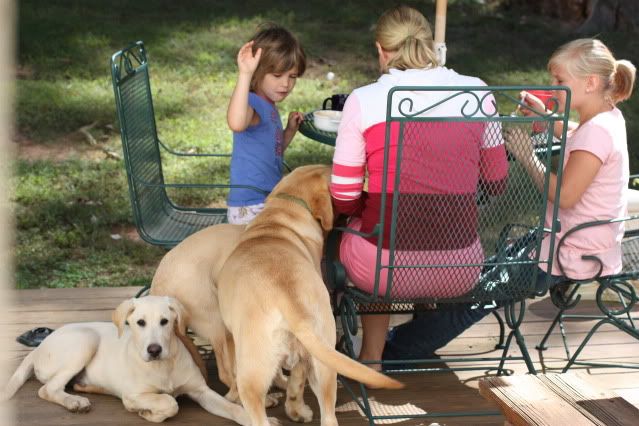 OH YEA,  now I remember!  It was a really "peaceful and relaxing" meal. 🙂
This photo was captured ten minutes after all three dogs tried to snag our lunch. One finally gave up.
Note to self: next time you want to change a mundane meal into sheer magic, kennel the dogs before you bring out the simmeringly scrumptious taco soup.
What about your family? Do you have a special spot where you like to eat?
Looking forward to perusing your kitchen magic this week.
Please link up directly to your Tasty Tuesday post and link back to my new URL location.