Nationwide, temperatures have been frigid. Ice courses through the bones.
And while I tucking my children into bed, years of route "courtesy prayers" are spouted…
"Lord, thank you for our yummy dinner tonight. Thank you for our house during the cold winter…please may we have sweet dreams…"
Route, ritualistic prayers…until this week.
This week, their prayers became more intimate. The media's perception of homelessness bore a face, and our children understood that not everyone has a warm house or snuggly bed in which to slumber.
This week, they prayed for their new, special friends which have captured a piece of their heart.  They prayed for Miss Yung, who wouldn't go to a shelter…
They prayed for her bones, that warmth would be radiated through the freezing tent, and that she would make it another night. Our girls woke up asking when they could see her and give her a big hug.
Asking what our role as a family would be to this strange, curious, and often overlooked subculture…we prayed.
How could we help the homeless?
It's one thing to do a courtesy round of meals at the shelters during the holidays, but lives are changed when duty melds to decision.
An active, intentional decision to get off the sidelines and into the game. The game of life where everyone has a vital role.
So, we are asking tough questions in this home. 
Will you join us?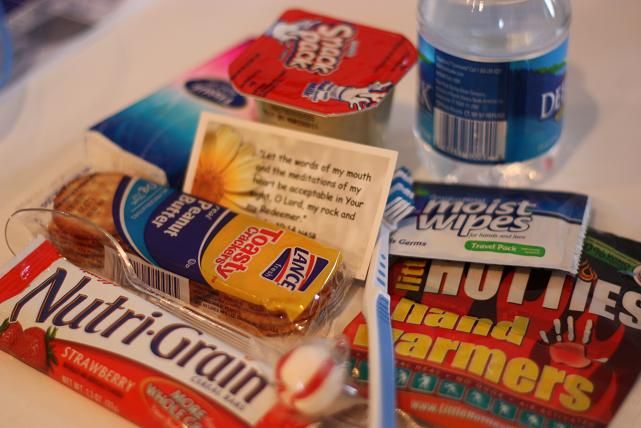 Attacking any societal issue feels overwhelming. The scope and magnitude is never ending.
Almost daily, we pass homeless men panhandling on the corner, and yet I tell the kids we don't give money for fear it will go towards alcohol.
And yet, is it my responsibility to give regardless? How can one person or family make a difference?
"Feed the hungry, and help those in trouble. Then your light will shine out from the darkness, and the darkness around you will be as bright as noon."
Isaiah 58:10
Let's be the hands and feet…
One tangible , family service project in helping the homeless is to put together care packages and keep them in your car. When you see someone in need, you have something you can give them immediately to meet some minor needs.
What we included in our care packages:

Hand warmers
Snacks
Wet Wipes
Toothbrush/toothpaste
Water bottle
Mints/gum
Kleenex
Chapstick
Note/bible verse

(Commentors are giving additional suggestions – socks, gloves (Dollar Store has great ones), first aid kits, pillar candles, cough drops, pain medicine…)
We're developing relationship with special, new friends at an area homeless camp.
Hearing their stories is life changing.
Statistically, it is said that many Americans are only two months away from being homeless…
** Added later: This summer I spent a week among the homeless, Read more about The Power of a PB & J Sandwich – a week that profoundly changed me. 
This post previously published.