Many of you agree that decorating on a dime brings out the creative juices. For me,  it's no different during the holidays. In fact, it's so fun to see what one can create out of the items that are already on hand.
Inspired by this easy decorating idea, I found jars, bowls and glass cloches to fill with ornaments and placed them throughout every nook and cranny.
I decorated so many areas that typically go untouched just by adding a touch of ornaments.
December 26th marks the start of a new holiday decorating season. Most people can't wait for Black Friday, but I get up early Dec. 26. Keep your eyes peeled for 50 – 75% off ornaments the week after Christmas.
Last year, three entire weeks AFTER Christmas, Walmart still had ornaments left over. I was shocked. I picked up about one hundred ornaments at 90% off. That typically doesn't happen, but it enabled me to decorate for pennies on the dollar this year.
By layering a $2 cake stand on top of two yard sale decorative plates, filling ornaments in my cloche and VOILA – I've added festivity for a few dollars, but better yet, done in a few minutes.
Last year, I showed this silver tray I picked up for only $3.75 at Target. Again, I paired it with another cake stand, tray, and plates from yard sales. This created a Quick and Easy Centerpiece for just dollars.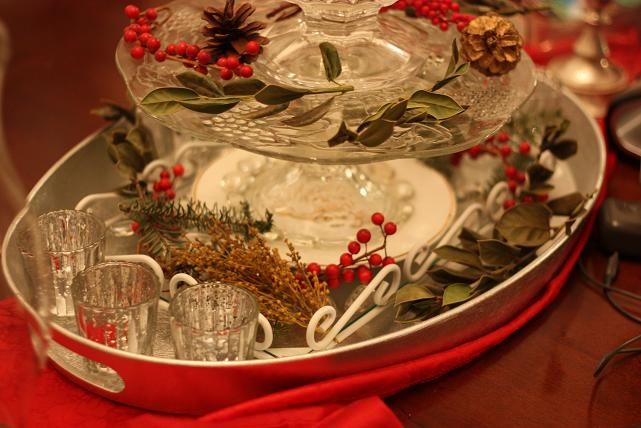 One of my side table was a bit boring, so I grabbed one of my my white $1 yard sale bowls, filled it with ornaments, pine cones, acorns, shells,  holly and more for a "bring the outside in" look.
One of my December 26th finds last year was this package of fancy ornament holders. I'm so glad I bought a package of these because I found so many fun used for them, not of which included hanging ornaments on the tree. 🙂
Are you hosting something over the next week and just want to spruce up the decor a bit?
Go buy some discounted ornaments and fill some bowls. If you can't wait til after Christmas, I was at the Dollar Store tonight and they have them, as well as Big Lots who has already marked Christmas items down 50%.
Add candles and beads for additional elegance.
Show case your vintage or sentimental ornaments while adding drama by highlighting them on a candle holder.
These few are all BHG inspired.
In seconds, you can drape beaded garland on your window treatments for a touch of holiday love.
Decorate with candy canes at any time. They just make anything look festive. For the kids table last year (below), I went with a candy cane theme. Anyone remember it? It was right after my one of a kind bedlam moment decorating dilemma. 🙂

And how elegant is this bathroom? By adding just a few beads that you could find at the dollar store, mixed with ornament and candles changes this boring bath to beautiful glam. I LOVE this.
So don't worry if your guests are coming in one day. Pick one of these simple and frugal ideas and let your creative juices flow. You won't believe how much fun it is and it just might get your mind off the unnecessary stress we are all causing ourselves right now. 🙂