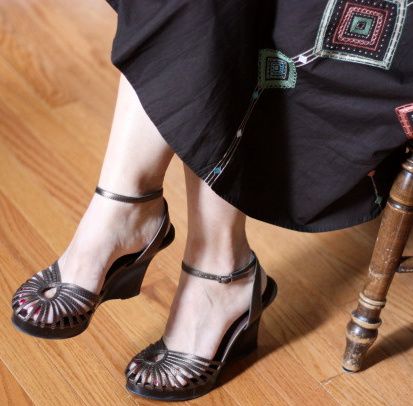 Welcome to my October Frugal Fashionista Fashion Show.
If you're not familiar with my ongoing Frugal Fashionista series, it's my personal attempt to encourage women that we can dress fabulously, express a creative side that we never thought imaginable, and do it all on a "yard sale" budget.
Yes, I have heard all the hesitations about dressing thrift, but I can guarantee that with an eagle eye and some patience, we can all create a small designer wardrobe consisting of core wardrobe pieces for $100. For those of you with petite to plus sizes, it requires a bit more work, but just this week alone I found the cutest size zero Anne Taylor dress (sold in their retail stores just  last year), the sassiest size 22 pair of jeans…hip as can be,  a fabulous size 20 black dress and three plus size skirts all for a total of $15.
So have some fun…you may hit the jackpot your first time out…or not, but when you do, it's SO worth it.
Remember, thrift is back, it's the new black…
My great find this week.
It never ceases to amaze me the quality of gorgeous clothing that people donate. Consumerism is still through the roof in relationship to women and their clothing, but I benefit from those who get tired of their outfits after just a few wears, so I am not complaining. 🙂
Remember my tip about trying on various sizes? This shirt is a prime example. It's a much bigger size than I would typically wear, but since I purchased it at a yard sale for $1, I wasn't about to pass it up.
A classic white shirt is one of my core wardrobe pieces and this style flatters any size. Because it ties on the side, I cinched it tight and love it! Even when I was 40 pounds heavier, this same shirt would have fit. A $0.50 yard sale Liz tank is layered underneath for modesty.
I accented the outfit with a brown jeweled bracelet – $1 (yard sale), and a fun drop necklace that you must see, but can't…ugh. Again, yard sale.
I'm just going to say it…I was giddy when I found this skirt, oh yes, I was.
The possibilities are endless. Getting ready for church and running really late, (yes, I literally left the house with soaking wet hair), I grabbed the first shirt that matched – white. But this style would be spectacular with turquoise, light blue, black, brown, green, or orange. I have at least eight shirts that would match and it can be worn all year round – dressed up or down. Again, remember that sizes when thrifting really varies. This skirt is a petite and I am on the tall side. Assuming it would be too short, I tried it on anyhow since I LOVED the fabric. I guess it's meant to be worn longer, but I snatched it up anyhow…for just $2.99 (Carolina Thrift).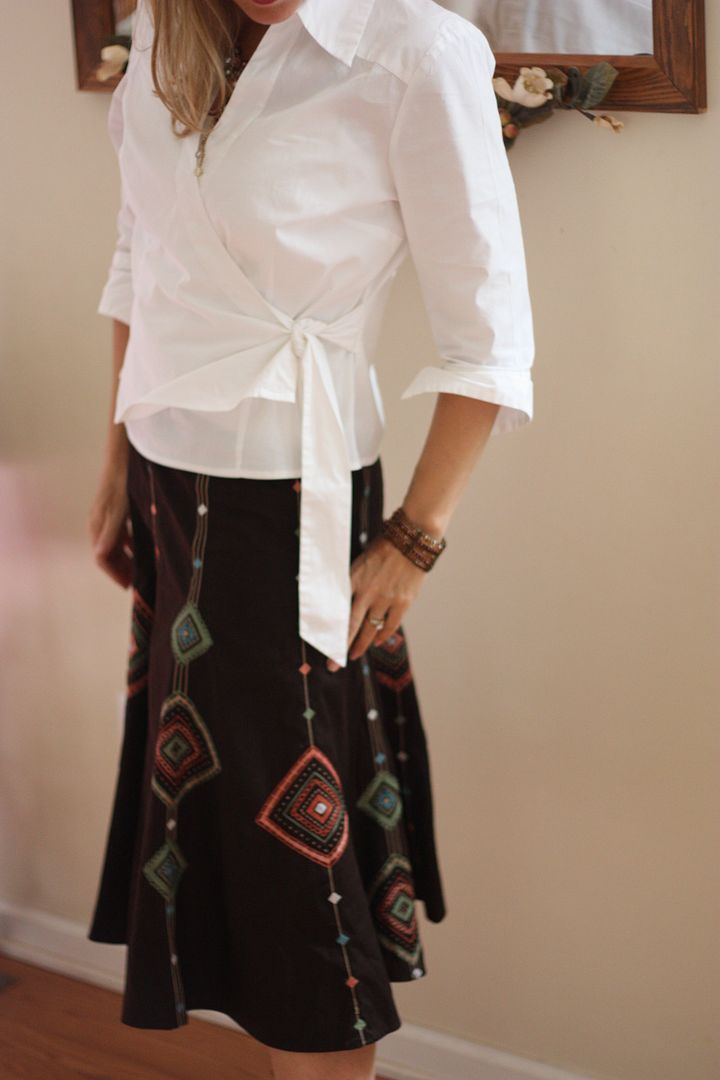 I know that some of you are extremely hesitant about wearing second hand shoes, and eventually I will do an entire post addressing just that issue. Until then, trust me on this purchase. I walked up the driveway of this yard sale and these shouted, "Buy me." At $1, it was a no brainer. The owner exclaimed how she loved these shoes, but she bought them to match a dress that she wore to a wedding and was only going to wear it once. I LOVE ladies like that. I'll take that all day long. These are definitely not shoes that I would recommend wearing to church and then shopping at Sam's Club…again, trust me on that one. 🙂


So have you done the math?
Shirt and tank – $1.50
Skirt – $2.99
Shoes – $1.00
Jewelery – $2.00

Total cost of this outfit (which really does look better in real life): $7.50
I was going to do another outfit, but this is your opportunity to show us the great deals and steals that you have put together in the fashion department. Remember, at least one of the main items in your outfit should be second hand.