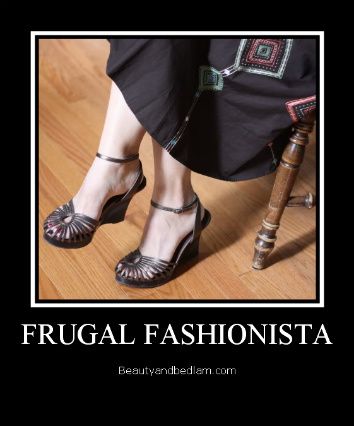 (Are you new to my Frugal Fashionista series? Find out how I dress for less with designer outfits for pennies on the dollar. Someone else paid the designer prices, and I am blessed to reap the benefits. It takes a bit of treasure hunting, but it's well worth it.)
After a little hiatus, our weekly Frugal Fashionista is back.
As I dressed this morning for my weekend conference (yes, if you saw me today, you know this is a real time post), I realized that this is a prime example of dressing comfortably, dressing classy and dressing 100% Frugal Fashionista style for close to $5. I was feeling pressure that I needed to give you some amazing outfits after my little break, but an epiphany hit that this is what it's all about. This is how I dress day in and day out, and I'll just start showing them to you with out any pressure. So look for more Frugal Fashionista posts with my every day dollar outfits.


I know that in the past I have mentioned to stay away from patterns at thrift stores, but that's only if you are nervous about picking out second hand stores clothes where the pattern could potentially date you back to the 80's look. Some of you might not know it unless we told you, so if you're ever unsure, avoid them. I love patterns, but if I am going to wear them, I always pair them with a solid.
This cotton skirt is a  bit "busy," and is definitely not a trendy designer look, but the skirt was $1 at a yard sale and is more comfortable than any shorts or jeans I own. That was my primary reason for wearing it. Sometimes we think that it takes work to dress up, yet I put this outfit together in minutes. Like I said, my number one priority was literally comfort, nothing more, but it just so happened that it ended up working.


By adding a pair of $0.50 silver earrings (that have a small blue crystal in the hoop), along with a $1 yard sale blue necklace it took the outfit up just a notch on the dressy side. (Pictured at the top) I found this great, blue glass bracelet at Myrtle Beach for $1.99.
Total cost of outfit: $6.50
Blouse: $1 (yard sale)
Skirt: $1 (yard sale)
Jewelery: $3.50 (the added bracelet blew the budget ;))
Like new Black Leather Shoes: $1 (yard sale…in the box…I promise)

I also paired the skirt with this great $1 Banana Republic Shirt for a much softer look. It was actually a better match, but both are very versatile. Don't ask me how the skirt got cut off in the picture, but just imagine it, and know the light shirt works better.  This skirt I have even worn gardening with a white shirt and flip flops. Skirts just aren't for "girly girls or dress up." Seriously, if you can find some comfy cotton ones, you may never go back to shorts. 🙂
Out take….
This is what happens nearly every single "photo shoot." My son loves the "sports" mode where four pictures are shot in a second.  He shot off about 30 pictures before I could finally stop them. Many of them show me about to strangle his cute neck. Can you tell what I am saying?
JUST.TAKE.THE.PICTURE!