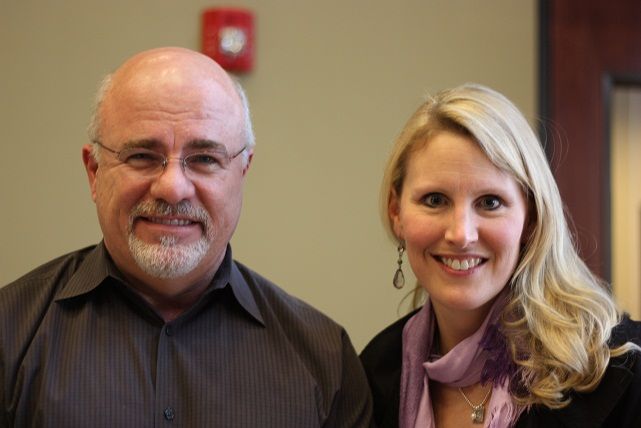 Some of you glance at this photo and instantly scream, "Jen met Dave." Others have no idea idea why I would picture this guy, but if you've been a reader here for any length of time, you know I've mentioned Dave Ramsey and his many resources that encourage beating debt and building wealth.
More than one million families have attended his Financial Peace University with amazing results. On average, these families paid off $5,300 in debt and saved $2,700 in just the first 90 days! No matter where you are in your financial journey, Dave Ramsey products encourage, inspire and motivate people on the road to financial freedom.
Personally, we are completely debt free except for our home. His plan has encouraged us to think twice about holding onto our home mortgage and challenged us to think outside the box about paying our house off early, and getting rid of that mortgage. I wrote about it in my post, "This is what we're striving for..." And last week's controversial post challenging those of you with consumer debt to cut up your credit cards...yep…blame it on Dave. (FYI – I will do a follow up on that with full disclosure of our CC use. 😉
By breaking down our finances into systematic "Baby steps," he encourages everyone to jump in where they are at. I'll be doing some future posts on these steps, but I highly encourage everyone to take a minute to read over the seven steps outlined.
When I was in Nashville, I visited the home office of  The Dave Ramsey Show, listened in as he did his live radio show, and heard life changing stories of people sharing their stories of the hundreds of thousands of dollars of debt they paid off by following the Debt Snowball. Every time I hear someone shout, "We're debt free," it brings tears to my eyes every time.
I'm so thrilled that they have agreed to partner with us on an amazing giveaway of over $270 in products. Every thing you could possibly desire to organize your life financially is offered, along with tools to teach the kids.

We've started teaching our children quite young about the value of the dollar. These hands-on tools below are perfect in helping them understand the entire concept of saving, spending and giving. The tag line for the Financial Peace Jr. is "Cool tools for Training Tomorrow's Millionaires." Our family's goal for our children isn't that they must become millionaires, but to ensure they understand what it takes to avoid the bondage of debt, and in the process save a bunch at a young age…I'm all over that.
Kids Monster Pack (List price:  $119 On sale: $49.95): The Kid's Monster Pack  includes Financial Peace Jr., all 6 of Dave's illustrated kids' books, plus the NEW Junior's Adventures 6 CD Audio Set.
(Our youngest daughter who is already a huge Dave Ramsey fan.)
Along with the childrens' products, one winner will also receive all the items below, with enough to share. 🙂
Starter Pack ($49): The Total Money Makeover Book, Money Answer Book, Cash Flow Planning DVD, Dumping Debt DVD, Designer Red Envelope System and Dave's Budgeting Software (CD-ROM).
Financial Peace University Lifetime Membership ($109): Kit includes Full-Color FPU Workbook, High-Quality Audio CD Library with all 13 lessons, Durable Envelope System (my favorite), Financial Peace Revisited book, a lifetime membership (you and your spouse can attend an FPU class anywhere, any time, at no extra charge!) and more!
6 Month Subscription ($59.70): My Total Money Make over online is the how to place for beating debt and taking control of your finances. So many wonderful tools in one spot.
I'm so excited to share all these amazing tools with one winner.
How do I enter?  Its' so easy…

There are multiple ways to enter (up to 4 entries total on my giveaway, and they must be left on the blog, not facebook), but only one entry is necessary.

* Be sure to enter a separate comment for each method of entry (one comment for Facebook, one comment for Twitter, etc.). You may leave up to four separate comments.
1. Comment – What do you want to learn about finances?
2. Subscribe to my site by email or in a reader and confirm your subscription. (If you do already, just let me know.)
3. Follow me on Twitter, then tweet  the following message for an additional giveaway.
Enter to #Win the Ultimate @daveramsey pack on @beautyandbedlam http://bit.ly/cTQrvA #wingiveaways
4. Friend my Balancing Beauty and Bedlam Facebook Fan page for an additional entry.

Entries for this giveaway will close on Sunday, March 28 @ 11:50pm EST. The winning entry will be selected via random.org. The winners will be contacted directly and must respond within 48 hours or a new winner will be selected. I received the same products from Dave Ramsey to review.

For more opportunities to win, visit all these wonderful blogs to WIN BIG: