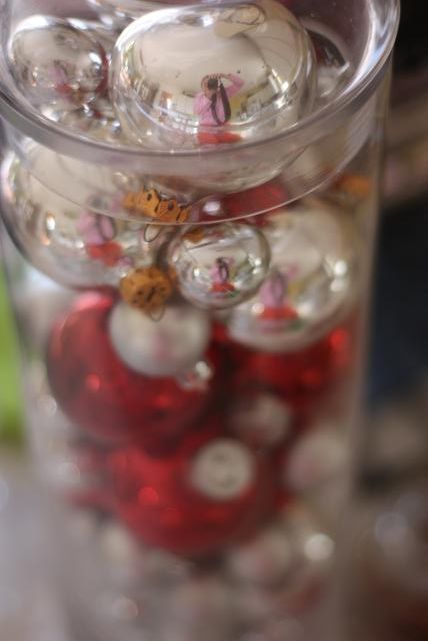 Scrambling to decorate last evening minutes before my guests were to arrive, reality set in…it was not going to happen. I was not going to finish.
Think quickly, Jen.  How can I add that holiday feel with only minutes to prepare, yet still give some decorating bang for my frugal buck?
Decorate with ornaments, and cut some greenery from the outside bushes, of course.  Ornaments placed strategically around the house is my favorite choice for quick and easy frugal decorating. (And since I'm a fancy schmancy photographer, you'll see me sitting on the counter taking those two pictures. 🙂 )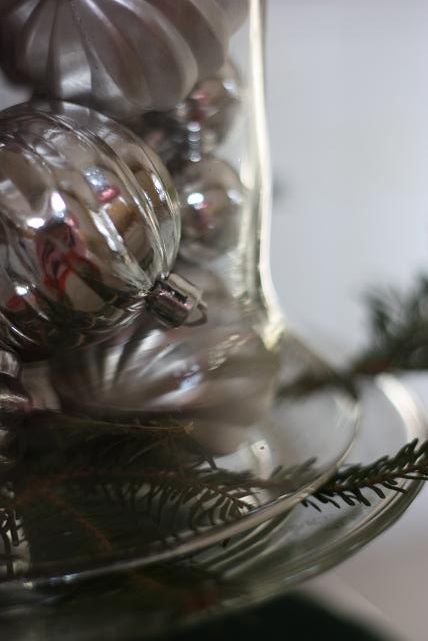 Love this inspiration..simple, festive, frugal and elegant.
Take this same feel and add ornaments to a basket by the fire, on a book shelf, in a empty corner…the choices are endless.
Don't forget to pick up lots of extra ornaments at the after Christmas clearance sales.
Decorating with ornaments is my choice for the #1 easiest, fastest and most inexpensive way to add a beautiful holiday look on a yard sale budget. 🙂