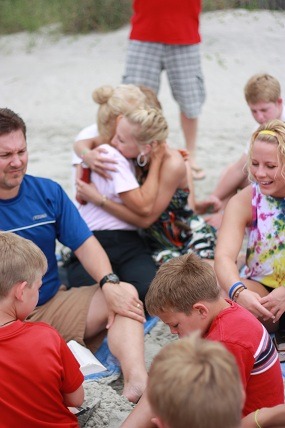 This last week I have been doing some heavy duty pondering about blessings.
Blessings, not in the sense of bounty or abundance, but the power and physical act that a spoken word, a intentional blessing has on another person – a friend, child, spouse, and even ones enemies.
In the past, I have studied the power of traditions within the Jewish home, and some of the customs that were exemplified through the generations. One that still continues to this day is the blessing of the children by the Father every Friday evening.
This last week, my nephew's future mother-in-law, mother of seven, and close family friend of my brother, went home to be with our precious Lord. It was completely unexpected. In fact, less than two days before the Lord called her home, she wrote this email to friends and family.
As I thought about what to share this month, my heart pulled to give you a glimpse into how profound the impact her last words of affirmation will have on future generations. She had no possible idea these would be some of her last declarations, an unanticipated legacy she left by taking the time to tangibly bless others in something as simple as words sent over the internet.
In this new age of technology, her email serves as a final blessing to family and friends, and in the process, she has declared a generational heritage piece that will be passed on from generation to generation.
Our time here is just a breath, and so I ponder the generational blessing that I am casting to those around me.
Am I being intentional with those choices? Am I blessing my children? Am I blessing my husband?
Do they hear words of affirmation that sear to the core, and touch them in life giving ways? Do I follow the lead of Jewish tradition, and tangibly lay my hands on my children at night, pouring His Word into their foundation? That is a tradition they will never forget.
As you read my friend's email, you know the dreaded outcome; a mother taken instantly from her children.
These are her last words.
I'm sharing this post over at (in)courage today. I'd be honored if you'd continue reading the blessing she left for her friends and family, and the impact her words will have.