Decorating with mirrors is a tool that every designer who 'decorates on a dime' implements.
There is something special about a mirrored reflection as the sun catches or candlelight glistens. That kind of  illumination in a room sets a tone.
A simple mirror creates the optical illusion where even the smallest of rooms feel larger.
But have you ever thought of accessorizing the mirror itself? Probably not.
Showcasing a wreath over a mirror is one of my favorite things (but that is where I have stopped).
I thought you might enjoy a little fall foliage from Country Living or Corn Husks from Martha.

Don't you just love how sampler.com added God's perfect pine to this antique mirror?
I adore this and do believe we could all do that for um….free, this winter. 🙂
So here is my little wreath…
Ever since my coupon, DIY, trash to treasure friend, Leah, gave me this frugally fabulous mirror, it has graced my entryway.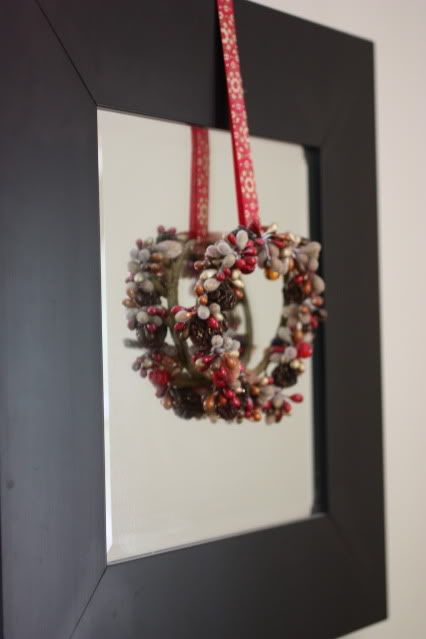 I'm going to swap out this tiny little thing for a great, big, bold wreath next month.
And in case you're wondering the sophisticated method we used…
'cuz I am a fancy decorator like that.
How about accessorizing a mirror with another mirror? Isn't this gorgeous from House Beautiful?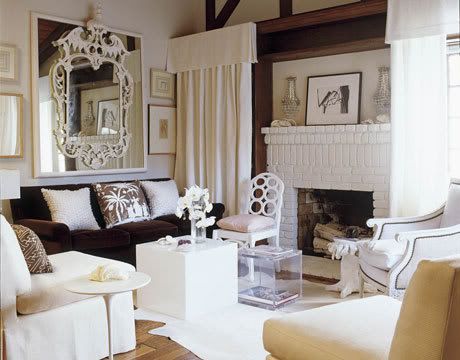 And my sweet friend, the Nester, shows us how she took her basic builder mirror and dressed it up as only she knows how.
Now we are back to wreaths, but not any kind of wreaths. The Nester wowed me with her fluffy fur wreath…yes, hanging on her mirror.
And just to start getting you in the Christmas mood ( I mean it is October, carols are playing in the stores)…Kimba's Pottery Barn inspired wreath hung over her mirror.

And don't forget to gather extra greenery when cutting down those Christmas trees.
Just like any fabulous Frugal Fashionista knows, it's all about accessorizing.
So why would we treat our mirrors any differently? 🙂