Buying an ugly, old, tray and transforming it into something beautiful brings me joy.
I love simple pleasures, and taking something that was heading for the trash and turning it into a treasure for under one dollar is simple bliss.
When I saw this old tray at a yard sale, I almost walked right past it. But then the "thinking outside the box" mentality kicked into full gear, I found out it was $0.25, and I snatched it up with joy. I knew that not only would I enjoy it, but it would make a wonderful gift to leave when I share a meal with someone.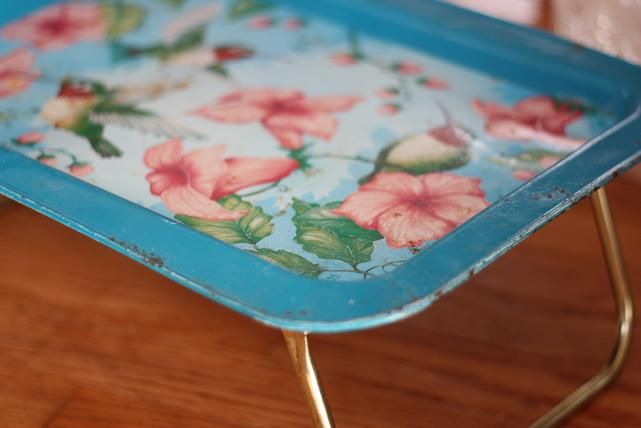 I washed and brushed the tray down to remove the extra dirt and  flaking paint/rust.  I then primed it with spray paint primer, and once dried, I followed with my favorite Rustoleum Heirloom White spray paint.
Just one can has covered many trays and it's still half full. (Yes, I've now found three other trays much uglier than this one.)
Coverage will vary based on the color of the tray. If the original tray is a lighter color, one coat will be just fine.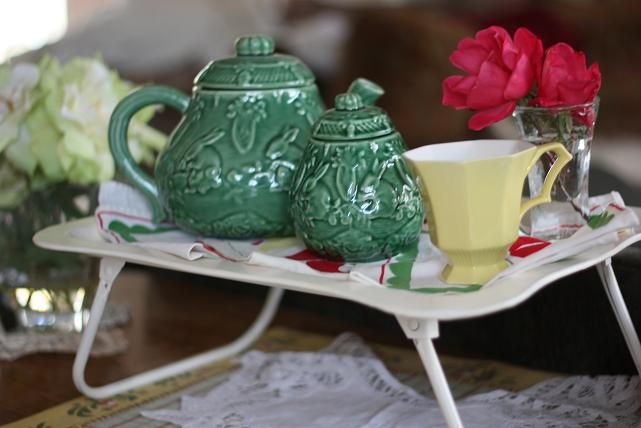 For your viewing pleasure, here is my completed tray with accessories for a grand total of $3.  Yellow teacups for 10 cents a piece, glass vase – $0.50, and the antique napkins ended up being a delightful surprise for pennies.
The matching tablecloth was the linen that I just loved; the eight napkins paired with it looked quite nasty…stained, brown etc. The elderly woman shared how this set was her grandmother's. WHAT? Grandmother's?
I knew I had found an heirloom, but honestly, I just took the napkins so I wouldn't hurt her feelings. I had no intention of keeping them. Yet when I brought them home, I decided it wouldn't hurt to soak them in Oxiclean, and then throw them in the washer on hot (with a touch of bleach). I was thrilled when they came out spotlessly beautiful.
Finding this Bordallo Teapot and sugar holder at a yard sale last month was a highlight, finding out the cost was just $2… was priceless (almost :).
So, find yourself some old metal items, a little spray paint and a vision for the beautiful. You'll experience a simple pleasure, trust me.