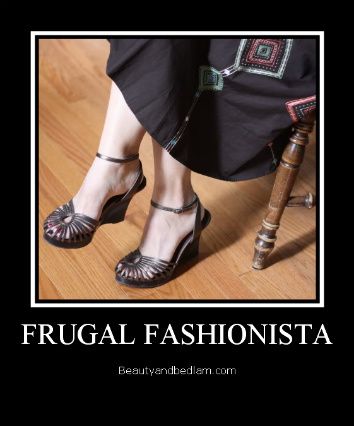 Have you ever had your husband or children ask, "Where are you going?" just because you put on "real" pants or managed to apply lipstick in the middle of the day? Well, take heart, you are not alone. I've been there, but realize that I have no excuse for that anymore, nor do I need to walk around all day, everyday looking frumpy.
For some crazy reason, women tend to put fashion in a box that says, "Only look presentable if you're leaving the house."
I beg to differ (which is quite ironic as I sit here at 2:50pm with soaking wet hair, and no make up, but don't judge me ;))
As much as people are curious about my Frugal Fashionista, don't pay more than a few dollars for an outfit, tendencies, fashion is also a mindset.
Fashion is not crucial to who I am as a woman, but for many, the fashion mindset is quite a distraction.
It can easily become one of pressure, expectations and comparisons.
Let's cast that crazy comparison mentality aside, and realize there's a balance.
Adding additional pressure to assure that we look like a magazine shoot is so unnecessary, but we also don't need to project frump (especially if we're a stay at home mom.)
Do you remember one of my first Frugal Fashionista posts entitled
From Frump to Fabulous
? Yes, I highly embarrassed myself, but my thoughts still ring true.

After my last few, crazy weeks, my calendar has been open this week. So much so, that I have barely left the house, except for a few errands. (Sigh, I love my home.)
So let's look at some ideas for what I wear day to day. Now, trust me, this is not a fashion lesson in any way, shape or form. But hopefully, it will encourage you to throw away those big oversize t-shirts and maternity pants that you've worn since your last baby was born (five years ago, ah, speaking from experience) and realize it doesn't take much thought or effort to take the frump-o-meter up just a notch. 🙂 Again, this post is not meant to impress you with my "looking like a million bucks" as you walk around your house, because that's not the case in any of these pictures. Yet, as a "full time family manager," it's very easy to let ourselves go and sometimes our mindset follows. Taking a few extra minutes for ourself, makes a huge difference.
Now, I am a low maintenance kind of girl, but one of my beauty secrets has always been, "Do not leave the house without earrings, lipstick and mascara." You see, that tip has nothing to do with the clothes you wear, but for me, the polished look that earrings and lipstick bring makes a big difference in ones overall appearance. (Now, the mascara? That is only because I am a blond and have blond eyelashes…you may be just fine without mascara. 😉
The outfit above is an Anne Taylor $1 blue yard sale Tshirt with some pizazz. The middle stitching takes it from frump to fabulous (thank you, Anne.) I dressed the shirt up with the new glassware jewelry that is so popular this year (bracelet and necklace) and yard sale earrings. You can find these necklaces being sold all over for a few dollars. I wore the shirt with khakis for a casual, yet comfy, every day  look.


When I don't plan on leaving the house, these next two outfits are completely typical of what I wear around the house. Nothing fancy, but I wouldn't classify it anywhere near frumpy either. I layered a yellow, soft Gap t-shirt over a simple green tank (making sure that the layers showed.) Both shirts I purchased with a few others in multiple colors for $0.50 each. I love when I find simple, yet classy T-shirts for nothing.
This jean skort is something I have had for years. It looks like a skirt from the front, but it's really just a comfy pair of shorts. That is probably the best few dollars I have ever spent on clothes. The cost per wear on those are about a penny.
How does this avoid the frumpy look and yet still be a great day to day t-shirt outfit?  By layering the shirts, adding in a chunky bracelet alongside a cute green necklace and earrings, and again, you've gone from frump to nearly fabulous. 🙂 (Well, fabulous for around the house and run to the grocery store look.)




My sis- in-love did NOT want to pose for this picture, but I assured her it was going to exhibit how our day to day, beat around the house look can still be fun.
Knowing your colors is a really important step to avoid the frumps. Ironically, we did NOT plan this (and that's what caused me to take the picture.) We both know the colors that look good on us and turquoise is our color.
This is the very type of shirt in which I work around the house.  Why? Because it cost me only $1 and because this is how I always dress. And yes, with the necklace and big earrings on both of us, it takes the frump-o-meter up again. 🙂 Do you see a theme?
Yet, look at the difference between hers and mine. I just had basic cotton, around the house shorts. Since she paired her t-shirt with long jean shorts and adorable jean sandals (shorts from consignment store, shoes from a yard sale), hers could easily be a great outfit for a day out on the town. My outfit with jewelry was $5, hers $10.
Below is an outfit similar to the theme above, but I layered not only the shirts, but the bracelets as well. Multiple chunky bracelets are very popular right now.
This white shirt  is literally a Hanes, sleeveless T-shirt that I wear to clean the house, but if I put a $1 yard sale cotton cardigan with it, it looks dressy (even though I know it's not).


What makes me looked dressed up in the picture below?
It's a $1 yard sale shirt, so what pulled it out of the frump category?


(Yes, for once, my hair is down and actually fixed – that definitely helps. .)
But what is it? You know the answer.
I added some flair.  Again, it's all about the jewelry. Just a few years ago, I never wore big earrings. They weren't me, but I guess they are now because I love them. They are a statement piece by themselves and all just for $0.50 from a yard sale (or were they a $1?? I would hate to exaggerate…lol.)


So my dear friends, let's get out of the mentality that fashion is only for when we leave the house.
Our family are the most important people in our lives, so I am convicted that they shouldn't have to ask, "Where are you going?" when I get dressed. 🙂
Posted at: Rhoda's