Creating a frugal, yet elegant tablescape begins with a wonderful centerpiece. I shared how one of the easiest ways to achieve that look is by layering cake stands, yet I realize that many of you many not have any cake plates yet (since you haven't had time to hit those yard sales).  🙂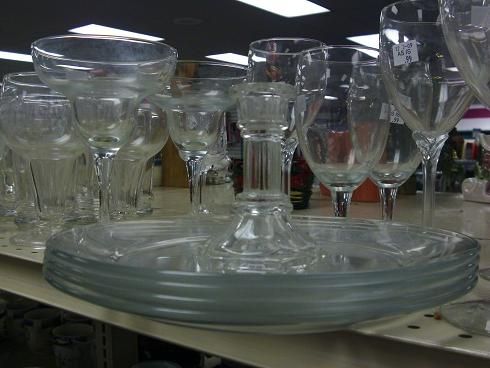 Creating your own cake plate stands is as easy as looking in your cabinets or hitting your local thrift store.
Every single thrift store has a glass wares aisle and mismatched, miscellaneous items are their specialty.
Look closely at what constitutes a pedestal cake stand in my picture below – any kind of plate and a candle holder.
Do you see what I found at the Orlando Goodwill? Prices to sell at $0.99/piece, I mixed and matched glassware to create a custom look for any themed gathering.
I felt like a kid in art class having such fun with food coloring.
Use just a drop of food coloring in a small vase before putting your plate on top.
This is a quick and easy idea too add oomph when you're entertaining for a special occasion.


As you can see, it's not just about showcasing dessert entree's on your cake plates. The sky is the limit.
It's very easy to make these cake plates permanent by adding a strong bonded glue to the bottom of the plate/candle holder.

I've used upside down bowls and plates for varying sizes, layers, and looks. When you open up that cabinet, have fun experimenting. You may be surprised at the fun you'll have.
I just found this exact wooden cake plate at a thrift store for $2. I was planning on spray painting it some fun teal color until I saw this picture.


May be I will wait till next year until AFTER the fall so I can showcase my apples. 🙂
And everyone has to appreciate my bedlam decorating picture.
Note to anyone desiring to use their "short dated" lemons from the produce…don't. Use bright, fresh lemons (or fake may even be better.)


Hopefully, you'll be inspired to create some simple,  frugal tablescapes. It all just starts with an easy centerpiece out of some glass plates and candlesticks. 🙂
Please send me your pictures if you try these. I'd love to show them on here.