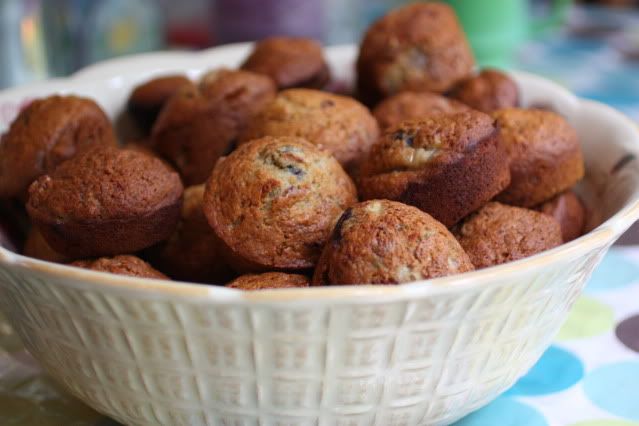 Baking/bulk cooking day is off to a great start.
Using up a gazillion over ripe bananas is a challenge, so we started our morning with some delicious banana pancakes.
Now, please note that one of the first things my youngest son declared was, "oh, don't put bananas in there."
So I went easy on them and the results were fabulous.
I am a firm believer of involving the children in the kitchen – both boys and girls. It just so happened that this daughter groggily got out of bed and was thrilled to help. A momma can't say "no" to that.  She was just getting started.
I quadrupled the recipe and we ate them all. Since it was a new recipe, I didn't do them math well. I wanted extras for freezing.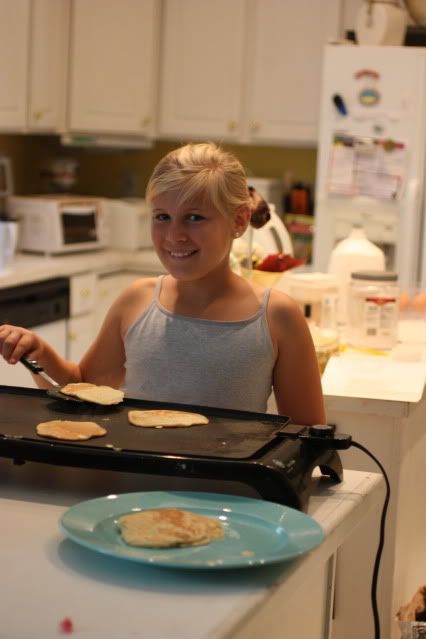 Banana Pancakes

1 3/4 cup all-purpose flour
1 tablespoon sugar
1 1/2 teaspoon baking powder
1/2 teaspoon salt
1/4 teaspoon cinnamon
2 eggs, slightly beaten
2 cups milk
2 ripe bananas mashed (about 3/4 cup)
3 Tbs margarine or butter, melted, or cooking oil
1/3 cup finely chopped pecans or walnuts (if desired)

1.  In mixing bowl, combine flour, sugar, baking powder, salt, and cinnamon. In another mixing bowl combine eggs, milk, bananas, and melted butter. Add to flour mixture. Stir just until combined still slightly lumpy. Stir in nuts.

2. Cook on lightly greased griddle or skillet over medium heat until pancake is bubbly and edges are slightly dry.

It says it makes 16 pancakes. Since I quadrupled this and we didn't have any leftovers, you will definitely want to double this if making for a family. At my son's request, I only used 1/3 the amount of bananas and then sprinkled an additional cinn/sugar combination before we flipped the pancakes. YUM! These did not even need syrup, (but we still used it anyhow).
Banana Nut Muffins (turned into Banana Blueberry Muffins)

1/4 cup melted butter
1 cup sugar 1 egg
3 bananas (mashed)
1 1/2 cups flour sifted
1 teaspoon soda
3/4 cup chopped pecans
1 teaspoon salt (optional)

Beat eggs and add to butter and sugar. Mix well. Add mashed banana.

Sift together flour, soda and salt. Mix together with egg mixture and add nuts.

Pour into sprayed muffin tins.

Bake at 350 ° for 20-25 minutes or 375 ° for 45 minutes for bread.

Cool and sprinkle with powdered sugar, if desired.

****** My substitutions and notes:

The reason  I chose this muffin recipe because of its simplicity. My desire is that my children master some "baking day delights."

I was also short on eggs and this called for only one. I did quadruple the recipe.  I'm sure you noticed I substituted blueberries instead. They were delicious. I didn't have nearly the amount of blueberries  needed, so I just sprinkled in a few.

I also used fructose sugar instead of plain white and therefore decreased the amount needed, plus I used a combination of all -purpose and freshly ground whole wheat pastry flour. (That's why they're so much darker. It wouldn't be because I over baked them at all…no never.