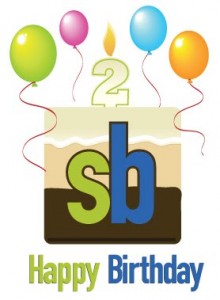 Last month, I shared details about earning free gifts with Swagbucks, and if you missed that post, check out the details. I can't even begin to tell you how much I am loving this program. I have earned enough SBs to redeem tons of gift cards,  but it's come with a huge learning curve. Many of you have emailed wanting a few more tips on how to earn additional bucks, and this will be more info than you wanted to know. 🙂
Swagbucks is not a "get rich quick" scheme. It's basically an alternative search engine, which allows you to search, earn bucks and redeem those bucks for prizes. It's all about understanding that slow and steady win the race. 🙂 Swagbucks makes money off the ads they feature, and then they pass along some of that revenue to you through swagbuck gifts.
This week,  Swagbucks is celebrating their Second Anniversary and with that, they are showcasing their new upgraded system.
They've made some changes which will allow everyone an opportunity to win more swagbucks than before. The number one change is that the Swag Bucks in your account will be multiplied by 10 (as will the prices in the store, so for example, if you had 45 bucks in your account you will now have 450 SB;  The Amazon which was 45 SB will now be 450 SB). NO prices are being raised on prizes (it will all be proportional – so have no fear about that), but it will now allow bucks to be awarded to users in ways that were not before imaginable (such as being logged into the toolbar, and viewing the special offers).
1. DOWNLOAD THE TOOL BAR. This has made the biggest difference because I was always forgetting to go to the swagbucks site to search. I've also switched how I go to my favorite sites as well. I always had them bookmarked. Instead of bookmarking them, I now search on my Swagbucks toolbar for that site. Each time I search, I have a greater chance of winning. If I have to search for anything, I now use my swagbucks toolbar. If I don't win a buck the first time, I will quickly hit refresh a time or two and quite often, I will win the buck. It's consciously remembering to search through Swagbucks. I win 3-5 bucks a day just from searching on my toolbar. PLEASE NOTE a CHANGE: the way to now earn free bucks with the toolbar is to be LOGGED in through the toolbar, not just having it visible. At the top of your toolbar, there's a little box that says, "From TSG," it will periodically have codes, and hints in there. I always forget to check and miss them (not anymore – I'm on top of it.)
2. If you already into social media, then  follow Swagbucks on Twitter, become a fan on Facebook, and read the blog to earn additional codes. They release more swagcodes through these sites, and there are some true groupies who are really into the "hunt." They aren't allowed to give you the code straight out, but they will give hints to what the code is. When the new code is out, people will say "Thanks TSG," so you know to look for it.
3. Use the Swagbucks widget. I had no idea that codes can be found on the swagbucks widget (swidget), and you can download it to check for active codes or find it on your personal SB site. See mine down below. Sometimes the code itself is posted, other times it's a clue to where to find the code. Click on the SG (Swag Codes box) and see if there are any new codes available.

4. Friday is MEGA Swagbucks day. I had no idea. They release high value swagbucks every Friday, and you have a greater chance of earning higher value ones like 10 (which will now be 10,000).  I haven't gotten that yet, but I will.
5. Recommend Swagbucks to your friends. I had no idea how this aspect worked when I signed up, but I have received matching Swagbucks for referring people to this program. So, send out an email with your referral code, post it on Face book etc. It's a Win-Win for everyone and some of you have already earned $5 gift cards just since last month.  I love that! That may not seem huge, but it's Free Gifts for doing nothing different than what we already do…search on the internet, so tell your friends.
Feel free to ask any questions…. I have a few more tips to share, but realized this post was already WAY too long. 🙂 Let's have fun earning our Swagbucks together and see what Christmas presents we can gather…for free.