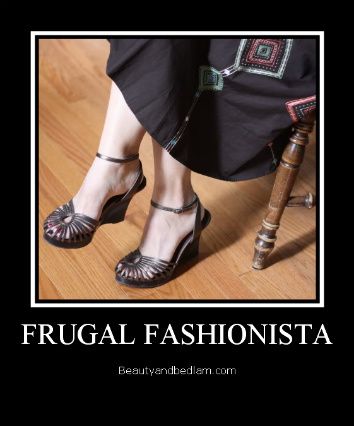 Are you new to my Frugal Fashionista series? Find out how I dress for less with designer outfits for mere pennies on the dollar. Yes, all outfits  from head to toe are less than $15, and did I mention…second hand?)
As a Frugal Living blogger, one of my favorite times  is browsing your Frugal Fashionista links and cheering you on for embracing the world of second hand fashion. I know, for many of you, it took a lot to "come out of the closet," but I love encouraging others to realize that you don't have to be a "millionaire" to dress like one. In fact,  a few dollars, some great yard salse, and fabulous accessories equals the formula for one amazing wardrobe.
This week's featured outfits were actually taken awhile ago, but I felt the outfits didn't meet the "cut."  Convicted, I realized that if this series is going to be whole heartedly beneficial, it can't just highlight outfits that say "wow" every time because that isn't how I dress on a day to day basis. The outfits below are casual, but they show how one core wardrobe shirt can be used to create various looks.


Typically, I pair this $1 Banana Republic shirt with jeans in the winter, and jean shorts in the summer. The versatile 3/4 sleeves allow it to be worn year round. Stepping out of my comfort zone a bit (which I highly encourage), I  wore a plaid skirt that made me feel a little preppyish, yet it dressed it up for a very casual, but comfortable look. I could have chosen flip flops for the summer or boots would be a fun option for cooler weather.
Both the shirt and skirt were $1 yard sale finds – definitely not a bank breaker. 😉


Just by changing jewelry and highlighting $0.50 yard sale long, blue earrings give the look an instant elegance.
(Yes, I was tickled…great jewelery at yard sales is hit or miss.)


Pull the shirt off the shoulders a bit, tie longer hair up in a knot, add dramatic earrings, a long flowing skirt, and you now have changed your day look to an elegant "night on the town" look that only took a minute or so to make a difference.


It's often hard to transition from season to season because there are a few weeks where the weather varies. By adding a jacket, you can gap those hard to plan for weeks.
I love to "gap" those days with my $5 Gap jacket. It goes with nearly everything.
Gap jacket – $5 (thrift store)
Banana Republic shirt – $1 (yard sale)
Khaki Capri pants – $2 (yard sale)
Purple heeled sandals (designer brand, but can't tell you because I am in Colorado and they are in NC) $2 (yard sale)
Total: $10


Again, by "investing" in core wardrobe pieces such as this Banana Republic shirt, shows  how you can make multiple outfits. Transitioning from a spring look with the light jacket and pants, to a more winter look is easy just by swapping out with dark jacket and pants. Add on a $1 yard sale scarf to take it up a notch. Again, I found this Gap black jacket at my favorite Goodwill for $5. Now is the perfect time to look for second hand jackets. When it's 100 degrees outside, people are clearing out their winter items, and most people are not in the market for them, so your chance of finding them at thrift stores is much greater than during the winter (when I typically have no luck.)
Remember, whether you purchase new or second hand,  buy clothing out of season. You'll be thrilled you did in a few months.
This is your day to share your Frugal Fashionista finds.
Remember, I love awesome deals from the store, but at least part of your main wardrobe pieces need to be second hand in order to link up.
Link directly to your FF post and not your home page URL. This will let everyone find your post months from now.
Please link back to my blog in your post so that every one can join in on the frugal fun.
Unfortunately, I will delete any links that do not follow these few simple requests.