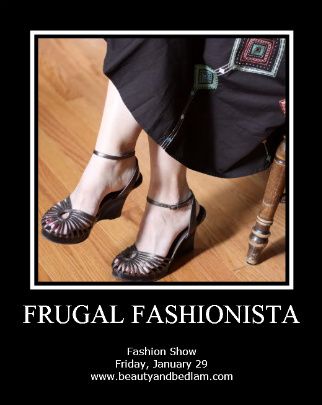 Welcome to our Frugal Fashionista Fashion Show.
If you're curious on how I shop thrift, check out yesterday's VLOG featuring my latest trip to Goodwill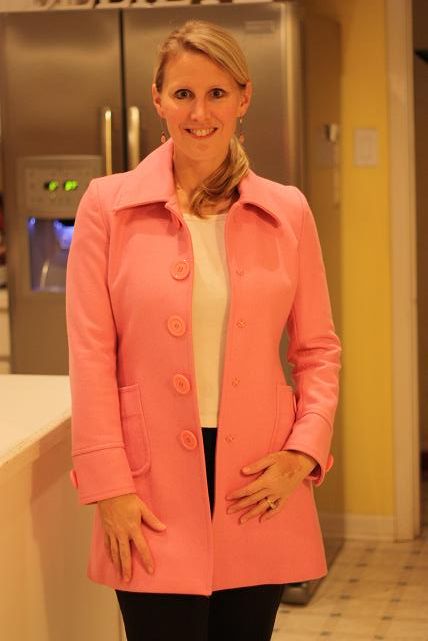 Last week I shared that it's crucial to buy clothes out of season to really maximize on your savings. I shared my JCrew pea coat find, but forgot to show you this yard sale score.  Trench coats are one of the necessities in building a core wardrobe. Now, this pink coat would definitely not be something you can wear with anything, but it sure is fun, especially at a $3 yard sale price.


One of my sweet blogless readers wanted to link up and I was thrilled when she emailed me her awesome work out outfit.
Here's what she has to say.
1. I am modeling my brand new athletic outfit, brand name Avenue, that is a size 22/24. I found this at Salvation Army this week for a grand total of $5.84!!!! It is going to be fantastic to walk in this spring or to wear as a cover up to my water walking class at the Athletic Club. It is a nylon fabric lined in mesh.
2. This photo is supposed to show the great matching top stitching.
Thanks, Jen, for showing all of us that there are great deals out there! Just wanted to share one that will definitely fit a "plus size". I find good deals all the time at our area thrift shops.
Patti – you look adorable in your pink. I LOVE IT!
She is so right about workout clothes. You can find classy or casual sets. These are the clothes we all love to "live" in.
This is your day to share your Frugal Fashionista finds.
Remember, that at least one of your main wardrobe pieces need to be second hand. Please link directly to your FF post and not your home page. This will let everyone find it later on. Also, please link back to my blog so that every one can join in on the fine art of thrifting.