It's the most wonderful time of the year…
(Hum it with me while I sing) "There are thrift stores to discover,  frugal finds to uncover and scarves just waiting to be tied…"
Oh, excuse me, I'm getting carried away because I am about to disclose two of my newest Frugal Fashionista finds, and they just happen to have made  my "Top Ten" list.
For many, a timeless leather jacket is an investment that is worth the splurge because of it's versatility, wearability and basically, just the sheer classy lady factor. For me, as much as I can appreciate doing the math on a "cost per wear" basis, I just haven't felt called to take the leather jacket plunge… until now.
One of my favorite thrift store tips is to watch as the employees roll out the new racks of clothing. If someone in your size happens to have just donated, you'll have many choices located in one spot without having to dig.
So image the heart palpitations that began when my eyes caught sight of the rolling cart. It was across the Goodwill store, but I could just catch a hint of the end cap. There it was… hanging in all its glory…a perfect, black leather jacket.
Could it be? Just for me? Was it a ladies' size? Or just for guys?
I promise. I did not sprint. I can take a hint. That would not have been lady like. (But I did do a bee line straight for that piece of perfection.)
Now the next question would be about the price. Often, but not always,  leather items are marked "special finds" and the regular prices do not apply.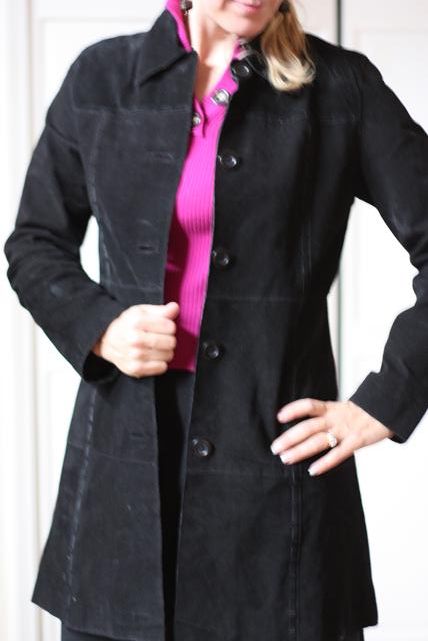 Well, guess what? It was JUST my size, and by divine intervention, there was not a "special finds" price tag on it. I raced it to the check out and literally prayed the whole time, "Oh please, may she not say it's a special leather find, please, may she not say it's a special find…"
My sweet cashier rang me up (while I chatted to her the whole time…maybe an attempt to distract her from my find, maybe not. 😉 ), and then it happened.
She gave me my total.
My astronomical total for a beautiful, leather jacket in pristine condition, that fit like a glove, that didn't need to be altered or have the 80's shoulder pads removed was….
$5!!!!! Yes, FIVE DOLLARS!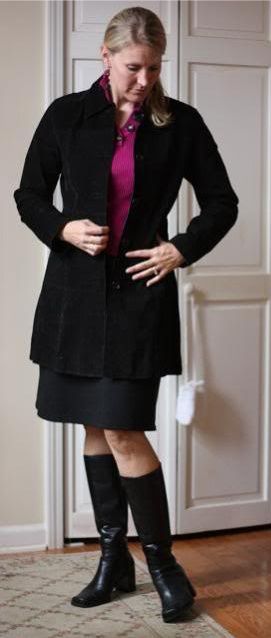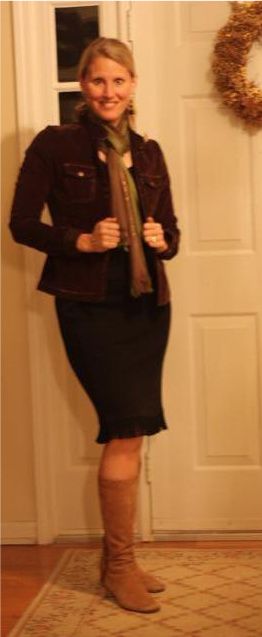 (Pic taken at 11pm by darling photographer daughter. Oops…fuzzy, but I was not redressing. :))
So let's price the outfit on the left:                Right:
Leather jacket: $5 (Goodwill)              Banana Republic shirt: $1
Pink Sweater: $1 (Yard Sale)                Brown Designer jacket: $3
Skirt: $1 (Yard Sale)                                 Black WOOL skirt: $1
Leather Black Boots: $5                          Banana Republic boots:
Total with TWO leather items: $12!!                Total will be revealed…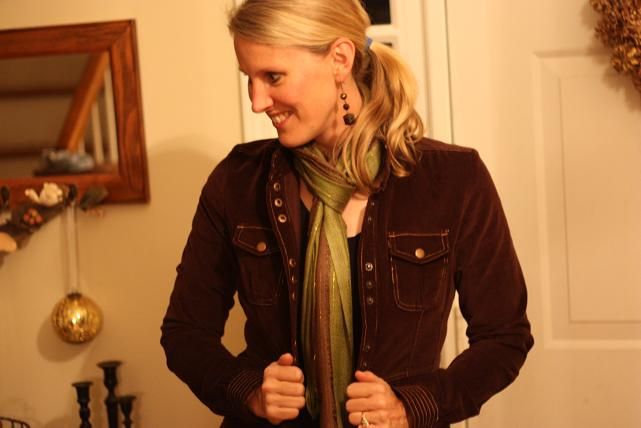 This brown jacket raves versatility, dressed up, or paired very casually with jeans, it's always a winner. Ever since my initial scarves post, I have been adding them to everything – fun, frugal, easy and cute.
This wool skirt is actually from a two piece set that retails for hundreds of dollars. My daughter saw this picture below and mentioned that I looked like a cowgirl. I don't think that was the look I was shooting for, but when you see the price on Banana Republic boots, you can think I was shooting for anything and it just won't bother me.
I always LOVE Banana Republic's quality and know, at times, they have great deals, but NEVER EVER this good.
Yes, view the original purchase price on the box, and then the blue yard sale tag (it would not be these inexpensive at a thrift store).
I found the brown jacket, boots (and a boat load of other items) from the same lady who sold everything in near perfect condition, many with the tags still hanging.
CHA CHING! SCORE!!!!  Doing the happy thrifting dance:)
And that is why I am LOVING LEATHER at my Frugal Fashionista prices. Finds that inexpensive don't come along every day, but often enough to know that thrifting is SO worth it.
So now do you want to join with me?
"It's the most wonderful time of the year."